As an Amazon Associate we earn from qualifying purchases.
When you want to take photos of animals while birdwatching, you must avoid disturbing them in their natural habitat. However, you need more magnification than what a DSRL can provide. This is why we're sharing options for the best bridge camera for birding with superzoom and fast shutter speeds.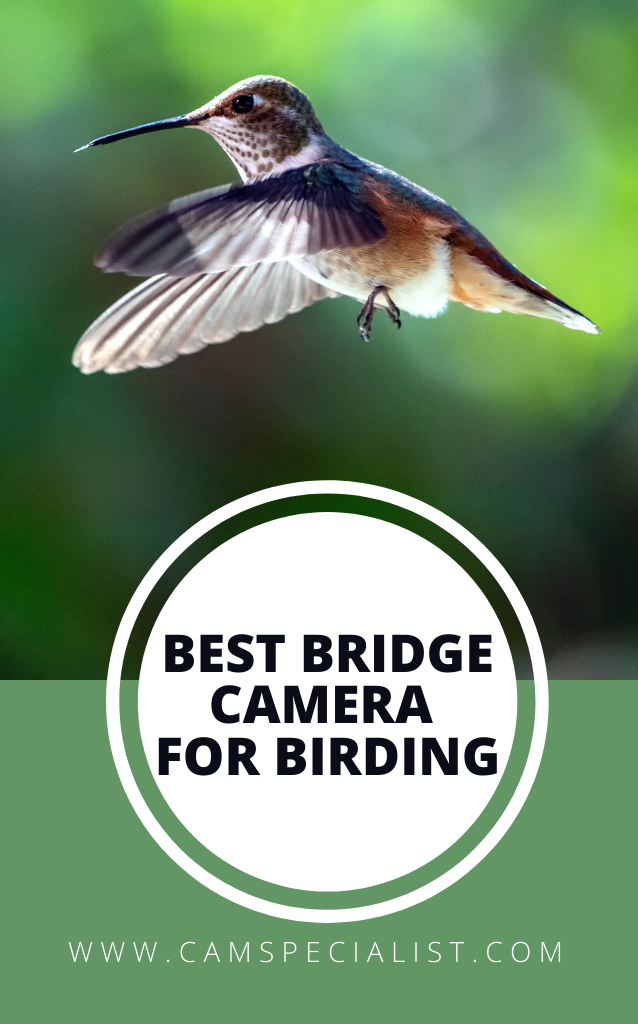 Our Top Bridge Camera for Birding Reviews
Bridge cameras combine the technology of a DSLR and super zoom feature like the telescope to provide a machine that will make your viewing, images, and video enjoyable. Combining a 3000mm superzoom, good autofocus system, large aperture, and high shutter speeds, the Nikon COOLPIX P1000 is our best bridge camera for birding.
After considering several factors, we narrowed our way down to find the best that would be great for birding enthusiasts.
Brand
Nikon COOLPIX P1000 16.7 Digital Camera
Nikon COOLPIX P900 Digital Camera
Product
Optical Sensor Resolution
Brand
Nikon COOLPIX P1000 16.7 Digital Camera
Product
Optical Sensor Resolution
Brand
Nikon COOLPIX P900 Digital Camera
Product
Optical Sensor Resolution
Product
Optical Sensor Resolution
Nikon COOLPIX P1000 Digital Camera
The Nikon Coolpix P1000 Camera is a mega zoom camcorder that is capable of taking pictures of flying birds in the sky or running animals. This because of its amazing 125x zoom speed, which allows you to capture fast subjects at a distance.
However, it lacks a significant maximum aperture at a huge focal length. Due to its 16-megapixel optical image sensor, it may not be the best camera for birding photography at night. However, this should still be enough when you're out in the wild and using a natural bright light.
Compared to the other birding cameras, the Nikon COOLPIX P1000 boasts a telescopic-like zoom power of 3000mm. It lets you capture mind-blowing photos of the faraway subjects, especially birds at flight.
It's best to keep the aperture range at a fast f/2.8 on the wide-angle end if you want to include the landscape in the frame. More than that, this bridge camera has a vibration reduction feature that minimizes the noise level when capturing photos.
Pros
Astounding 125x optical zoom with a snapback zoom function to focus on the subject quickly.
Vari-angle functionality allows you to frame shots whether you're facing tricky low and high angles.
Cons
Heaviest at 3.12 pounds, although a tripod can support the weight.
No weather sealing, although you can use a rain cover.
Nikon COOLPIX P1000 16.7 Digital Camera with 3.2"...
3000 millimeter optical zoom-the most powerful zoom lens; Ever put on a Nikon Coolpix camera
4k ultra hd video with HDMI out, stereo sound and an accessory hot shoe
Rock steady dual detect image stabilization and great low light capability. Vibration reduction:...
Nikon COOLPIX P900 Digital Camera
The Nikon COOLPIX P900 Digital Camera is an excellent option for novice bird photographers because of its quality build and affordability. It mainly uses a Super ED VR lens with a vibration reduction to minimize camera shake and ensure crisp, sharp photos.
Like the COOLPIX P1000, the Nikon COOLPIX P900 uses a 16-megapixel sensor. When you use f/2.9 to f/6.5, you can take well-exposed photos and videos when shooting in the late afternoon or night.
Paired with an impressive 83x optical zoom that provides a 2000mm equivalent, you can capture close-up shots of your favorite birds. Meanwhile, the 24mm end gives you the ability to include captivating hills and mountains as backgrounds for your bird shots.
This bridge camera features an articulated screen that enables you to shoot and preview images in difficult positions. Even when you need to place the camera at waist level or above your head, you can clearly determine if the bird is focused or within the frame.
Pros
The large sensor provides a clear shot from close up to zoom.
Includes GPS and Points of Interest (POI) for creating birdwatching photo journals.
Cons
There is no raw shooting
The screen is not touch-sensitive
Nikon COOLPIX P900 Digital Camera (Black)
16MP CMOS sensor; 6 level brightness adjustment
24 2000-millimeter 35-millimeter equivalent focal length. Sensor size: 1/2.3 inch
83x optical zoom Nikkor super ED VR lens
PANASONIC LUMIX FZ1000 4K Point and Shoot Camera
With the introduction of a device enabled remote shooting, alongside the Panasonic image application, users of the Panasonic Lumix FZ1000 can now operate this camera as a remote controller to zoom images.
Utilize the new embedded 1-inch 20.1MP high sensitivity MOS sensor to take bright pictures with reduced noise. This MOS sensor will also allow you to capture photos in low-light surroundings, yet the images would come out very clear.
If you want to record any video, this bridge camera is the ideal choice to use as it features a 4K video ability that lets you enjoy the experience of capturing high-quality videos. The hybrid optical image stabilizer produces pictures without blur, even when taken in a poorly lit environment.
The Panasonic FZ1000 has the shortest optical zoom at 400mm. However, this also makes this birding camera among the most lightweight. In effect, it's fairly easy to bring around and have a handy DSLR for sudden birdwatching trips.
Pros
It includes a smartphone-enabled remote shooting using the Panasonic image application.
Optical image stabilization minimizes flaring when photographing birds with harsh sunlight.
Cons
Inability to remove or change lens.
It does not feature a noise reduction filter.
Panasonic LUMIX FZ1000 4K Point and Shoot Camera,...
Big sensor quality: Large 1-inch 20.1MP MOS sensor for improved low light capture and large sensor...
4K video & Photo: 4K 30P video with hybrid photography 8MP video frame grabs as photos.
Leica DC lens: A bright and ultra-sharp Leica DC lens 25-400 millimeter (16x) F2.8-4.0 and macro...
Sony Cyber-Shot RX10 IV Camera
The Sony Cyber-shot RX10 IV camera is one of the best bridge camera for birding because its Exmor RS sensor provides fast 315 phase-detection AF points. Even if a Common Swift or Grey-Headed Albatross flies fast, you can freeze the moment and capture the action.
This camera uses an anti-distortion shutter with a maximum shutter speed of about 1/32000 of a second. As a result, it can reduce the rolling shutter effect, which normally happens when photographing fast-moving subjects like birds.
With up to 25600 ISO levels, this birding camera has four times higher maximum light sensitivity than the COOLPIX P900. No matter the range at which you zoom, the image quality will still be top-notch through the addition of a 24-600mm ZEISS Vario-Sonnar T lens.
The built-in optical steady shot photo stabilization avoids getting blurry photos even if you're not using a tripod. With the addition of the 4K6 mode, you can capture 1.7x more pixel information and colors to ensure the finest details of a bird's body.
Pros
Fast shutter speed takes sharp images while using a wide-open aperture.
Allows high-resolution recording for continuous shooting.
Cons
It can only zoom up to 600mm.
Doesn't have a bird shooting mode for beginners.
Sony Cyber‑Shot RX10 IV with 0.03 Second...
World's Fastest AF acquisition speed of 0.03 sec. Optical image stabilization technology developed...
315 phase-detection AF points covering Approx. 65% of the frame. Light etering mode- Multi pattern,...
ZEISS Vario-Sonnar T 24-600mm3 F2.4-F4 ultra-zoom Lens
Canon Powershot SX70 Digital Camera
The Canon Powershot SX70 Camera is one of the most functional cameras you can use for birding because it features a panoramic setting, which joins pictures together. With the built-in Wi-Fi and Bluetooth, you can share amazing photos taken with a compatible device.
You can utilize the continuous shooting feature to reach 10 frames per second at a wide-angle lens. What's more, this camera produces high-quality videos through its 4K video resolution.
The Canon SX70 is ideal for a birdwatcher who can zoom in on birds on a feeder or nearby deck. Its sweet spot is within the f/3.4 to f/6.5 aperture range at natural light.
At 1.36 pounds, this is the most lightweight among all the bridge cameras for birding we reviewed. Despite that, its 65x optical zoom is better than the zoom range of the Panasonic FZ1000 and Sony RX10 IV.
Pros
Optical zoom range can capture close-up shots of small birds.
Includes 4K frame cropping to let you extract still images from video recordings.
Cons
The lack of a hot shoe prevents you from attaching external lighting and microphones.
Limited ISO range of 100 to 3200, although 800 to 1000 is usually enough for birding.
Features to Consider for a Bridge Camera for Birding
A bridge camera has a specialist system that bridges the gap between the convenience of point-and-shoot cameras and the high-end features of DSLRs. However, the best bridge camera for birdwatching should strike a balance between zooming, autofocus, low-light performance, and weight.
Superzoom
As a birdwatcher, you need to be as discreet and quiet as possible. With optical zoom, you can get an extremely close view of birds without disrupting them.
Moreover, the zooming abilities of bridge cameras enable you to capture the tiniest details of a bird, especially if you love photographing the feathers and eyes.
The Nikon COOLPIX P1000 boasts the longest range, letting you zoom up to 3000 millimeters. The Nikon COOLPIX P900 comes close at 2000mm, while the Canon Powershot SX70 follows at 1365mm.
Fast Autofocus
Manual focus and autofocus are some of the important features of birding bridge cameras. When it comes to birding, it is even more essential to buy one that has faster autofocus because animals, especially birds in flight, move swiftly.
The cameras we reviewed have reliable autofocus systems. However, the Nikon COOLPIX P1000 elevates it by using contrast detection. This technology allows the bridge camera to analyze contrast on pixels and push the lens back and forth until it identifies the correct focus point.
Low-Light Performance
Anyone who has good experience with wildlife or birding will know that animals become more active in the cool evening when the light is going down. Hence, this will be the best time to make lots of amazing captures.
A camera that doesn't have a low-light feature will spoil the fun. So you want to have a camera that will function greatly at any time of the day. It's crucial that you choose bridge cameras with high megapixel sensors to obtain high clarity without any blur, even as birds fly.
The Panasonic LUMIX FZ1000, Sony Cyber‑Shot RX10 IV, and Canon Powershot SX70 have 20-megapixel sensors. The Nikon COOLPIX P1000 and COOLPIX P900 follow with 16 megapixels, which should still be powerful enough for low-light shooting.
Weight
Bridge cameras are heavy because of their superzoom features. You may want to consider weight and buy the less heavy one. A lightweight camera will help you focus more and reduce fatigue.
The Nikon COOLPIX P1000 weighs the heaviest at 3.12 pounds due to its 3000mm optical zoom. The Canon Powershot SX70 is the most lightweight at 1.36 pounds, although its optical zoom is only equivalent to 1365 mm.
Conclusion
After comparing all the cameras listed above, we highly recommend the Nikon COOLPIX P1000 as the best bridge camera for birding photography. It has got everything you need to have an exciting wildlife experience. With any of these bridge cameras, you can connect with nature and capture wildlife stories.