As an Amazon Associate we earn from qualifying purchases.
Car photography is a fascinating niche because you get to shoot sports cars or even vintage models. To make the shoot more exciting, we're reviewing the best camera for car photography, along with several alternatives and tips on how to choose the right model for your shooting style and budget level.
Our Top Camera for Car Photography Reviews
Combining test shoots and research, the Canon EOS R5 Full-Frame Mirrorless Camera wins as the best camera for car photography. Its powerful sensor, fast shutter speed, and lighting-fast autofocus system deliver the flexibility you need for shooting motionless or moving cars.
Besides our top pick, we're also listing some other favorites with equally brilliant features that can help improve your car photography.
Brand
Canon EOS R5 Full-Frame Mirrorless Camera
Sony Alpha 7S III Full-Frame Mirrorless Camera
Nikon D7500 DX Digital SLR
Product
Special Features
With an ISO range of 100-51200
Video capture resolution: 4K UHD 2160p
Tilting LCD screen with touch functionality
Optical Sensor Resolution
Brand
Canon EOS R5 Full-Frame Mirrorless Camera
Product
Special Features
With an ISO range of 100-51200
Optical Sensor Resolution
Brand
Sony Alpha 7S III Full-Frame Mirrorless Camera
Product
Special Features
Video capture resolution: 4K UHD 2160p
Optical Sensor Resolution
Brand
Nikon D7500 DX Digital SLR
Product
Special Features
Tilting LCD screen with touch functionality
Optical Sensor Resolution
Canon EOS R5 Full-Frame Mirrorless Camera
One of the main challenges of photographing cars is that your pictures may end up blurry or have washed-out colors. This is why you need a feature-packed camera like the Canon EOS R5 Full-Frame Mirrorless Camera to ensure high-quality and tack sharp photos of cars.
As one of Canon's latest releases from 2020, the EOS R5 is among the few models with subject tracking. This enables you to follow and maintain focus on speeding cars using deep learning technology. Moreover, you can use the camera's focus-mode light to reinforce the subject tracking in dim lighting.
When your schedule forces you to shoot in bright sunlight, this may create blinding white spots against the highly reflective material of cars. While this may not be much of a problem with matte cars, there's still the possibility for glares to form in the mirrors.
The great thing is that the Canon EOS R5's full-frame sensor distributes light evenly to guarantee sharpness throughout the frame. The in-camera stabilizer is also a gamechanger as it supports constant angle shifts.
Furthermore, the camera's dual-pixel autofocus system even covers up to 1053 autofocus areas. This feature is perfect when you're photographing multiple cars at once. Besides, this full-frame camera's 20 fps burst mode can keep up with all your fast-paced clicks. 
Pros
The full-frame sensor provides a better depth of field blur even for fast-moving cars.
One of the few mirrorless cameras capable of shooting in 120 fps slow-motion and 8K RAW.
Cons
Suffers from poor battery life, so you may need to buy a battery grip.
The body tends to overheat when using video mode.
Canon EOS R5 Full-Frame Mirrorless Camera - 8K...
High Image Quality featuring a New 45 Megapixel Full-frame CMOS Sensor.
DIGIC X Image Processor with an ISO range of 100-51200; Expandable to 102400x1.
High-speed continuous shooting of up to 12 fps with Mechanical Shutter and up to 20 fps electronic...
Sony Alpha 7S III Full-Frame Mirrorless Camera
Car photography risks motion blur, especially when you're photographing a speeding car. Another contender for you to snap sharp car photos, the Sony Alpha 7S III Full-Frame Mirrorless Camera boasts supreme light sensitivity, image stabilization, and tenacious autofocus for photographing cars.
Similar to the Canon EOS R5, being a full-frame camera means the Sony A7S III retains the actual field of view of lenses. In effect, you won't struggle with magnification or cropping when angling your shots.
Being a mirrorless camera, the Sony A7S III also allows you to boost the ISO to the highest levels. Although you risk getting image noise, this feature supports low-light focusing.
Its autofocus system tracks subjects instantaneously in any lighting. It won't lose focus despite shooting in burst mode. When paired with the 24-megapixel sensor, your car photos retain better dynamic range, enabling you to record both shadows and highlights, if necessary,
Suppose you're shooting during an overcast day, which is one of the perfect conditions for photographing cars. As the bright sky serves as a giant softbox, the camera sensor captures the dramatic effect without the harsh light and shadows.
Like the Canon R5, this mirrorless camera can also shoot video, although it's only capable of recording 4K 30 fps video clips for up to 30 minutes.
Pros
The image sensor and light sensitivity improve the color reproduction of cars with highlight reflective colors.
The autofocus system locks on the subject even as you move.
Cons
A steep learning curve on the control settings.
The body feels slightly imbalanced when attached to longer lenses.
Nikon D7500 DX Digital SLR
You can get your gear running without breaking your wallet with the Nikon D7500 DX Digital SLR. This is a powerful camera that offers a wide range of features to help you put extreme attention to the details of cars in the most elegant lighting setups.
Instead of a metering mode button, the camera contains a dedicated ISO button to make it easier to control exposure compensation. In this way, you can swiftly defocus on the background and emphasize the features of a parked car.
However, this Nikon camera has the lowest megapixels. The 20-megapixel sensor is the trade-off for having an affordable price. While this isn't the best sensor, this is good enough for stationary cars and shooting from a low point of view.
Despite this downside, the Nikon D7500 makes up by having a fast burst rate that allows you to shoot in continuous mode. In addition, its 51-point AF system ensures you won't miss any moment when a car is in motion.
Compared to the Canon R5 and Sony A7S III full-frame cameras, this DX unit introduces a crop factor, covering a smaller portion of the photo projected by the lens. However, you still have plenty of ways to angle your shots and produce an engaging viewpoint for your car photos.
Pros
Improved subject detection with background isolation for a bokeh effect.
The sensor's white balance and metering do an excellent job adjusting exposures regardless of the lighting conditions.
Cons
The dials and button presses tend to freeze at some point.
Doesn't support battery grip.
Nikon D7500 DX-Format Digital SLR Body
Class leading image quality, ISO range, image processing and metering equivalent to the award...
Large 3.2" 922k dot, tilting Lcd screen with touch functionality. Temperature: 0 °c to 40 °c (32...
51 point AF system with 15 cross type sensors and group area AF paired with up to 8 fps continuous...
Canon EOS 5D Mark IV Full-Frame DSLR
Car photography involves establishing a vehicle's unique personality. This is possible when you work with a camera that you can easily control. Among the most intuitive cameras for car photography is the Canon EOS 5D Mark IV Full-Frame Digital SLR, which can help you produce artistic and appealing car photos.
Despite being the heaviest camera body on this list, the 5D Mark IV levels the playing field by controlling image noise and maintaining your shot's dynamic range.
Without taking too much of your time in analyzing and modifying the settings, the 5D Mark IV gives you more time to pay attention to the car's features, as well as the lighting, background, and angles.
More than that, the 30-megapixel sensor does well in assessing the scene to deliver a well-balanced exposure. As a result, you can capture crisp shots both in well-lit and in low-light environments.
With 61 autofocus points, the Mark IV has more autofocus points than the Nikon D7500. This advantage makes this full-frame camera more reliable when tracking subjects and using burst mode. Even when shooting in live view, the autofocus system helps amateur photographers focus in poor light.
Pros
The sensor produces high resolution for the ISO to thrive in low-light shooting.
The image processor preserves dynamic range and doesn't overexpose highlights.
Cons
Sturdier construction results in heavier handling.
Crop sensor may make it a bit difficult to take wide-angle shots.
Sony A7R II Full-Frame Mirrorless Camera
Despite being the oldest model on this list, the Sony A7R II Full-Frame Mirrorless Camera comes with beneficial features for producing stellar car photos. Its image quality ensures vibrant colors while minimizing glare and distracting backgrounds.
One of the primary issues you'll have to deal with car photography is that paint reacts differently at various times of the day. For instance, low-angle sunlight may add texture and warmth to your car photos. On the other hand, direct sunlight may wash out colors.
This is why it's essential that a camera for car photography contains enough megapixels to improve light collection. In the case of the A7R II, its sensor has 42 megapixels. This count is almost on par with the Canon R5 in terms of light-gathering abilities.
When taking photos of cars, the best image details come from the lowest sensitivity settings. Even as you increase the A7R II's ISO to the mid-range levels, it has more control over the color rendition, mainly when shooting RAW.
Even in the slightest movement of the subject, this mirrorless camera's combination of phase detection and vibration suppression boosts image clarity.
Pros
Uses lock-on AF for precise focus on the subject.
Compact and lightweight despite the aspherical elements.
Cons
Offers compressed RAW files, which may decrease an image's processing flexibility.
Limited battery life and a bit sloppy shutter mechanism.
Sony a7R III Mirrorless Camera: 42.4MP Full Frame...
INCREDIBLE DETAIL: Shoot high-speed subjects at up to 10fps with continuous, accurate AF/AE tracking
OPTIMAL LIGHT: A back-illuminated Exmor R CMOS sensor with gapless on-chip lens collects more...
FASTER IMAGE PROCESSING: An updated BIONZ X processing engine boosts processing speeds up to 1.8x
Features to Consider in a Camera for Car Photography
The best camera for car photography must let you highlight details and show static motion. While cameras may differ in some aspects, the proper shooting technique is only possible when your chosen camera has these necessary features.
Type of Camera
The type of camera affects how well you can control the settings, and subsequently, the overall image quality. For cameras for car photography, we're focusing on two of the major types of cameras, DSLR and mirrorless.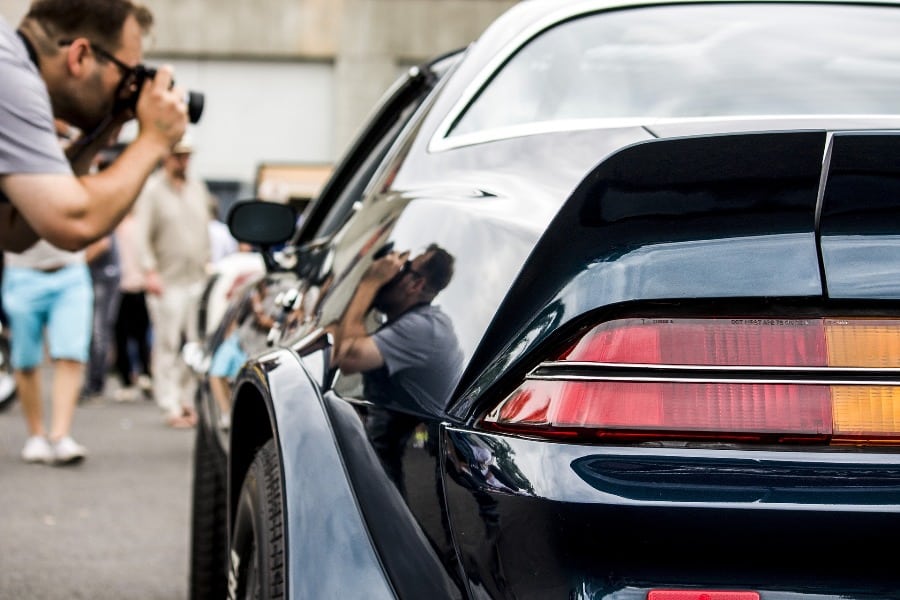 DSLRs such as the Nikon D7500 and Canon 5D Mark IV commonly come with larger sensors, allowing them to capture sharp images with less noise yet better depth of field. Although they typically have bulky and heavy bodies, their ruggedness and weather-sealing make them reliable cameras during harsh shooting conditions.
Meanwhile, mirrorless cameras are faster and more compact due to the absence of a reflex mirror. Despite having fewer moving mechanisms, the Canon R5, Sony A7S III, and Sony A7R II have superb image resolutions. However, they tend to suffer from shorter battery life and a limited lens selection.
Megapixel Count
A camera measures resolution in megapixels. Therefore, the bigger the camera sensor, the more megapixels, and consequently, clearer images. Since car photography also focuses on details, a bigger sensor is crucial in recognizing a vehicle's logos, textures, and lines.
Like the Canon EOS R5's 45-megapixel sensor, having a high megapixel count allows you to capture a car's colors and details in perfect clarity. The Sony A7R II follows with 42 megapixels, enabling you to shoot with low light sensitivity.
On the other hand, the Canon 5D Mark IV contains a 30-megapixel sensor, and the Sony A7S III has 24 megapixels. Yet, their sensors are efficient in creating depth of field. Meanwhile, the Nikon D7500 only has 20 megapixels, although this is still good for motionless subjects.
Shutter Speed
While car photography usually shoots parked cars, there may be times when a client would request to photograph a vehicle in motion.
Having a slow shutter speed means the shutter closes at a slower rate to allow more light to enter and produce bright photos. However, you would also risk motion blur unless you're mounting the camera on a tripod.
Thus, make sure to use a fast shutter speed to avoid camera shake, especially when shooting in dim light. Fortunately, all of the cameras have a maximum shutter speed of 1/8000.
ISO Sensitivity
Similar to other types of photoshoots, you still need to consider light sensitivity in car photography to control brightness, noise levels, and dynamic range.
A camera with excellent ISO sensitivity must balance having a wide ISO range and high megapixel counts. For instance, the Canon R5 and Sony A7R II can reach up to 25,600 ISO levels, and their megapixel count is above 50.
On the other hand, the Sony A7S III and Canon 5D Mark IV can hit up to ISO 32,000, although they have a lower megapixel count. While the Nikon D7500 offers up to ISO 51,200, it suffers from having the least number of megapixels.
Focusing
The best camera for car photography must have excellent focusing to help emphasize a vehicle's details. Particularly for branding and commercial shoots, you need to highlight things like hand-stitched seats, a shiny badge, and even a rusty bumper.
Your camera's ability to focus lets you control the tone of the shot, whether you're aiming for a luxurious, sentimental, powerful, or sophisticated vibe.
The great thing about having big sensors is that the cameras gather vast amounts of light for efficient manual and autofocusing. With the addition of focus points, you also gain more control over which part of the frame you want to highlight or become out of focus.
Interchangeable Lens Design
Canon, Nikon, and Sony are mainstream brands with in-house lenses. They usually offer kit lenses for brand new cameras. Since photographers have varying shooting styles, you also need different kinds of lenses.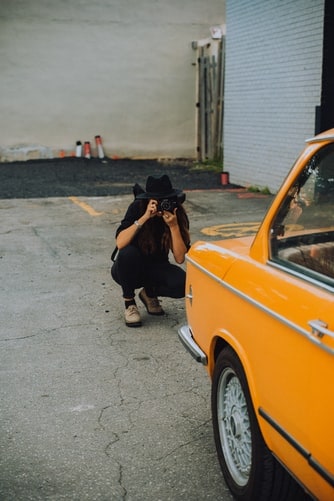 A camera with an interchangeable lens design enables you to use focal length, aperture value, and image stabilization to improve the camera's shooting capacity.
You can use Canon STM and USM lenses for the EOS R5 and 5D Mark IV. The Nikon D7500 works with in-brand AF-S lenses, whereas the Sony A7S III and A7R II use Sony FE lenses. What's more, all of them have compatible lenses from Tamron, Samyang, and Tokina.
Ergonomics
You should also consider a camera's construction because the design and material influence the weight and size. Likewise, this would impact how it feels handling and bringing the camera around.
You may be shooting large cars, or there are times when you need to go inside a vehicle to shoot the interior. In such cases, it would be easy to maneuver when using lightweight cameras like the Canon EOS R5 and Sony A7R II.
Furthermore, a camera must have a robust body and weather-sealing to protect it against unpredictable weather. Depending on the shoot's theme, you may encounter sand, water, or humid air. You should also be able to grip the camera securely to avoid damage.
Additional Features
While optional, these features can make a camera more efficient in taking photos of cars.
Image stabilization: Optical stabilization is a camera technique that minimizes blurring associated with camera motion or change in lens focal length. Only the Canon R5, Nikon D7500, and Sony A7R II feature in-body stabilization.
Video recording: Even if your specialty is taking photos, it's always good to prepare in case a client wants to shoot some video clips. All of the cameras can record videos, and you just have to choose which camera's focusing and fps would suit your shooting requirements.
Bluetooth: A Bluetooth setting enables you to connect the camera to your phone and view the images using an app. Only the Canon R5, Sony A7S III, and Nikon D7500 offer Bluetooth connectivity.
Conclusion
Any of the cameras from this list can give you a headstart in car photography and take pictures of vehicles as if they are alive. Make sure to compare the features of the cameras, analyze their pros and cons, and consider your budget for a wise investment.