If you buy something through a link in our posts, we may get a small share of the sale.
With the recent development in technology, many people are beginning to take up carriers in flying drones. One of the most recognized aspect is becoming a drone mapping service provider.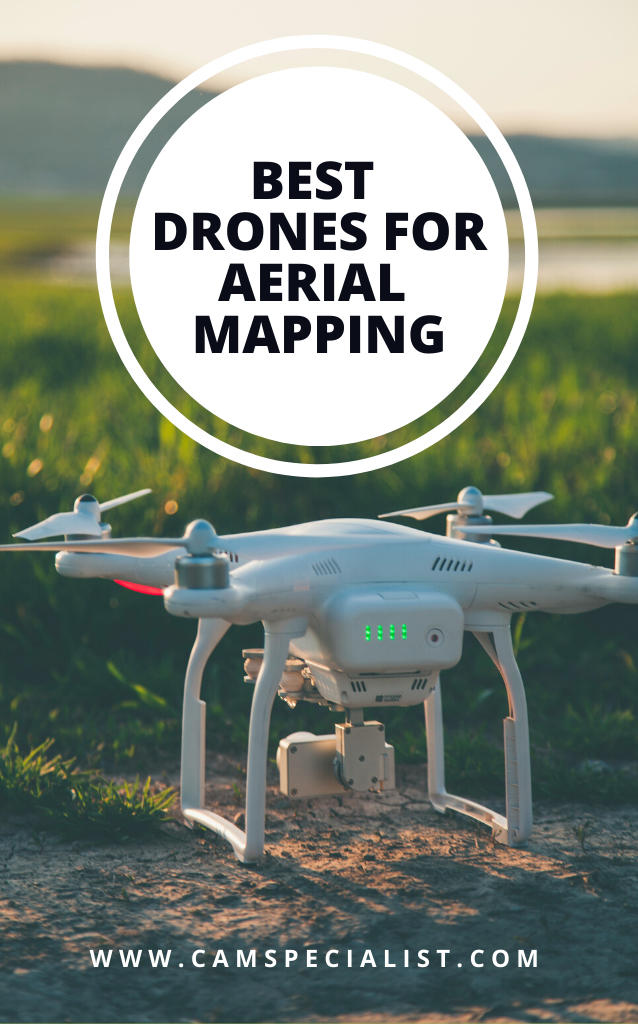 Whether you are searching for the best drones for aerial mapping or looking to buy the best drone for aerial photography, they are almost the same thing, and so these drones will share similar features especially when it comes to their camera.
In this article, we will be recommending a few drones with great cameras and flight technology that will make your job easy with stunning footage you can work with.
Reviews of the Best Drones for Aerial Mapping
Brand
Best Overall
Parrot – Drone Anafi Extended Camera
Best for Beginners
Potensic T25 GPS Drone, FPV RC Drone Camera
Best Portable Drone
DJI Mavic, Fly More Combo
Product
Best Overall
Brand
Parrot – Drone Anafi Extended Camera
Product
Best for Beginners
Brand
Potensic T25 GPS Drone, FPV RC Drone Camera
Product
Best Portable Drone
Brand
DJI Mavic, Fly More Combo
Product
1. Parrot – Drone Anafi Extended Camera
Users of the Parrot – Drone Anafi Extended Camera will get the best quality experience in a drone camera. This is one of the best drones for aerial mapping that provides for a whopping 21MP camera resolution. Now, you will never miss any capturing with the use of 3-axis hybrid stabilization. This feature allows you to have perfect and smooth videos, not depending on the environment.
The newly installed wide-angle F2.4 aspherical lens and the 2.8x loss-free digital zoom will bring your image experience to a whole new level. You can even shoot 10 frames every second with the help of the burst mode feature.
This camera is up there when it comes to portability. This is because of its 320g featherweight and carbon frame that requires about 2 seconds unwrapping. Get value for your money as it features a 4K HDR camera that provides for high-quality videos. The Parrot – Drone Anafi Extended Camera makes it possible for you to capture breathtaking images in a split second while controlling the drone with your device.
You can charge the battery of your smartphone while using a power-bank via the USB Type-C charging port.
Pros
It has an incredible 21MP
It features a 4K HDR Camera
It is portable
The battery is not bad
Cons
It lacks obstacle avoidance
It has slow and poor controls
Parrot - Drone Anafi Extended - Pack with 2...
With its 4K HDR camera and 180° vertical swivel gondola, unique on the market, impress your friends...
21 MEGAPIXELS: Never miss another shot with the help of 3-axis Hybrid Stabilization, which will...
FILM, PHOTOGRAPH, AND FLY EASILY with FreeFlight 6 and Parrot Skycontroller 3, a new, intuitive, and...
2. Potensic T25 GPS Drone, FPV RC Drone Camera
Embedded with an improved 1080P 120-degree FOV lens in real-time, the Potensic T25 GPS Drone will take dazzling images while the drone is in fast motion.
With the feature of Auto Return Home, you can touch the return home button whenever the drone is in GPS mode so that you can move back to the part where you started. Additionally, the Potensic T25 GPS Drone features a dual gps+9-axis gyro space which returns the drone back to its staring point when signal is lost of battery about to be drained. It is also rugged enough to withstand wind pressure.
You can capture more steady photos and videos with the addition of the adjustable wide-angle function. This camera has a 980ft maximum control distance, which provides for total control at a far range.
It has a flight path function which can be activated to make your mapping process easier and hands-free. Not forgetting to mention the follow me mode.
Pros
Newbies can use this drone
It has an improved 1080P degree FOV lens for clear images
It is GPS enabled
Wi-Fi can be connected just about anywhere
Cons
The battery capacity is not good enough
You cannot mount a camera with this drone
Potensic T25 GPS Drone, FPV RC Drone with Camera...
Dual GPS: GPS positioning + GLONASS positioning provide you with accurate positioning details of...
Follow Me Mode: Follow to the GPS in your smartphone, ensuring your drone automatically follows and...
All-Round Functions: Headless mode, altitude hold and one key takeoff / landing for easier...
3. DJI Mavic, Fly More Combo, Flame Red
Have a fun, easy, and insightful camera experience with the SmartCapture feature that provides the best and interactive method of controlling the DJI Mavic, Fly More Combo drone manually.
Use your hand to capture photos and shoot videos while sharing with your friends in just a single click. Since it has an amazing folding ability, you can take it just about anywhere you want.
Get the best and sharp video and photos through the three-axis gimbal, which can stabilize pictures and videos taken in high-speed motion. Enjoy your adventure experience with the help of the slow-motion function that shoots 1080p 120 fps slow-motion videos. Shoot incredible videos at 100 Mbps per second with the 4K 30 fps function.
One of the special features is that it stitches about 25 photos in about 9 seconds to create crystal-clear 32 MP Sphere panoramas.
Pros
It is portable
It performs slow-motion video
It has a 3D foldable design
Internal memory storage is about 8GB
Cons
It has a short battery capacity
It does not have video crop
Battery life is maximum 19 minutes as against what was advertised
DJI Mavic Air, Fly More Combo, Flame Red
32.0MP sphere panoramas - In addition to horizontal, vertical, and 180° panoramas, Mavic Air...
Lightweight and compact foldable design - You can take it anywhere with you.
Supports 4K video at 30 fps - The 12.0MP camera with Adobe DNG RAW support is ready to shoot. The...
4. DJI Mavic 2 Zoom Drone Quadcopter with Fly More Kit Combo Bundle
The DJI Mavic 2 Zoom Drone Quadcopter is also among the best drones for aerial mapping. While powered by a 1/2.3 inch CMOS 12 Megapixel sensor, you are guaranteed to have a zooming experience on four levels.
You take photos from wide-angle to mid-range and provide for more options to use. What's more? You can capture objects that are far away from where you are through the 4x lossless zoom feature.
Furthermore, capture a crystal clear and bright image of objects through its auto-focus tracking function. Dolly Zoom will alter the focus function when in air, which provides for a more concentrated effect when using the video recording option.
One interesting factor about the DJI Mavic 2 Zoom drone camera is that it offers a much stronger battery capacity than you will get with other drones.
Pros
It is light and thereby, portable
It has a strong capacity
It features a 24-48mm Optical Zoom Camera
It has a 48MP resolution camera
DJI Mavic 2 Zoom Drone Quadcopter with Fly More...
Please update the firmware version of your Mavic 2 to 01.00.00.00 or above via the App tips or DJI...
See the Bigger Picture: Powered by a 1/2.3 inch CMOS 12MP sensor with up to four-times zoom,...
Up to 31 minutes flight time, 44 mph max speed, 905g takeoff weight, 3-axis gimbal for steady shots,...
5. DJI Phantom 4 PRO Professional Drone
Powered with a 1-inch 20MP CMOS sensor, you are sure to capture high-quality images and enjoy your mapping experience with the DJI Phantom 4 PRO Professional Drone. This is the first of its kind to make use of a mechanical shutter. And this removes any other function like the rolling shutter warp, which happens when capturing images of speedy subjects.
This camera is upgraded with a 20MP sensor that can shoot 4K/60fps video. It has a return to home fature that allows it return to its take off point without control when there is loss in signal. It also has the ability to signal the pilot or avoid obstacle along its flight path.
The DJI Phantom 4 pro professional drone includes a dual compass mode. This makes it trusted when in contrast to other octocopters and hexacopters. While flying, use the IMU sensor to make sure you have a steady flight experience. You can take selfies easily without using remote controls though the gesture mode
Pros
It has a camera sensor of 1-inch 20 Megapixel
It features a fast video processing of up to 4K at 60fps
It includes features that sense and avoids obstacles
It has a good enough range of capturing photos
Cons
It has a longer flight time
It is very expensive
DJI Phantom 4 PRO Professional Drone, Hobby RC...
Camera with 1-inch 20MP sensor the onboard camera has been redesigned to use a 1-inch Megapixel CMOS...
Five-directions of obstacle sensing. Please refer the Instructional Video and the User Manual before...
More powerful video processing supports H.264 4K videos at 60fps or H.265 4K at 30fps, both with a...
What to Consider When Buying Drones for Aerial Mapping
Camera Resolution
You are aware that aerial mapping and photography means you will be taking videos and images from a distance. So you will want to see clearly, all details from the shots.
This is why you need to consider a camera with high megapixels. Anything from 10MP above will be great for entry-level. We however, we recommend at least 15MP cameras for professional jobs.
With low megapixels, the images will appear blurred especially when zoomed to collect more details, thereby forfeiting the purpose.
Range of Flight
If you want to fly your drone to take a wider view, then, of course, you need a drone not just with a wide view angle, but large flying radius from the user or remote control. The good thing is that you will find many drones with this feature. Of course, they are more professional drones, so you don't expect them to be cheap.
Battery Life
This is another thing to consider when buying drones for mapping. You don't want to fly your drone for just a few minutes and it comes crashing because of battery drainage.
Even though you can have spare batteries, the battery's life should also be good enough to support longer flight time. You don't want to be changing batteries every few minutes. A good battery life for drones should last at least 30 minutes.
Also, you should look for drones that you can change the batteries easily rather than built-in battery system.
Weight of the Drone
While some may overlook this, it is another important factor to consider. We have our reasons for this. If the drone is too light, it may not be able to withstand wind pressure as it mounts up to higher altitudes. So we do not recommend buying lightweight drones for this purpose.
Of course, an increase in weight of the drone means a more powerful motor and propellers to match the weight.
Conclusion
Having the best drones for aerial mapping will not only make the job easier, it will also make the job fun. If you want to get serious with providing quality mapping services, then you should consider buying drones from DJI. They make durable drones with great flying times and amazing camera shots.
The video below shows a DJI phantom drone at work for mapping