As an Amazon Associate we earn from qualifying purchases.
DSLR cameras tend to be expensive because of their high-end features and specs. However, you can still find the best DSLR camera for under $400 without compromising picture quality. For this guide, we're listing the four top DSLR cameras you can use without splurging much.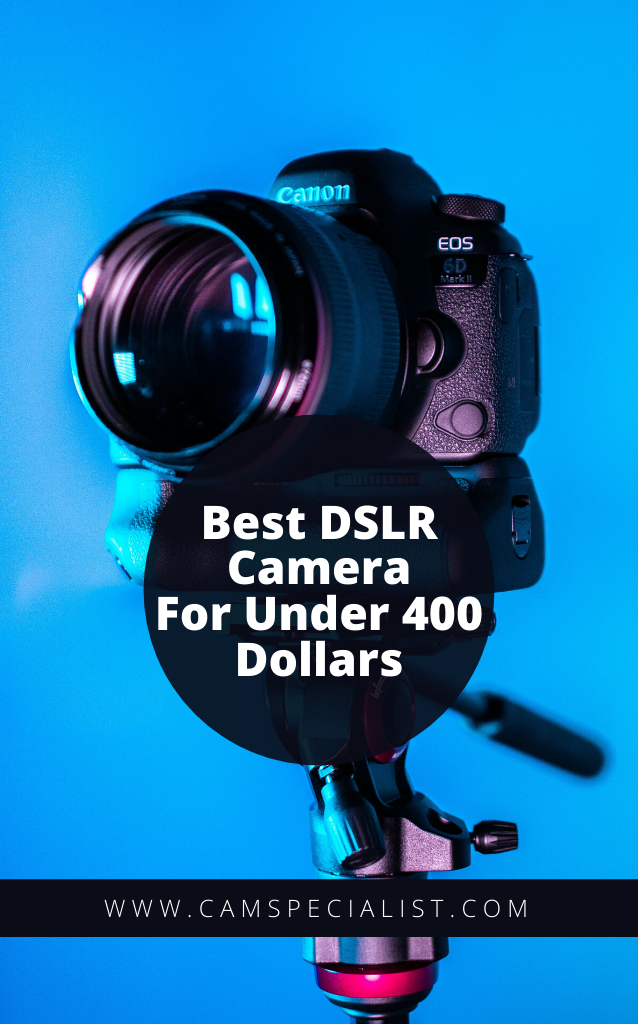 Our Top DSLR Camera For Under $400 Reviews
Considering full HD recording, an 18-megapixel sensor, and an APS-C sensor, the Canon EOS 4000D DSLR Camera is our best DSLR camera for under $400 because it packs much-needed elements for different kinds of photography.
If you want to take photography more professionally, then we can say that you can't do it without having a DSLR camera. They are flexible and versatile, so most professional photographers own one.
Brand
Canon EOS 4000D DSLR Camera
Canon Digital SLR Camera EOS Rebel T6
Product
Optical Sensor Resolution
Brand
Canon EOS 4000D DSLR Camera
Product
Optical Sensor Resolution
Brand
Canon Digital SLR Camera EOS Rebel T6
Product
Optical Sensor Resolution
Product
Optical Sensor Resolution
Canon EOS 4000D DSLR Camera
The Canon EOS 4000D DSLR provides the opportunity to level up from smartphone to professional cameras while costing a lot less than most recent phones. It has social media-friendly features, including a built-in Wi-Fi for quick transferring, editing, and uploading.
While not the biggest around, its 18-megapixel sensor is larger than the average 12 to 16 MP of smartphones. This size means you're getting more pixels to shoot, even in low-light environments. Likewise, you can retain more image information to edit in Lightroom.
Similar to the Canon 2000D, it uses a 9-point autofocus system to let you select focus configurations. Its DIGIC 4+ processor is entry-level, so while you can't expect lightning-quick operation speeds for sports or wildlife photography, you can still explore a full HD video recording for landscape or street photography.
If you are new to photography, this camera is perfect for you as it offers you the opportunity to do non-stop shooting at three frames per second while using a stable rear screen.
Pros
Battery power lasts 500 shots on a single charge.
Low noise throughout the ISO range, reducing background noise even in dim light conditions.
Cons
12800 is the maximum ISO, although average shoots should be fine with 200 to 1600.
It does not feature 4K video ability.
Canon EOS 4000D DSLR Body Only Camera Kit + 32GB...
This Camera Bundle Kit comes complete with all manufacturer supplied accessories and includes a one...
Canon EOS 4000D DSLR Camera Body (Import Model)- 18MP APS-CMOS Sensor, DIGIC 4+ Image Processor,...
Creating distinctive stories with DSLR quality photos and Full HD movies is easier than you think...
Canon EOS Rebel T6 Digital SLR Camera
With its great combination of features and below $400 price tag, the Canon EOS Rebel T6 can also serve as a step-up camera for both beginners and seasoned shooters.
The Canon Rebel T6 has an 11.11% bigger screen size than the Canon 4000D, making it easier to track movements on the scene when shooting videos for events. It has a built-in Wi-Fi and NFC, which provides easy sharing of pictures and videos with compactable devices.
Whether at night or during the day, you would get the best pictures and videos because of the presence of a DIGIC 4+ Image Processor. You can also use the Scene Intelligent Auto mode to change the camera settings to how you want it done.
It offers three shooting modes, including a manual mode and three autofocus modes. The Canon T6 does well using AI Servo AF, especially if you want to practice taking pictures of moving subjects. 
Pros
It has a built-in Wi-Fi and NFC connectivity for quick sharing.
White balance copes well with various lighting conditions.
Cons
It does not allow the use of external microphones.
Uses a fixed LCD.
Canon EOS Rebel T6 Digital SLR Camera Kit with...
180 Megapixel CMOS (APS C) image sensor and high performance DIGIC 4 plus Image Processor for...
ISO 100 6400 (expandable to H: 12800) for shooting from bright light to low light compatible with...
Built in Wi Fi and NFC connectivity provide easy sharing to compatible smart devices, select social...
Nikon D3400 DSLR camera
Suppose you are a total beginner to the world of photography. You may want to consider the Nikon D3400 DSLR Camera, as it hides the flaws of a beginner and produces amazing features irrespective of your experience. Beginners and professionals can use this camera as it has a relatively simple operating system.
The large image sensor in the Nikon D3400 enables you to take clearer pictures when you attend sporting events, shows, and fun outings. While its autofocus only functions with the latest AF-S lenses, it has two more autofocus points than the Canon Rebel T6.
Weighing only 13.9 ounces, the Nikon D3400 makes it an extremely affordable camera for travel photography. Since you may not have the opportunity to charge much while traveling, this camera's fully charged battery can last for 700 shots.
While there is no Wi-Fi ability to share videos and photos seamlessly, a Bluetooth option is a direct substitute. This camera is outstanding because you can use it hand in hand with compatible smartphones and devices, making sharing videos and photos even much easier.
Pros
It enables full manual exposure controls to develop your photography skills.
It offers 1080 video resolution despite having a crop sensor format.
Cons
Doesn't use a wired remote shutter.
Lack of microphone port.
Canon EOS 2000D DSLR Camera
When buying cameras under $400, the sensor size is among the usually compromised elements. In the case of the Canon EOS 2000D it uses an impressive 24.1 MP resolution to capture high-quality images and videos.
This autofocus size is enough to retain image information for cropping or printing photos at larger sizes. The focus points manage to lock into the subject, especially in decent lighting.
Despite its price, you can adjust the ISO from 100 to 12,800, making it flexible for portrait, lifestyle, or product photography. While there's no 4K video for vlogging, you can maximize the full HD recording to hone your videography skills.
Like most entry-level Canon DSLRs, the Canon 2000D doesn't have Bluetooth. However, it provides Wi-Fi and NFC connectivity for photo sharing.
Pros
Focusing speeds are ideal for still-life and macro-type subjects.
500 shots for a fully-charged battery is decent for DSLR standards.
Cons
No option for Bluetooth.
Cannot be used with any shutter controller.
DSLR vs Mirrorless Cameras
There has always been this argument on the best between a DSLR and a mirrorless camera. This depends on the individual. Each of these cameras has its advantage and specialty.
DSLR cameras as we have stated before, are designed for professional photography because they are versatile. They also have the advantage of lens selection. The mechanism features an optical viewfinder that works better in low light. One of the disadvantages of DSLR is that they are usually very heavy.
On the other hand, mirrorless cameras are incredibly light, and some can even get into your pocket. Compared to its counterpart, they are better with video recording in terms of quality. One of the major disadvantages is that they tend to have shorter battery power.
Features to Consider for a DSLR Camera Under $400
We understand that DSLR cameras are expensive, so you don't want to spend a fortune on one and discover you would have done otherwise. So, to buy the one just right for you, consider the following criteria.
Sensor
The camera sensor dictates the image quality a DSLR camera produces. The larger the sensor, the better the quality. The Canon EOS Rebel T6 and 2000D cameras have the biggest sensors at 24.1 megapixels. This provides improved low-light performance, reduced noise, and excellent dynamic range.
Autofocus
The autofocus can help you quickly focus on the subject. All of the cameras have autofocus systems, although the Canon EOS 4000D, Rebel T6, and 2000D are more responsive to light because of their big sensors.
Battery Life
Battery life is an essential element in electronic gadgets. Just because a DSLR camera costs less than $400 doesn't mean you get subpar battery life. The Nikon D3400 boasts a battery power of up to two hours, letting you take more than 500 shots when fully charged.
Conclusion
It can be difficult to get a quality DSLR camera for such a low budget. We made sure to select products that could compete with the higher-priced cameras. The good thing about DSLR is that you can always upgrade your picture quality and styles because of its wide range of available lenses.