Thank you for your support!
DSLR cameras are expensive. Most DSLR cameras are priced from 500 bucks above. Prices can even get high as $5,000 like the Nikon D5 DSLR 20.8 MP Point & Shoot Digital Camera.
Well, you don't need to be on a high budget to be a proud owner of a DSLR camera. This is why we have decided to hunt the market and select the best DSLR camera for under $400.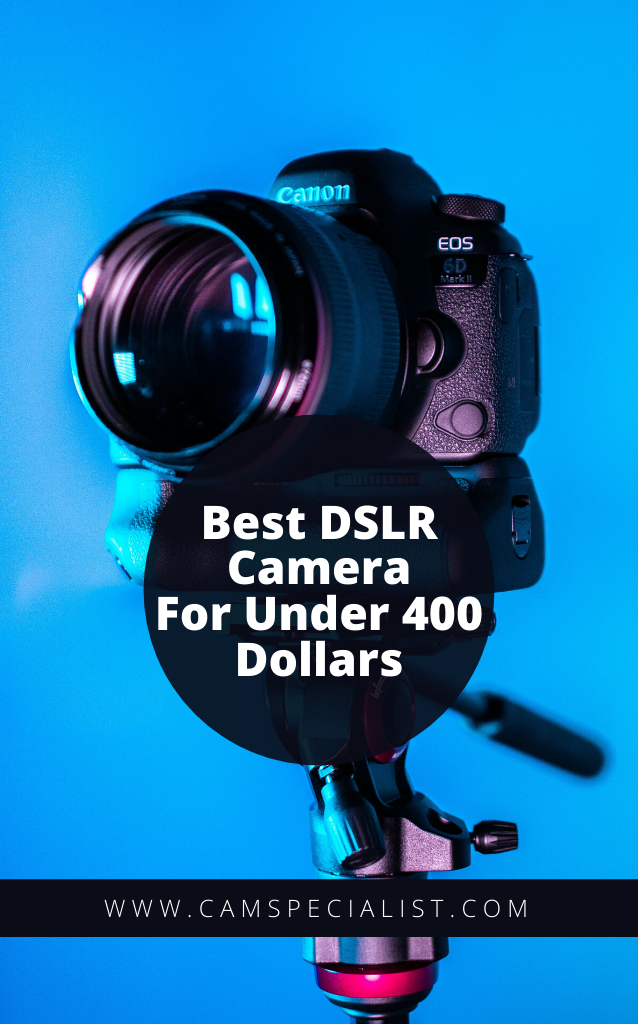 If you want to take photography more professionally, then we can say that you can't do without having a DSLR camera. They are flexible and versatile and that is why most professional photographers own one.
Reviews of the Best DSLR Camera for Under $400
Canon EOS 4000D DSLR Camera
This is one of the best DSLR Camera for under $400. With the addition of an 18 Megapixel camera system, you would get a good image and video quality. This is not the best you can have, but for the price, it is just great. One interesting aspect that concerns the Canon EOS 4000D Camera, is that you do not have to break the bank to purchase it.
If you are new to photography, this Camera is perfect for you as it offers you the opportunity to explore a Full HD video recording, 3fps non-stop shooting, APS-C sensor, autofocus system, and a stable rear screen.
The Canon EOS 4000D Camera was made with a built-in Wi-Fi system, so you can share your images to social media using the Canon Camera Connect app. With this camera model, you have to pull the flash up with your hands if you want to use it. This is in contrast to other camera models, where the flash comes out whenever you want to shoot in full auto mode in poor light surroundings.
The perfectly made controls ensure that you will not hurt your wallet if you purchase the EOS 4000D Camera.
Pros
It features a built-in Wi-Fi
It is low-cost
It is easy to use
Cons
It has a poor screen
It contains low-quality battery capacity
It has a plastic lens mount
It does not feature 4K video ability
Canon Digital SLR Camera EOS Rebel T6
The Canon EOS Rebel T6, comes with a built-in Wi-Fi and NFC which provides for easy sharing of pictures and videos with compactable devices.
While it is simple to operate, the Canon Digital EOS Rebel T6 will provide its users with high-quality images through its 18 Megapixel image sensor. Whether at night or during the day, you would get the best pictures and videos because of the presence of DIGIC 4+ Image processor. You can also use the Scene Intelligent Auto mode to change the camera settings to how you want it done.
Whatever you choose to use the DSLR camera for, it is versatile. Apart from the image quality, it also gives you great video output at 1080P.
Because the lenses are interchangeable, they have included two special lenses to begin your photography career.
Pros
It has a built-in Wi-Fi and NFC
Offers high-quality images
Two additional special lenses
It features a wide 3.0 inch LCD monitor
Cons
It does not allow for external microphones
No lens filters attached to the camera
Nikon D3500 DSLR Camera
If you are a total beginner to the world of photography, then you may want to consider the Nikon D3500 as it hides the flaws of a beginner and produce amazing features irrespective of your experience. Beginners and professionals can use this camera as its handling is easy and not complex.
Consequently, it is also ideal for travel which makes it portable enough. Amazing videos are also not left out, the feature of a 1080P ensures that quality videos are taken in high definition. While there is no Wi-Fi ability to wirelessly share videos and photos seamlessly, there is a Bluetooth option which is the direct substitute.
The large image sensor in the Nikon D3500 enables you to take clearer pictures when you attend sporting events, shows, and fun outings. What makes this camera outstanding is that you can use it hand in hand with compatible smartphones and devices, and this makes sharing videos and photos even much easier.
Pros
It is portable
The Camera is easy to use
You can shoot more like a photographer with this Camera
It captures high-quality images and videos
Cons
No inclusion of a wired remote shutter
No IR receiver
Canon EOS 2000D DSLR Camera
One of the most important factors that determine the quality of an image is the megapixels of the camera used. The Canon EOS 2000D has an improved effective still resolution.
The 24.1 MP resolution makes capturing high-quality images and videos very exciting and irresistible to gaze at. With a maximum shutter speed of 30 seconds, you can maneuver your way to a better image.
Do not bother about how you would be able to send your photos or videos to a third party to view when there is the addition of a Canon connect application and a Wi-Fi function.
Other important functions to take note of are the LCD and the maximum continuous shooting function. Its Liquid crystal display is 7.5 centimeter while its continuous shooting is at 3 fps which provides for non-stop capturing of photos and videos.
Pros
It has a Wi-Fi and NFC function for sharing
It offers interchangeable lenses
Great shutter speed range
Taking high-quality images and videos
Cons
There is no option for Bluetooth
It is cannot be used with any shutter controller
If you might be able to stretch your budget a bit, consider some of these other camera options:
DSLR vs Mirrorless Cameras
There has always been this argument on the best between a DSLR and a mirrorless camera. This depends on the individual. Each of these cameras has its advantage and specialty.
DSLR cameras as we have stated before, are designed for professional photography because they are versatile. They also have the advantage of lens selection. The mechanism features an optical viewfinder that works better in low light. One of the disadvantages of DSLR is that they are usually very heavy.
On the other hand, mirrorless cameras are extremely light and some can even get into your pocket. Compared to its counterpart, they are better with video recording. One of the major cons with them is that they are only fewer lenses and accessories available.
How to Choose the Best DSLR Camera for You
We understand that DSLR cameras are expensive, so you don't want to spend a fortune on one, and discover you would have done otherwise. So, to buy the one just right for you, consider the following criteria.
What are You Going to Use it For?
Why spend much on a camera that will only be used to take pictures with family and friends for the fun. DSLR cameras are for the photography enthusiasts. It is a great choice for people who want to take photography as a career.
Your Experience Level
If you are a beginner with cameras, then you should start with lower model cameras that are affordable with easy to use features. DSLR cameras under $400 are a great choice to go. As you advance in your photography career, you can opt-in for a more advanced camera.
The actual differences between a beginner level, intermediate level, and professional level camera is with the camera's design, sensor, and shooting features.
Conclusion
So here we are, the best DSLR camera for under $400. It is really difficult to get a quality DSLR camera for such a low budget. We have made sure that we selected products that can at least compete with the higher-priced cameras.
The good thing about DSLR is that you can always upgrade your picture quality and styles because of their wide range of available lenses.
If you need any assistant or special recommendation, we can be of help. Let us know using the comment section.
Happy shooting!