As an Amazon Associate we earn from qualifying purchases.
Using a DSLR enables you to capture photos with excellent resolution and sharpness. However, some models tend to be expensive. To help you save money and time, we're giving you options for the best DSLR camera under 700 dollars to balance quality and affordability.
Our Top DSLR Camera Under $700 Reviews
Considering the optical quality, low-light performance, the Nikon D3500 DSLR is one of the best DSLR camera to get without hurting your wallet.
To give you more options, we're adding some other DSLR models that would give you the best shooting abilities without spending over 700 dollars.
Product
Special Features
24.2MP DX-Format CMOS Sensor
Fully weather-resistant and cold proof design
32 GB High Speed SDHC Class 10 Memory Card
Product
Special Features
24.2MP DX-Format CMOS Sensor
Product
Special Features
Fully weather-resistant and cold proof design
Product
Special Features
32 GB High Speed SDHC Class 10 Memory Card
Nikon D3500 DSLR
Combining manual control, autofocus, and HD image quality, the Nikon D3500 DSLR lets you capture mesmerizing portrait, event, or landscape photos. 
The DSLR's high ISO range of 100-25600 enables you to use fast shutter speeds and a smaller aperture to achieve sharper photos. This even lets you maximize the D3500's maximum shutter of 1/4000.
Despite having the same sensor type and size as the Canon EOS 4000D, the Nikon D3500 still has more megapixels at 24.2 MP, providing higher resolution and ensuring less diffraction.
Besides, with 11 autofocus points, the Nikon D3500 makes it easy to focus on many subjects in a frame, especially when shooting a vast interior with several elements or group photos with lots of people.
Finally, you'll get the most out of your pick with the battery life's 1,550 clicks, which is the highest number of shots out of all the cameras with the same sensor type. In effect, this DSLR can accompany you in long hours of travel or event photoshoots.
Pros
Features an ISO range of 100-25600, the only DSLR camera with this range on this list.
A frame rate of 60 seconds allows you to shoot in 1080p video resolution, perfect for smooth slow-motion clips.
Cons
The LCD doesn't flip or tilt, which may limit your vision when taking videos.
Only 0.22 pounds lighter than the Pentax K-70, although this may still feel a bit heavy unless mounted on a tripod.
Pentax K-70 DSLR Camera
A fast shutter speed enables you to widen the aperture and let in more light for sports or wildlife photography. With a maximum shutter speed of 1/6000, the Pentax K-70 DSLR is the fastest DSLR you can buy.
Like the Nikon D3500, the Pentax K-70 contains 11 autofocus points. As a result, you have more ways of fine-tuning and directing the focus to certain parts of the frame.
The weather-sealing and rugged design make the DSLR weigh 1.52 pounds. This can make the camera feel heavy when you need to change shooting positions. However, it compensates for having a tough yet lightweight magnesium alloy body, enabling you to use it for outdoor shoots despite humidity.
With only 410 shots per charge, the Pentax K-70 has the weakest battery power. However, with its fast shutter speed and maximum ISO levels, this DSLR can easily automate its settings so that you can shoot efficiently and save battery life.
Pros
A fast shutter speed of 1/102400 lets you use wide apertures and create a shallow depth of field to minimize cluttered backgrounds.
It contains a shake reduction feature and an articulated screen with night vision mode to stabilize low-light shots.
Cons
Battery life only provides 410 shots per charge, yet this is just 90 less than the Canon 4000D.
Heaviest DSLR on this list, although the weight may help balance the feel when using lenses with longer focal lengths.
Pentax K-70 Weather-Sealed DSLR Camera, Body Only...
All weather DSLR: dustproof, weather resistant and outstanding cold proof performance down to 10...
High performance image sensor: equipped with aa filter free design APS C size CMOS Image Sensor with...
Optical Viewfinder with 100 percent field of view: Pentax k 70's viewfinder provides a large,...
Canon EOS 2000D
There are several beginner-friendly DSLRs, yet the Canon EOS 2000D has the simplest features and settings while maintaining an affordable price.
Like the Nikon D3500 and Canon EOS 4000D, the Canon EOS 2000D can shoot up to a maximum shutter of 1/4000. This setting allows you to improve focus and sharpness even when a scene has constantly changing lighting.
With 9 autofocus points, you can rely on this DSLR camera to ensure image clarity while you can focus on composition and angles. The autofocus system is also helpful when shooting photos with high contrast, enabling you to retain deep textures and intensive colors.
At 30 fps, the Canon EOS 2000D has the slowest frame rate count than the other DSLRs of the same price range. However, this is still good if you want an effect that appears the most natural to the human eye.
Pros
High-quality 24 MP sensor for gathering more light in both daytime and nighttime shooting.
Intuitive user interface and automatic shooting modes offer great assistance to amateurs and beginners.
Cons
Slowest frame rate, although this is still efficient if you won't shoot videos that much.
Rubber eyecup and handgrip may feel too small for some users, which could be uncomfortable during long photo sessions.
Canon EOS 2000D Rebel T7 Kit with EF-S 18-55mm...
This Grace Photo Camera Bundle Comes Complete With Manufacturer Supplied Accessories(U.S....
Canon EOS 2000D DSLR Camera - International Version - 24.1MP APS-C CMOS Sensor - DIGIC 4+ Image...
Canon EF-S 18-55mm F/3.5-5.6 DC III Zoom Lens - EF-S-Mount Lens/APS-C Format, 28.8-88mm (35mm...
Canon EOS 4000D DSLR Camera
No products found.
DSLRs tend to be heavy because they usually have many optical elements and moving parts. Despite having the same components as other cameras, the No products found. manages to remain compact at 0.9 pounds, which avoids straining your wrists when shooting across vast landscapes or properties.
Like the Canon EOS 2000D, the Canon 4000D has an ISO range of 100-12800, which boosts the 18 MP sensor by collecting more light in a shorter amount of time. In this way, you can minimize camera shake when handheld shooting.
The 9-point autofocus system does well in balancing color saturation. However, the autofocus is a bit sluggish in video mode. On the plus side, this could help you train manual focusing, especially when shooting slow-moving or motionless subjects.
While being the lightest DSLR to haul around, the Canon 4000D suffers from having the shortest battery life, with only up to 500 shots using a fully-charged battery. However, this can still last you on a day of photo walks and mini studio sessions.
Pros
Decent ISO range for practicing manual control.
Lightweight yet adequate build quality, which makes it a handy DSLR for travel and street photography.
Cons
It runs a battery life of 500 shots, which should be enough for hobbyists and non-professional shoots.
It only has 18 megapixels, which is reasonable due to its lighter sensor.
No products found.
Don't miss our other reviews for cameras in different price categories:
Features to Consider for a DSLR Camera Under $700
A DSLR camera contains several components and features. So even if these DSLRs cost below 700 dollars, you can ensure that you're picking the best DSLR camera as long as it has these aspects.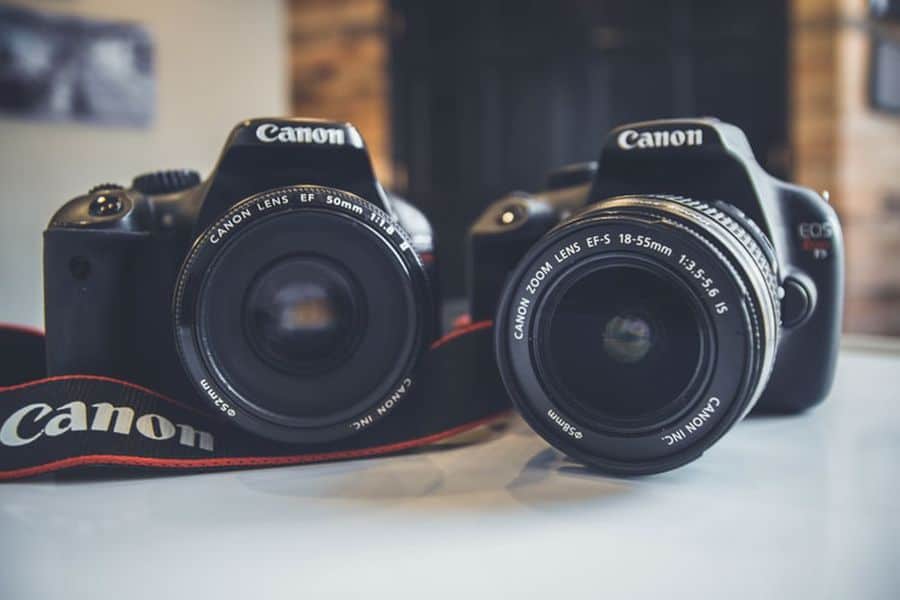 Sensor
Instead of having a full-frame sensor, which is significantly heavier and more expensive, all of the DSLRs on this list can maintain a low price of under 700 dollars due to their APS-C sensors.
Despite having a smaller sensor, DSLRs with APS-C sensors allow you to fill the frame quickly, even when the subject is at a greater distance. In effect, you can achieve a high depth of field despite being far away from your subjects, like in wildlife or action photography.
Image Quality
The image quality depends on a number of features, particularly the megapixel count. Keep in mind that the higher the MP count, the greater the detail you can retain in a photo.
The Nikon D3500, Pentax K-70, and Canon EOS 2000D contain 24-megapixel sensors, allowing them to record photos with higher resolution. With this megapixel count, you can crop pictures or print your shots without worrying about damaging image integrity.
On the other hand, the Canon EOS 4000D only uses 18 MP, although this is still good enough for enlarging pictures without detecting individual pixels.
Low Light Performance
Light is an essential factor in photography as it influences a photo's tone, brightness, and overall feel. While there are times when you can't control a scene's available light, the light sensitivity of a DSLR camera can help you shoot in dim-light situations.
If you need a solid ISO up to 102400, the Pentax K-70 can give you that kind of support to prevent image blur. Meanwhile, the Nikon D3500 can hit up to 25600.
While the Canon EOS 2000D and Canon EOS 4000D can only reach up to 12800, this is reasonable for an affordable DSLR with fewer optical elements. However, it's not ideal to use the highest ISO levels as you may produce grainy effects or background noise.
Battery Life
Your chosen DSLR may have superb features and a budget-friendly price, yet can it withstand hours of shooting?
For instance, the Nikon D3500 can last up to 1000 shots, although this is possible because its weaker screen viewing doesn't take up much power.
The Canon EOS 2000D follows with 600 shots to its battery's low discharge rate. The Canon EOS 4000D and Pentax K-70 may only have 500 and 410 shots, respectively, although they can power you through hours of shooting without overheating.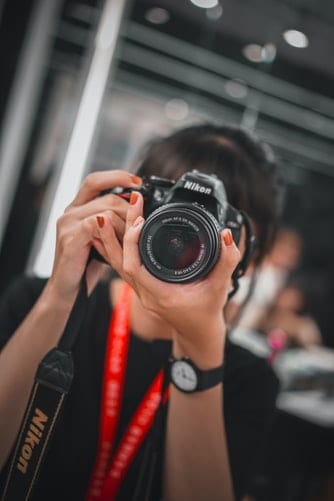 You won't maximize a DSLR's capacities during a shoot if you spend more time charging. Likewise, buying more batteries can be helpful in the long run, although this would result in a higher upfront cost.
Ergonomics
Ergonomics refers to how safe and comfortable you can use a DSLR. For example, the better the DSLR feels in your palm, or the easier you can access the buttons, the more efficiently you can take photos.
With that said, what makes an excellent DSLR camera is having a quality design while still priced under 700 dollars.
Weather-sealing: DSLRs with rugged designs are suitable if you want to shoot in a harsher environment. The Pentax K-70, Canon EOS 2000D, and Canon EOS 4000D include weather-sealing technology. This feature makes these DSLR cameras more resistant to dust and moisture.
Grip: The grip is another important factor as it ensures the proper handling of a DSLR. However, this depends on the material and weight of the camera. This is why the small sizes of the Canon EOS 2000D and Canon EOS 4000D are suitable for handheld shooting.
Viewfinder: You need to look into the viewfinder to compose and focus shots. The viewfinder's position impacts how the camera would feel against your face. The viewfinders of the Nikon D3500 and Pentax K-70 are on the left side, whereas the Canon EOS 2000D and Canon EOS 4000D contain a center viewfinder.
Frequently Asked Questions
Before we wrap up, let's look into other things you need to know so that you can have a more informed decision when searching for the best DSLR camera under 700 dollars.
What Are the Best DSLR Brands?
While the best brand depends on the features you need, Nikon, Canon, Pentax, and Sony are among the top-rated brands that manufacture quality-performing DSLRs. Other great DSLR makers are Panasonic, Fujifilm, and Olympus.
What Kinds of Photography Can I Practice Using a DSLR?
The versatility of a DSLR enables you to try different kinds of photography, including stills, portraits, or abstract shots. A DSLR can also help you photograph moving subjects in sports, events, or wildlife photography. As you go along, you can also practice landscape, documentary, or editorial photography.
Conclusion
DSLRs are worth investing in as long you balance the features and cost. With any of our DSLR camera suggestions, you can enjoy the beauty of photography without breaking your budget.
Nikon D3500
Pentax K-70
Canon EOS 2000D
Canon EOS 4000D
Megapixels
24.2 MP
24 MP
24 MP
18 MP
Sensor Type and Size
APS-C
(23.5 x 15.6 mm)
APS-C
(23.5 x 15.6 mm)
APS-C
(22.3 x 14.9 mm)
APS-C
(22.3 x 14.9 mm)
ISO Range
100-25600
100-102400
100-12800
100-12800
Maximum Shutter
1/4000
1/6000
1/4000
1/4000
Battery Life
1550 shots
410
600 shots
500 shots
HD Quality
720p t0 1080p
1080p to 4k
640 to 1080p
720 to 10180p
Maximum Frame Rate
60 fps
30 fps
30 fps
60 fps
Autofocus
11 points
11
9 points
9 points
Shake Reduction
Yes
Yes
Yes
No
Weight
1.3 lb
1.52 lb
1.05 lb
0.96 lb