As an Amazon Associate we earn from qualifying purchases.
No matter your Blackmagic Camera's image stabilization sensitivity, it will never be as stable as using a gimbal. A gimbal is an essential tool for supporting a camera's movements, whether hobbyist or professional. This is why we're helping you choose the best gimbal for BMPCC 6K and 4K.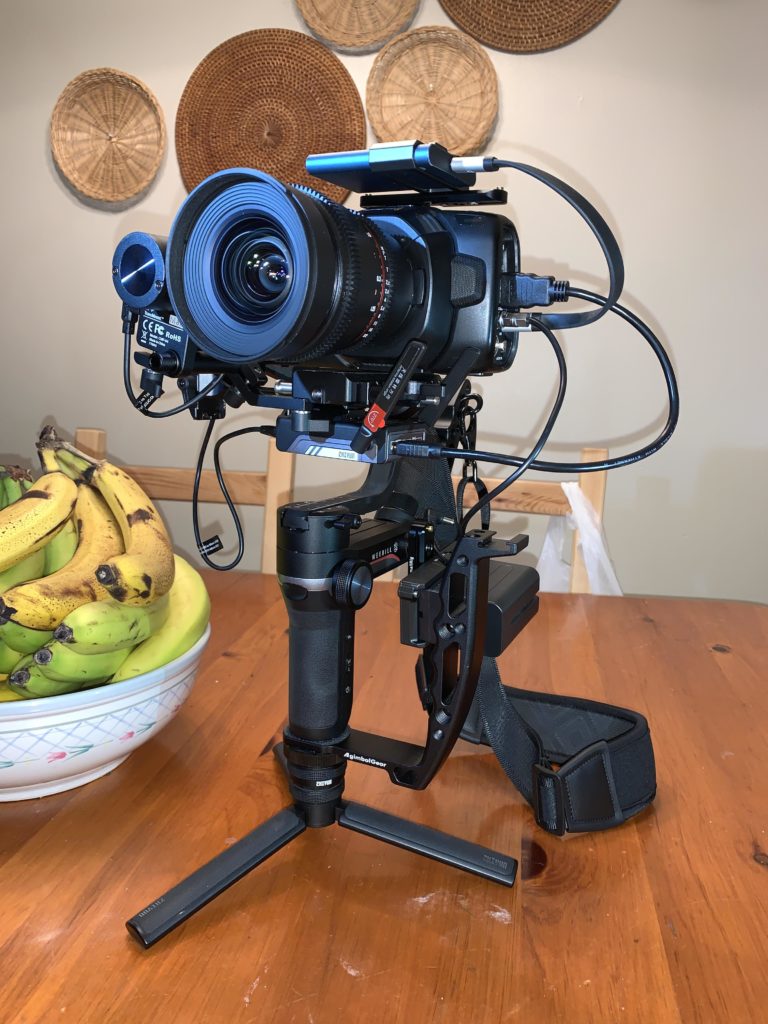 Our Top Gimbal for BMPCC 6K and 4K Reviews
With high responsiveness, customizable parameters, and an ergonomic handle, the Zhiyun Weebill S Stabilizer is the best gimbal for BMPCC 6K and 4K cameras. When shooting, these features eliminate jittery in fast-paced motions, even if your camera lacks autofocus and image stabilization.
A gimbal has several features to improve the quality of your shots, which is why we're giving additional options.
Brand
Zhiyun Crane 3S Gimbal Stabilizer
FeiyuTech AK2000s Gimbal Camera Handheld Stabilizer
Product
Special Features
with built-in image transmission
has a quick release plate design for camera
Product Dimensions
7.91 x 11.61 x 12.01 inches
15.4 x 11.9 x 4.25 inches
Brand
Zhiyun Crane 3S Gimbal Stabilizer
Product
Special Features
with built-in image transmission
Product Dimensions
7.91 x 11.61 x 12.01 inches
Brand
FeiyuTech AK2000s Gimbal Camera Handheld Stabilizer
Product
Special Features
has a quick release plate design for camera
Product Dimensions
15.4 x 11.9 x 4.25 inches
Zhiyun Weebill S Gimbal Stabilizer
Our top choice for the Blackmagic Pocket Cinema Camera 4K and 6K is the WEEBILL S from Zhiyun. Affordable and packed with features, the Weebill has tremendous battery life yet is lightweight and easy to use.
It is a smaller-sized gimbal, making it highly maneuverable and easy to use. Lightweight gimbals are really easy on your hand and arm, meaning you can typically shoot for longer periods before feeling tired.
Weighing only 2.04 pounds, this is the most lightweight gimbal you can use for a BMPCC 4K. However, you might find this too light if you have a Blackmagic 6K camera.
The Weebill S comes with newer motor units than the other Zhiyun stabilizers. It is an improvement that offers a 300% improvement in motor torque and a 50% increase in responsiveness. In effect, you achieve fluidity to the footage you shoot, giving your videos a professional feel.
The 3-axis lock design makes balancing and storage much easier. This helps control swinging if you observe some resistance when panning or gliding the Blackmagic camera. Even if you maximize the automatic settings, this gimbal for BMPCC can give you up to 14 hours of runtime.
Pros:
New motor torque improves response speed.
BMPCC 4K's screen doesn't tilt, pivot, or flip out, so the maneuverability of this gimbal improves your line of vision.
Cons:
Need to purchase a WiFi-image transmitter and receiver to access motion-sensing control and parameter settings.
You can't charge the batteries through the grip via the USB-C cable.
Zhiyun Weebill S Compact Gimbal Stabilizer for...
MUTI MODES EQUIPPED: Support PhoneGo Mode, Following Mode, Pan Following Mode, Locking Mode, POV...
Tiny but Mighty: Thanks to new High-precision software algorithms and more effective motors, Webill...
ViaTouch 2.0:  The response speed is 100% higher than the previous generation, allowing the phone...
Zhiyun Crane 3S Gimbal Stabilizer
One of the challenges of using a BMPCC 4K is the highly reflective screen that can make it hard to see in daylight. With this Zhiyun Crane 3S Gimbal Stabilizer, you get a 55-degree tilted roll axis that ensures an unblocked view even if you're shooting in tight spaces.
The gimbal features an ergonomic handle, making it easier to hold it for long shots than other models. It is also not as heavy as other gimbals. These two features allow for stable and effortless shooting, especially at low angles.
If you've never used a gimbal for a long period, you might not be as familiar with this issue. We look for an extremely ergonomic handle as an important differentiator, as a tired hand naturally creates a camera shake.
Like the MOZA Air 2, this gimbal uses a Manfrotto quick release plate, which provides a one-step balancing with the help of a built-in hard stop. Whether using a compact or big Blackmagic 6K, you won't feel the tension as you pan or zoom.
The downside is that despite having almost the same shooting modes as the Zhiyun Weebill S, the Crane 3 can only run for 12 hours when fully charged.
Pros:
Allows attachment of an extension module onto the roll axis for more space for bigger camera combos, like BMPCC 6K.
Enables motion control via smartphone or monitor.
Cons:
Heaviest at 7.04 pounds.
Awkwardly placed controls, especially those near the handle.
Zhiyun Crane 3S Gimbal Stabilizer for Mirrorless...
【MAX 6.5KG PAYLOAD】CRANE 3S is constructed with brand new SUPER motors which allow for 6.5kg...
【 UNBLOCKED VIEW】The properly 55° tilted roll axis is designed for unblocked view and allows...
【EXTENDABLE ROLL AXIS】For larger cinema camera combos, users can attach an extension module...
MOZA Air 2 With iFocus 3-Axis Gimbal Stabilizer
No products found.
With easy access to custom balancing configurations, another great gimbal for both the BMPCC 6K and 4K is the No products found.. Among its innovations is the smart macro handwheel that provides precision controls. Your fingertips can easily use the buttons to pan, tilt, zoom, lens focus, and follow focus.
It has the best maximum payload on this list, having the capacity to support up to 9 pounds. Even if you have a six-pound BMPCC with accessories, the gimbal's superior build quality can withstand harsh outdoor shooting environments.
However, you may struggle to balance large and longer lenses at first. The total weight of the camera-lens combo and the gimbal may also make the stabilizer too heavy to carry.
Another unique feature of this gimbal is the iFocusM, which serves as the 4th axis of MOZA Air 2. Unlike the other stabilizers with a three-axis system, this gimbal's 4th axis offers focus and zoom control. This feature saves you the hassle of fixing the BMPCC's focus and zoom rings.
It beats out a majority of other gimbals with a total battery life of over 16 hours. So, this gimbal endures long hours of filming on sites that are not accessible to power for re-charging.
Pros:
The built-in hard stop allows you to change from tripod to handheld to gimbal in seconds.
Built-in shooting modes that can create up to 20 types of motion time-lapse.
Cons:
The app tends to have bugs, although updating it can fix the problem.
It may require additional purchases for the accessories, including the power cable.
No products found.
FeiyuTech AK2000s Gimbal Camera Handheld Stabilizer
When using BMPCC 6K or 4K, one of the issues you may notice is the struggle to do infinity focus on various lenses. With the FeiyuTech AK2000s Gimbal Stabilizer, the autofocus ring will help you adjust the focus level on the lens easier to achieve the best image quality.
Despite having a light payload of 4.85 pounds, it can manage the load of most BMPCC 6K and 4K units. Like the MOZA Air 2, this gimbal uses inception mode to rotate the camera to 360 degrees regardless of the weight.
Like the Zhiyun stabilizers, the FeiyuTech can open the extension arm as a tripod. This is ideal if you're shooting alone and need a stable position to recalibrate the gimbal or change the lens. You can easily switch between a single handle and an underslung position.
Despite its simplicity, this gimbal offers the basic shooting modes, including pan follow, pan tilt follow, follow all, and lock mode. As a bonus, the selfie and portrait modes let you take photos without assistance, perfect for traveling.
The downside is that this gimbal has the shortest battery life at seven hours. However, if you're a beginner or hobbyist, a full charge is more than enough to practice your skills.
Pros:
Includes a joystick below the touchscreen, making controls easy for one-handed operation.
A low-sitting middle motor makes it convenient to flip the screen without the motorhead covering it.
Cons:
The maximum payload is only 4.85 pounds.
Lacks percentage indicator for the battery life.
FeiyuTech AK2000s Gimbal Camera Handheld...
【Max Payload 4.85lb】 easily work with popular SONY A9 A7 Canon EOS R, M50, M6 Panasonic GH4 GH5...
【Detachable Versatile Handles】 two way to held , switch between single handle and underslung...
【Touch Screen Display】: It is pretty straight-forward to get information from OLED screen.
DJI Ronin-S Camera Gimbal Stabilizer
With advanced tracking features and ergonomic design, pairing the DJI Gimbal Ronin-S with BMPCC 6K and 4K cameras will take your filmmaking to a whole new level.
Among its unique features is the SmoothTrack technology, which allows you to transition from motion to camera angle with one hand. This is perfect if your usual style is to capture fast-moving objects in sports mode. Additionally, the focus knob allows you to control the camera focus manually from the gimbal.
Like the other stabilizers, this gimbal has a follow or track mode. This provides creative freedom when you also need to use a slider for complicated shots.
Most BMPCC cameras are too unergonomic to handle, particularly if your big fingers tend to push buttons accidentally. Despite being lighter than the Zhiyun Crane 3S, the Ronin-S can carry 1.4 pounds more. In this way, you won't have to hold the camera directly, and you'll have more space for accessories.
However, you may need to purchase the accessories to maximize some settings. Once you have them, you can remove unwanted shakes when shifting from underslung to an upright position or stabilize low-on-the-ground shots.
Pros:
Smooth stability to help fix the autofocus on Blackmagic 6K and 4K cameras.
Angled roll motor provides more space to balance a bulkier BMPCC and lens setup.
Cons:
Loud motor noise on certain shooting settings.
Time-lapse mode is only available when using the app.
DJI Ronin-S - Camera Stabilizer 3-Axis Gimbal...
The Ronin-S stabilizer for DSLR and mirrorless cameras empowers creators to shoot with the freedom...
Offers a suite of advanced capturing features to unleash your imagination like Panorama, Timelapse,...
The Ronin-S gives independent filmmakers the power to capture spontaneous moments with clarity,...
Features to Consider for a Gimbal for BMPCC 6K and 4K
The best gimbal for BMPCC 6K and 4K cameras should have a high payload capacity, compatible mounting plate, long battery life, and ergonomic handle. These features ensure you can maneuver the gimbal efficiently and achieve your desired effect when shooting.
Payload Capacity
The payload is among the essential factors because the maximum weight affects how easy you can maneuver the BMPCC 6K or 4K. You must choose a gimbal with a high payload to ensure stabilization and support.
For example, the MOZA Air 2 has the biggest capacity at 9 pounds, whereas DJI Ronin-S can carry eight pounds worth of camera-lens combo. The Zhiyun gimbals also have a decent payload at six pounds.
Mounting Plate Compatibility
This is one of the most vital factors you will consider for your gimbal. You need to check if the mounting plate will fit correctly for your BMPCC camera and any other cameras you plan on using.
For a BMPCC camera, the plate must have a pretty long base to support the camera body. This is why we only chose gimbals with universal quick-release plates to ensure you can use them on Blackmagic and DSLR cameras.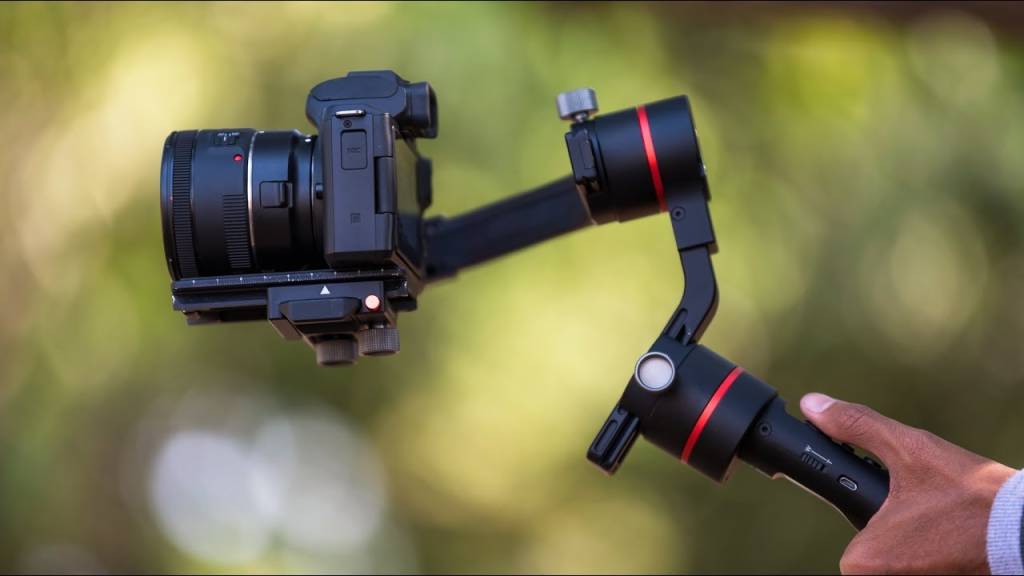 Battery Life
BMPCC 6K and 4K have short battery power. So, it can be troublesome if you also need to charge a gimbal frequently. Gimbals with 12-14 hours of battery life give you this type of performance.
For gimbals, we recommend a battery life of at least seven hours. MOZA Air 2 brags a 16-hour battery power, followed by Zhiyun Weebill S with 14 hours.
Weight
Most people prefer a lightweight gimbal. This is because it will be a lot easier on your hands and arms as you shoot for long periods. Heavier gimbals can be really hard to manage.
You could make the case that a heavier gimbal provides more stability. However, some options are lightweight and remove virtually all noticeable camera shake.
If you prefer a lightweight gimbal for a Blackmagic 4K, the 2.04-pound Zhiyun Weebill S should be enough. However, if you need a bigger gimbal to support a BMPCC 6K, the seven-pound Zhiyun Crane 3S can provide the much-needed balance.
Shooting Mode
Gimbals from different brands come with different features. Some heavy-duty gimbals may come with all the features you need for your videography. Meanwhile, other gimbals have limited features that require you to buy the accessories separately as attachments.
There are a variety of features that many gimbals have, although the most common are time-lapses, panoramas, and tracking shots. All of the gimbals on this list offer these basic shooting modes.
Frequently Asked Questions
Should I Turn Off Image Stabilization When Using a Gimbal?
Not necessarily, since most BMPCC cameras allow you to turn on image stabilization despite being attached to a gimbal. However, some gimbal camera combinations don't work out this way, so you'll have to turn off image stabilization for the gimbal to function.
Does Image Stabilization Affect Image Quality?
Yes, image stabilization affects image quality because it reduces or removes the blurriness from camera shake and movement. Even with image stabilization in your camera and lens, shooting video handheld always produces some camera vibrations. Gimbals are a great way to get added stability when shooting handheld.
Conclusion
Gimbals allow you to shoot professional-looking video footage with your bare hands without blurriness from the camera shake. At the end of the day, our choice is the Zhiyun Weebill S. Feature-rich, lightweight, and a strong battery make this the best of the bunch.