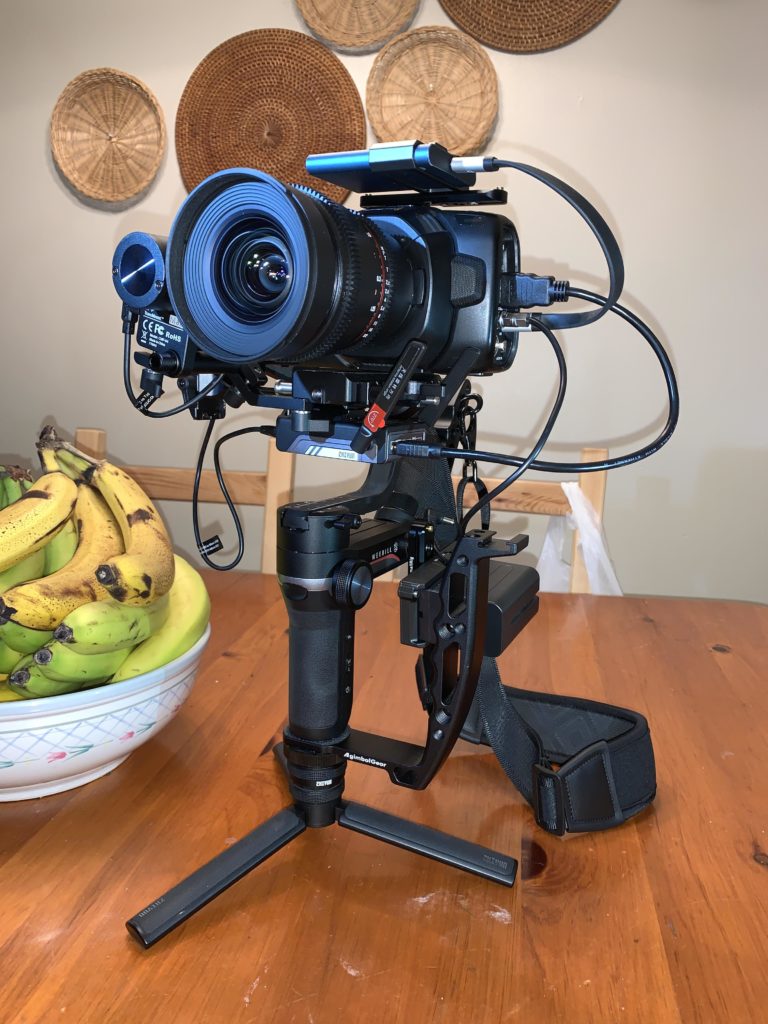 Thank you for your support!
No matter the sensitivity of the image stabilization of your camera, it will never be as stable as using it with a gimbal. The gimbal is an essential tool for every filmmaker, whether hobbyest or professional.
If you own a Blackmagic Pocket Cinema Camera, you have an amazing camera that can give you a great 6k videos (and 4k videos). Not all gimbals were created for this specific model, and that's why we're deep diving the best gimbal for BMPCC 4k camera.
Do I Really Need a Gimbal?
Many of the features on the Blackmagic PCC are amazing, such as the high dynamic range and film quality. The camera is designed to be able to be handheld, but you will still notice camera shake.
Most buy a Pocket Cinema Camera to use in a semi-professional environment. For a small additional amount, a gimbal gives you incredible bang for your buck, virtually eliminating camera shake and increasing the quality of your videos.
Reviews of the Best Gimbal for BMPCC 6k
So you are here because you are looking for a gimbal that will be great for your BMPCC 6k, and perhaps the 4k model as well. We've found the following to be the top options, and we explain why in each review.
1. Zhiyun WEEBILL S Gimbal Stabilizer
Our top choice for for the Blackmagic Pocket Cinema Camera 4K and 6K is the WEEBILL S from Zhiyun. Affordable yet packed with features, the WEEBILL has tremendous battery life but is lightweight and easy to use.
It is a smaller sized gimbal, which makes it highly maneuverable and easy to use. Lightweight gimbals are really easy on your hand and arm, meaning that you can typically shoot for longer periods of times before tiring.
Also, the WEEBILL is affordable. If you are on a low budget and still want to have the privilege of shooting professional videos with a gimbal and your BMPCC, this is a really good option
WEEBILL-S comes with newer motor units. It is an improvement that offers a 300% improvement in motor torque and a 50% increase in responsiveness.
The battery life is fantastic, giving you up to 14 hours runtime. The 3-axis lock design makes balancing and storage much easier.
Another great feature worth mentioning is the two-in-one quick release plates. This allows for a fast transition between equipment without needing to always re-balance.
The compactness and low price does come with a cost. You will need to buy a wifi-image transmitter and receiver, along with a remote control to access some features like motion-sensing control and parameter settings.
You will also need to buy an external focus. Most of all these features would have been accessible with other highly-priced and bulky gimbals.
Pros:
Lightweight gimbal
Great battery life
Latch-lock design
Highly affordable
Small design great for travel
Cons:
Need to buy some separate components to enjoy the full functionality
2. Zhiyun Crane 3 3-Axis Gimbal Stabilizer
With this Zhiyun Crane 3 gimbal, you have access to wireless HD image transmission, touch control, focus & zoom control, and all-inclusive OLED control panel.
The handle of the gimbal is ergonomic, which makes it a lot easier to hold it for long shots than other models. It is also not as heavy as other gimbals. These two features combined allow for stable and effortless shooting (especially for low angles).
If you've never used a gimbal for a long period of time, then you might not be as familiar with this issue. We look for an extremely ergonomic handle as an important differentiator, as a tired hand naturally creates camera shake.
Installation and coupling is so easy. All you need to do is follow the instructions laid out in the manual.
This gimbal has a decent fun time thanks to the 3X 2600mAh battery. It also has a charger you can use for charging others while one is in use, so you can shoot for hours without having power disrupting your shots.
The ZHIYUN is compatible with a range of other camera models within the BMPCC category, like Canon, Nikon, Sony, and Panasonic brands. It also offers great compatibility with a range of DSLRs and video lenses on the market.
Pros:
7.5 run hours on the 3 batteries
Compact and lightweight
Compatible with a range of other camera brands and model
ViaTouch Control System for phone screen connection
Comes in a nice backpack
Cons:
The mount plate may not fit other, newer camera models. It works well for Blackmagic Pocket Camera 6k and 4k, though!
3. MOZA Air 2 with iFocus 3-Axis Gimbal Stabilizer
Another great gimbal for both the BMPCC 6k and 4k is the MOZA Air. It has all the features you will need in a gimbal, along with compatibility with a range of other cameras in the same category.
This gimbal is not lightweight, and a lot heavier than other options. This can be an upside and a downside. On the positives, the weight allows for the camera shake to be minimized more than other, lighter models. But, you hand and arm might tire quicker because of this weight.
Another great feature of this gimbal is the battery life. It beats out a majority of other gimbals with total battery life of over 16 hours. So, long hours filming on sites that are not accessible to power for re-charging are no problem for this gimbal.
We mentioned the weight earlier, and this lends this gimbal to a ruggedness and heavy-duty look and feel. It can handle even a heavy camcorder up to 9lbs in weight.
The MOZA App offers a few great, built-in features which allow you to create 20 types of motion time-lapses.
Pros:
Great option for filming high action stages
Awesome battery life
Heavy-duty construction allows it to hold heavier cameras
Versatility in cameras it can work with
Easy to setup
Cons:
Very heavy compared to other options
Bigger and bulkier than other options, now allowing it to store as easily
4. FeiyuTech AK2000s Gimbal Camera Handheld Stabilizer
The FeiyuTech AK2000s gimbal stabilizer is a really versatile gimbal that packs in a lot of features for its price.
Beyond the Blackmagic Pocket Cinema Cameras, this gimbal is also great for a range of film cameras from Sony, Nikon, Panasonic, Canon, and Fujifilm.
Highly affordable, it is also small, compact and lightweight, weighing less than 2.5lbs! This is due to the ultra-lightweight grade aluminum.
It features a polished rosewood handle, which adds an element of class to the gimbal.
It has a versatile and detachable handle. So ,you can easily switch between a single handle and an underslung position, depending on the shooting scenario you find yourself in.
It also features a 3 axis motor-lock Design. Each of the axes is controlled by separate motors. This makes the balance more convenient, and easy to pack and store.
The battery life is always something we look at, and this comes in lower than other options at roughly 7 hours. Even though it can't compete with other gimbals reviewed above, you might not need a longer battery run, making this a good option.
Pros:
Easy to setup
Ideal gimbal for beginners
Lightweight and inexpensive
Compatible with a variety of camera brands and models
Cons:
Basic features
Average battery life
5. DJI Ronin-S Camera Gimbal Stabilizer
Our review of the best gimbals cannot be complete without having a product from DJI. There has been debate about the integration of DJI with Blackmagic Pocket Cinema Cameras. Yes, you can use this DJI gimbal with BMPCC 6k and 4k cameras – it has the right plate-size included in the package!
The DJI gimbal initially came out as a very expensive option. But, the price has dropped over time and you can get this powerful gimbal at a competitive price nowadays.
The focus knob allows you to control the camera focus manually from the gimbal. It features an ergonomic handles that provide a comfortable grip and easy maneuvering.
The gimbal can hold up to 8lbs of camera weight. With a maximum operational speed of 46mph, this gimbal will give you awesome stability on your footages.
The battery life is about what we would expect from an option in this price range, offering you 12 hours of continuous shooting.
With the ergonomic design, you can seamlessly change from an underslung to an upright position in one smooth take.
Overall, this gimbal from DJI will take your filmmaking to a whole new dimension.
Pros:
Long battery life for 12 hours filming
Features of time-lapses, panoramas, and tracking shots on the app
Affordable price for its features
Smooth stability even at 46mph movement
Cons:
Loud motor noise under certain settings.
Considerations When Buying A Gimbal For BMPCC 6k And 4k
Compatibility
This is one of the most important factors you will have to consider for your gimbal. You need to check if the mounting plate will fit properly for your BMPCC camera, along with any other cameras you plan on using.
A gimbal may indeed come with a mounting plate that is compatible with a range of cameras, but for the BMPCC, it has a pretty long base that will make you take a second thought when choosing a gimbal.
Blackmagic cameras have a pretty long base, which makes them a little tricker to mount to a gimbal than some other cameras. Make sure that the gimbal you choose specifically mentions that its compatible with the BMPCC products.
Battery Life
If you want to have the privilege to shoot long hours on a scene site without worrying about charging the batteries often, then you will want to consider the battery life. While some gimbal may advertise a good battery, it may not deliver as advertised.
Battery life might not sound like that big of a deal, but there is nothing worse than being part way into a shoot and having the gimbal battery die.
There are several ways you can go when it comes to batteries for your gimbal. Most prefer to have one that has a long battery life, because then you can shoot continuously without worrying about it. Gimbals that have 12-14 hours of battery life give you this type of performance.
On the other hand, you could opt to go with several batteries, and just switch out when one dies. This also works well if you'll be shooting in areas that have power, because you can be charging one battery while shooting with the other.
For gimbals, we recommend a battery life of at least 7 hours. But, it isn't a bad idea to go for higher battery life like 14 hours. Some of the products we review have that, like the MOZA Air and the WEEBILL S.
Lightweight
Most people are going to prefer a lightweight gimbal. This is because it will be a lot easier on your hands and arms as you shoot for long periods of time. Heavier gimbals can be really hard to manage.
You could make the case that a heavier gimbal provides more stability, which is definetly the case. But, gimbals have come so far nowadays, and there are some fantastic options that are lightweight and remove virtually all noticeable camera shake.
You need to also know that when weighing a gimbal, you are not considering the weight of the camera. Adding both weights will increase the overall weight on the user. The lighter the gimbal, the better.
The features
Gimbals from different brands comes with different features. While some heavy-duty gimbals may come with all the features you will need for your videography, some inexpensive ones may come with limited features while allowing you to buy the accessories separately as attachments.
There are a variety of features that many gimbals have, but the most common are time-lapses, panoramas, and tracking shots. Determine what features you need prior to buying.
Frequently Asked Questions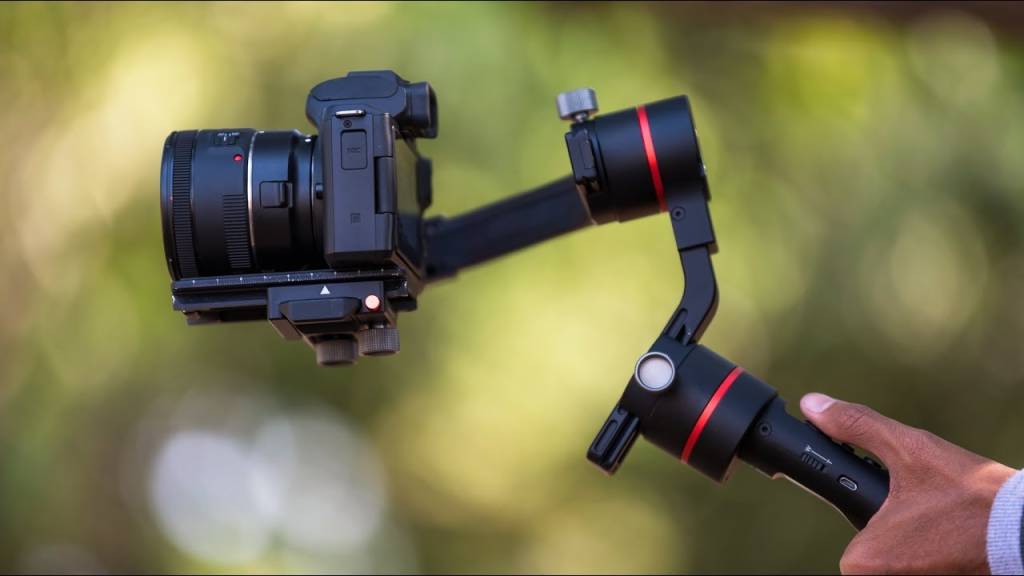 Should I Turn Off Image Stabilization When Using a Gimbal?
In essence, the best way to answer this question is it depends.
In theory, you should be able to use image stabilization while shooting from your gimbal. This provides the maximum reduction of camera shake and vibration.
However, some gimbal camera combinations don't work out this way. In the end, you want to test it for your specific camera and gimbal setup.
Does Image Stabilization Affect Image Quality?
Image stabilization improves image quality because it reduces or removes the blurriness of camera shake and movement.
Even with image stabilization in your camera and lens, shooting video handheld always produces some camera vibrations. Some might not be noticeable when looking at the back of the camera, but becomes much more apparent when looking at the footage full size.
Gimbals are a great way to get added stability when shooting handheld. They also add a fluidity to the footage you shoot, giving your videos a professional feel that can't be achieved by the average consumer.
Conclusion
Gimbals give you the ability to shoot professional looking video footage with your bare hands, but without any of the blurriness that comes from camera shake.
At the end of the day, our choice for the best gimbal for the BMPCC 6k camera is the Zhiyun WEEBILL S. Feature rich, lightweight, and a strong battery make this the best of the bunch. But, there are several other great options if you're looking to save money or have a specific feature set.
Many gimbals come with a lot of bells and whistles, but keep in mind that the most important thing you need is a solid ergonomic design that is easy on your hands and arms. With that being said, some of the added features give you a lot of additional options for your videos.