As an Amazon Associate we earn from qualifying purchases.
Even though the Sony A7III has powerful image stabilization, there are instances where you need reinforcement. You may not be able to explore the potential of this beast without a compatible gimbal. We're giving options for the best gimbal for Sony A7III to provide a stable view despite vigorous movements.
Our Top Gimbal for Sony A7III Reviews
After trying out several stabilizers, we found that the Zhiyun Crane V2 3-Axis is the best gimbal for Sony A7III because of its standard weight, high payload, and long battery life. With straightforward maneuverability, it can boost your confidence in shooting fast-moving yet stable clips.
Whether you're a budding or a professional videographer, a gimbal can help you achieve a smooth, jerkiness-free handheld shooting with the Sony A7III. We only reviewed compatible ones with the Sony brands without requiring lots of calibrations.
Brand
Zhiyun Crane 2 Lite 3-Axis Handheld DSLR Gimbal
Product
Special Features
Instune Algorithms with Better Efficiency & Lower Consumption
interchangeable batteries with 14-hour runtime
Package Dimensions
15.83 x 13.98 x 4.21 inches
22.2 x 19.1 x 17.8 inches
15.55 x 13.23 x 4.53 inches
Product
Special Features
Instune Algorithms with Better Efficiency & Lower Consumption
Package Dimensions
15.83 x 13.98 x 4.21 inches
Brand
Zhiyun Crane 2 Lite 3-Axis Handheld DSLR Gimbal
Product
Package Dimensions
22.2 x 19.1 x 17.8 inches
Product
Special Features
interchangeable batteries with 14-hour runtime
Package Dimensions
15.55 x 13.23 x 4.53 inches
Zhiyun Crane V2 Handheld Gimbal Stabilizer
If you're looking for the best gimbal for Sony A7III, then look no further because the Zhiyun Crane V2 Stabilizer offers everything you need. The Crane V2 has the same three operation modes as the original, including a pan and follow, locked, and pan-and-tilt follow modes.
This Sony A7III gimbal is the first camera stabilizer with Camera Control Interface (CCI). This feature enables you to gain control either from the gimbal's handle or a dedicated app.
Weighing only 2.65 pounds, the Crane V2 is also the most lightweight among the Zhiyun gimbals. Despite being lightweight, it has a rated payload of 4 pounds. This can support the Sony A7III camera body, an external light, and a microphone for your videography needs. 
You don't have to worry about poorly recorded videos and photos because this camera stabilizer features three 32-bit motor control units at all axes. This guarantees steady, smooth, noiseless, and professional operation for 18 hours.
However, you may need to update the firmware to improve calibration. The good thing is that the gimbal is relatively simple to attach to the Sony A7III, reducing stress on the motors to stabilize effortlessly. It uses a universal plate to keep the camera secure even as you tilt.
Pros
Made of aluminum alloy, making it a lightweight yet durable gimbal for traveling.
It includes attachable lens support for long lenses.
Cons
It does not have a cable that controls the stop and start record.
It is not splash-proof, not guaranteed to be used near water.
Zhiyun Crane 2 Lite 3-Axis Handheld DSLR Gimbal
The Zhiyun Crane 2 Lite 3-Axis Handheld DSLR Gimbal is another top gimbal for the Sony A7III, especially for professional shooters. It integrates a phone-based control system, FHD image transmission, an all-inclusive control panel, and a focus & zoom control, making it exceptional in all ramifications.
You don't need to stress while using the Crane 3 because it has a latch on each axis for balancing. Similar to the Zhiyun Weebill S, this gimbal uses a universal quick-release plate. This ensures an easy setup and fast transition between equipment without re-balancing for a long time.
When buying gimbals, the low noise level is something we highly value. A noisy gimbal can ruin your video footage. Unlike the other stabilizers, the Crane 3's motors reduce the noise by 50% while increasing torque by 100%.
Weighing 5.94 pounds, the extra weight may lead to fatigue during extended photo shoots. However, this enables the Crane 2 to carry up to seven pounds worth of payload.
Still, the advantages make the Crane 3 the perfect tool for run-and-gun filmmakers to take around and begin shooting and recording smooth videos for 18 hours.
Pros
Better response to intense motions or sudden twists.
Offers a full-range, 360-degree synchronous movement on all three axes.
Cons
Difficult to control the panning mode on the app because it moves very fast.
Fragile battery cover.
Zhiyun Crane 2 Lite 3-Axis Handheld DSLR Gimbal...
【3.2KG/7LB Payload】Supports DSLRs, mirrorless cameras, and camcorders weighing up to 7 pounds...
【Buttery Smooth Movement】From basic to advanced Modes, are all easily accessible on CRANE 2: Pan...
【Quick Control Dial】 Either Press or Rotate the Dial to Make Various Camera Parameter Settings...
Zhiyun Weebill S Gimbal
From basic to advanced shooting modes, the Zhiyun Weebill S Gimbal provides various parameter settings for mirrorless cameras like the Sony A7III. Despite weighing only 3.92 pounds, it can hold 6.6 pounds of payload. This means you can attach heavier or longer lenses while having enough balance for accessories.
Like the Zhiyun Crane 2, the Weebill S offers a Vortex mode. This shooting mode enables you to add various dynamic movements. Consequently, the Sony A7III can do barrel shots and widen the possibilities for your creative clips.
There is a lock switch on each axis. This allows you to select which axis you'd prefer to be active. This feature is also essential for storage and movement from one location to another.
Unlike the other stabilizers, the Weebill S uses a secondary handgrip for shortening the main handle. In effect, you can get closer to the ground to capture low-angle shots.
While the runtime is four hours shorter than most Zhiyun gimbals, its payload of 6.6 pounds allows you to attach a variety of camera and lens combinations.
Pros
It uses aviation-grade motors to prevent the gimbal from struggling.
It supports panorama, tracking time-lapse, and long exposure time-lapse.
Cons
Tricky setup because of the additional accessories.
Battery placement is in the grip handle.
zhi yun Weebill S 3-Axis Gimbal for Mirrorless and...
🏆【Supreme Power. Superior Compatibility】: WEEBILL-S comes with new motor units and an...
🏆【Lightweight & Compact】: Weight as light as 895g, the unique structure and minimum design of...
🏆【Always on Focus】: WEEBILL-S supports mechanical focus/zoom control through a handy control...
Zhiyun Crane 2 Handheld Stabilizer
The Crane 2 by Zhiyun supports smooth focus control and a precise camera system. With an optimized algorithm and tactile motor construction, you can achieve film-grade performance for your event videos or filmmaking.
Similar to the Crane 2 Lite, this Sony A7III stabilizer uses Intune Algorithm System, which reduces torque by 50%. This means you don't have to worry if your camera will fit the rig, as long as it's lighter than the maximum payload of seven pounds.
This is an intuitive stabilizer that allows 360-degree movement on all three axes. So while you go up and down, left and right, front and back, viewers won't notice the shakes associated with these movements.
What's more, this gimbal acts as an integrated camera extension. This allows you to rotate the Sony A7III's parameters like AV, EV, TV, and ISO. With this gimbal, you can connect your camera using an autofocus lens and adjust the focus with the large thumbwheel.
The downside is that it has a bulkier handle than the other Zhiyun stabilizers. However, this grip size should be ideal for most male videographers.
Pros
It displays battery level, connection status, several camera parameters, and control mode.
Uses servo follow focus to help control a Sony A7III lens.
Cons
The app can sometimes be slow when not updated.
It needs an external charger for the batteries.
E-IMAGE Ikan Horizon One Handheld Gimbal
The E-Image Ikan Handheld Gimbal is specially made for mirrorless cameras and DSLR setups. The gimbal works using the new computing technology for the brushless motors to do accurate stabilization.
The angled mounting arms provide an unobstructed view of the Sony A7III's touchscreen. In this way, you can easily adjust the exposure settings without changing the stabilizer's position.
Like the Zhiyun Crane 2, the E-Image Ikan Handheld Gimbal provides a full-range point of view. The gimbal offers other operational modes, including the dream rotation, POV 360, selfie mode, pan follow, free follow, sport follow, and lower angle shooting.
It includes an angle-rolled motor that allows you to hold the handle without stress, enhancing steadiness. Even if you add an external light and microphone to the Sony A7III, the gimbal's maximum payload of 8 pounds can balance maneuverability and resistance.
The downside is that it is the heaviest stabilizer at 10.45 pounds. However, the Sony A7III has a small, lightweight body. The gimbal's added weight improves balance when you need to attach a heavy lens.
Pros
It has up to 9 different operational modes regardless of the lens.
It uses brushless motors for precise stabilization and angle roll motors.
Cons
It doesn't have an app for calibration.
It doesn't include slip rings, which limits signal transmission.
Ikan E-IMAGE Horizon One 3-Axis Handheld Gimbal...
Max payload of 8 lbs (3.6 kg) designed for use with DSLR and Mirrorless cameras and lens combination...
Full 360 degree movements on all three axis allows for mutliple operation modes including dream /...
Universal quick release plate, compatible with standard 501 PL quick release plates
FeiyuTech G6 Max Gimbal Stabilizer
The FeiyuTech G6 Max Gimbal features a 3-axis 360-degree coverage that provides the best experience while shooting or recording videos with the Sony A7III.
Like the E-Image Ikan Horizon One Gimbal, this stabilizer has an inception shooting mode. This lets you navigate the joystick to rotate the camera automatically or manually. In effect, you can add dramatic twists to maximize the Sony A7III's 4K video capacity.
Its focus ring has 25% better sensitivity than the Zhiyun Weebill S. This prevents straining the fingers as you control the zoom and focus while balancing the gimbal and camera.
The handle grip allows you to make your preferred setup. You can use a single grip handle and set it at 90 degrees. You can also transform it into a double handle, which gives better stability and maneuverability.
The downside is that the FeiyuTech Gimbal only weighs 1.48 pounds, which may sometimes feel too easily swayed depending on the setup. While this means it can only hold 2.65 pounds of payload, this is enough for the Sony A7III's camera body of 1.43 pounds.
Pros
It includes a beginner-friendly app for both iOS and Android phones.
Portable, lightweight body that complements the Sony A7III's size.
Cons
Limits lens choice as long lenses may be challenging to balance.
The quick plate scratches the horizontal bar when tilting the camera down.
FeiyuTech G6 Max 3-Axis Handheld Gimbal Stabilizer...
【All in One Gimbal】With the new strong magnetic and high torque brushless motor, FeiyuTech G6...
【Half Size of A4 Paper & Better Compatibility】The payload of G6 Max is increased up to...
【Motor Lock & New Quick Release】All 3 axis are designed with physical motor locks to prevent...
EVO Rage Series GEN 2 Stabilizer
With the addition of 4 easy stabilization modes, the EVO Rage Series GEN 2 lets you duplicate similar jib-arm or dolly shots seen in most expensive productions. It reacts and smoothens transitions quickly as you pan the joystick.
If you're usually using a 35mm camera in a Sony A7III for a wedding or travel vlog, you won't go beyond the gimbal's maximum payload of 5.5 pounds.
Like the Zhiyun Crane 2 Lite, the EVO Rage Gimbal offers a pan-and-tilt follow shooting mode. This locks the roll axis and follows the direction you point to the gimbal. This improves the stabilization of the Sony A7III, especially if the lens doesn't have a vibration reduction.
The gimbal isn't water-resistant, so bringing it into a foggy or misty environment may be too risky. The EVO Rage Gimbal compensates with a fully adjustable tool-less camera tray, letting you reposition the center of gravity without difficulty.
Similar to the E-Image Ikan Gimbal, this stabilizer's battery time runs up to a whopping 12 hours. The package also includes a small tripod stand to support the gimbal, Sony A7III, and extension tubes. You can also fold it to serve as an extra hand grip.
Pros
It integrates CCI technology for Sony and Panasonic control camera shutter.
It can easily flip to an inverted mode for getting ground-level footage.
Cons
It needs to reprogram since it can't save customized movements.
You may feel micro-vibrations if the motor fails to turn to certain degrees.
EVO Rage Gen2 Camera Stabilizer for DSLR or...
The EVO Rage Gen2 camera stabilizer supports both mirrorless and small body DSLR cameras up to...
Integrated CCI Technology for SONY & Panasonic: Control Camera Shutter, Video Start / Stop and Zoom...
Plug & Play: Ready to use right out of the box, simply install the batteries, mount and balance your...
Is the Sony A7III a Professional Camera?
The new A7 models are the third generation of Sony's professional mirrorless cameras. This camera is more of a professional-level camera. However, it is also great for beginners.
With its 24.2MP BSI full-frame image sensor coupled with its super optical viewfinder feature, you can't expect less. The fact that it is compatible with the range of Sony E-mount lenses eliminates the major disadvantages of mirrorless cameras over DSLRs.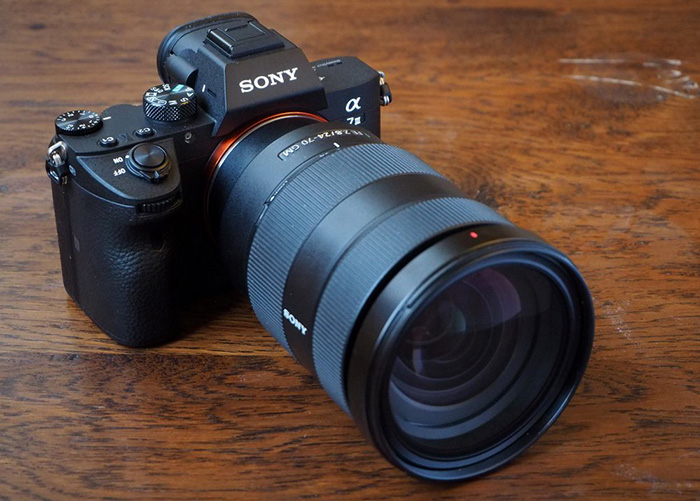 Features to Consider for a Gimbal for the Sony A7III
These factors are general considerations to keep in mind when selecting a gimbal in general, especially for the Sony A7III. Make sure to consider the gimbal weight, payload, and axis system for proper balancing.
Payload
This is pretty much the most crucial factor to consider. The payload is the maximum weight that can sit on the gimbal to explore its full potential. Selecting a payload lower than that of the camera will reduce the level of stabilization.
You should calculate the camera's weight, lens, and all other accessories coupled with the camera. It must not exceed the total weight.
The E-Image Ikan Handheld Gimbal has a maximum payload of eight pounds. The Zhiyun Crane 2 Lite and Zhiyun Crane 2 follow with seven pounds, whereas the FeiyuTech G6 can only carry 2.65 pounds at most. Nevertheless, all of them can support the Sony A7III and its accessories.
Handle Type
We have found a single handheld gimbal to be easier to use and maneuver than a double gimbal style. A heavy setup can cause fatigue, mainly when shooting for a long period.
The gimbals we reviewed all use single handles to lessen weight while improving balance and control.
Axis System
A gimbal is a device that allows the rotation of an object about a particular axis. It can also enhance stabilization about that axis, thus reducing shakes during vigorous motions.
Most gimbals have a handy 3-axis active stabilization system, consisting of tilt, roll, and pan. Combining all these, your camera becomes more stable in all directions. You get astonishingly silky smooth footage!
A single-axis gimbal only allows rotation on a single axis. On the other hand, the gimbals on this list use a 3-axis system to rotate the Sony A7III on three different axes.
Battery Life
Poor battery life will ruin the day if you are caught up in the middle of exciting shots.
The Zhiyun Crane V2, Zhiyun Crane 2 Lite, and Zhiyun Crane 2 have the best battery life at 18 hours, making them ideal for whole-day filmmaking. While the FeiyuTech G6 has the shortest at 9 hours, this is still enough for most events or travel vlogging.
Gimbal Weight
Being lightweight will enhance maneuverability and improve efficiency. The Sony A7III is already a lightweight and small-sized camera. Having a lightweight and portable gimbal will give a perfect match.
The E-Image Ikan Handheld Gimbal is the heaviest at 10.45 pounds, whereas the FeiyuTech G6 is the most lightweight at 1.48 pounds. The Zhiyun Crane V2 has a balancing weight of 2.65 pounds.
Frequently Asked Questions
What Is the Best Gimbal for Mirrorless Cameras?
We have reviewed 7 of the best gimbals that will work perfectly for Sony A7III, including the Zhiyun Crane 3. We also have other options like the best gimbal for BMPCC 4K and 6K.
How Can I Shoot Without a Stabilizer?
The first hack is to put the camera strap around your neck and pull the camera as tight as possible so that your neck acts as a rotation angle while you make your shots. Another great way is to pull the camera along a linear platform, preferably a table.
Can a Gimbal Enhance My Image Quality?
In some way, yes. The image quality depends on the camera's pixels, lens quality, creativity, and experience. The gimbal is only there to reduce the camera shaking and thus allow a sharper image.
Conclusion
Having gone through all the gimbals listed here, which would you consider the best gimbal for Sony A7III? A product that may seem good for a photographer may be a bad buy for another. This is why we encourage you to go through the criteria we highlighted.