Thank you for your support!
Amongst all the different types of mirrorless cameras and models out there, the son a7iii happens to stand out. So if you own one, you should be proud.
Unfortunately, you may not be able to explore all the potentials of this beast without having a compatible gimbal. Even though the Sony a7iii has powerful image stabilization, any experienced photographer or videographer will reckon with the fact that a gimbal's touch to your photos and footages can't be compared with the best built-in image stabilization feature.
The best gimbal for Sony a7iii will give you a great stable view even with vigorous movements and shakes. You will be able to shoot music videos, movies, and more professional videography.
But before you proceed to spend more on your mirrorless camera by getting a gimbal, let's even take a look at the Sony a7iii if it is worth the further investment on this gadget.
Best Gimbal for Sony a7iii Reviews
1. Zhiyun Crane V2
Are you looking to find the best gimbal for Sony A7iii in 2021, then look no further because the Zhiyun Crane V2 offers everything you need. The Zhiyun Crane v2 is a single handheld gimbal stabilizer made for mirrorless cameras.
It is also the first camera stabilizer with CCI (Camera Control Interface). One exciting aspect of the ZhiyunCrane v2 is that it is affordable.
You don't have to worry about poorly recorded videos and photos because this camera stabilizer features three 32-bit motor control units at all axis that guarantee steady, smooth, noiseless, and professional operation. It is also very portable because it is small in size and light in weight, weighing only 2.43 Pounds.
Changing between different modes has never been so easy not until the introduction of the stepless joystick available in the Zhiyun tech crane v2. Attached to its camera is an easy thumbscrew without any tools, which means its setup process is fast and simple.
Pros
It has built-in compact slip rings
Two available batteries that last up to 12 hours
It guarantees smooth, noiseless, and steady video footage
Allows you to control modes with your thumbs
Cons
It does not come with a cable that controls stop and start record
It is not splash-proof, not guaranteed to be used around water area
2. Zhiyun Crane 3 LAB 3-Axis Handheld Stabilizer Gimbal
The Crane 3 Lab is another top gimbal for Sony a7iii that is designed for professionals. It integrates a phone-based control system, FHD image transmission, an all-inclusive control panel, and a focus & zoom control, making it exceptional in all ramifications.
You don't need to stress yourself while using the Crane 3 LAB because it saves effort and is also flexible. Balancing this camera stabilizer is so easy because it is made with a latch on each axis.
The Crane 3 LAB is also a perfect tool for run-and-gun filmmakers to take around and begin shooting and recording smooth videos. When buying gimbals, low noise level is smoothing we consider. A noisy gimbal can ruin your video footage. Crane 3 Lab has got it right here by reducing the noise by 50% and increasing torque by 100%.
With a maximum Payload up to 10 lb / 4.5 kg and an overall weight of 1.9 kg (4.188 lb), you have got a perfect gimbal for your Sony a7iii mirrorless. And just like we love it, the 3 x 18650 batteries offer a runtime of 7.5 hours.
Pros
Easy setup process
Supports video streaming up to 1080p
Portable
Easy balancing feature
Cons
It is an expensive one
Difficult to control the app pan because it moves very fast
The battery cover is fragile.
3. WEEBILL LAB by Zhiyun
Are you looking to travel with a handheld stabilizer, the WEEBILL LAB by Zhiyun is the perfect choice for you. It is specially designed for mirrorless cameras.
Two things you must love this gimbal for. First, it is super lightweight, weighing only 890g. Secondly, this unit offers more work hours, thanks to its interchangeable batteries that deliver 14 hours of runtime.
There is a lock switch on each axis. This allows you to select which axis you'd prefer to be active. This feature is also important for storage and movement from one location to another.
The lightweight is not a disadvantage to its payload capacity. However, it cant measure up to the previous model reviewed, but it can hold up to 3 kgs (6.6 lbs) including the camera, lens, and other accessories you may consider adding.
In addition to all its other features, the WEEBILL LAB by Zhiyun also supports panorama, time-lapse, tracking time-lapse and long exposure time-lapse.
Pros
It supports smooth focus control and a precise camera system
Super lightweight, you can handle for a longer time
Supports most Android and iOS camera functions
Allows for easy balancing
Cons
4. Crane 2 by Zhiyun
Although produced by the same brand, the Crane 2 by Zhiyun is quite different from the Zhiyun Crane V2. The Crane 2 features an Instune Algorithm System, which reduces noise by 20% and increases motor torque by 50%.
You do not have to worry about subjects not being in focus because this gimbal has enough precision in real-time that focuses on moving subjects. What's more, this gimbal also acts as an integrated camera extension. This allows you the opportunity to rotate your camera's parameters like AV, EV, TV, ISO, and others.
Furthermore, the Zhiyun Crane 2 has a POV mode that allows for extra camera movement by offering 360 degrees of synchronous motion on all roll axis.
With this gimbal, you can connect your camera using an autofocus lens and adjust the focus with the large thumbwheel. The inclusion of three high energy efficiency 18650 rechargeable batteries provide the Crane 2 a long-lasting period of 18 hours (with 6000mAh).
Pros
The battery lasts for long periods
It supports mirrorless cameras, camcorders, and DSLRs
It displays battery level, connection status, several camera params, and control mode
It allows for more camera movement
Cons
The app can be sometimes slow and annoying
Does not support Android and iOS functions
5. Ikan E-IMAGE Horizon One 3-Axis Handheld Gimbal
The Horizon Pro Gimbal Stabilizer is specially made for a mirrorless camera and DSLR setups. The gimbal works by using the new computing technology for the brushless motors to offer accurate stabilization.
Usage and operation are pretty easy and simple, just perfect for both beginners and professionals. Just like other gimbals reviewed here, the Ikan Horizon gives 360-degree rotation at all the 3-axis.
The numerous operation mode option gives the photographer more room to be creative. Some other operational modes that this gimbal offers include dream rotation, POV 360, Selfie mode, Pan follow, free follow, sport follow, and lower angle shooting.
The Horizon Pro includes an angle-rolled motor that is well designed to allow you to hold its handle without stress, providing for steadiness.
Pros
Provides precise stabilization
Has up to 9 different operational modes
Offers multiple lens and camera combinations
Perfect for mirrorless cameras
Cons
No app inclusion
Does not support video streaming up to 1080p
It does not have built-in compact slip rings
6. MG V2 FeiyuTech
The MG V2 by Feiyu is a 3-axis gimbal designed for mirrorless cameras and lightweight DSLRs. It features a 3-axis 360-degree coverage that provides you with the best experience while shooting or recording videos with the MG V2.
The gimbal has four directional joysticks for 360 degrees angle to change easily. With a single button, you can turn on and off different functions.
One important and unique feature worth mentioning is the handle grip. It is designed to allow the user to make a preferred setup. You can use a single grip handle, set it at 90 degrees, or preferably, use the double handle which gives better stability and maneuverability.
It is a practical gimbal that can carry out your day to day video coverage. It has a smartphone app that users can explore by controlling the different MG V2 functions. MG V2 app is available for both iOS and Android users.
Pros
It has an app for easy function
It is affordable
It supports landscape and portrait modes
It is lightweight, meaning its very portable
Cons
It does not support video streaming up to 1080p
You may be limited to the lens choice as long lenses may be difficult to balance
The casing is not very durable
It does not support precise stabilization
7. EVO Rage Series GEN 2
With the addition of 4 easy stabilization modes, the EVO Rage Series GEN 2″ lets you duplicate similar jib-arm shots or dolly shots seen in most expensive productions.
That is just the tip of the iceberg. There is more to this awesome gimbal. It can support both mirrorless and small body DSLR cameras up to 5.5lbs. the Sony a7iii falls in this category. And if you have got other cameras in the same category, then you just need only this gimbal to serve the purpose.
Its battery time also runs up to a whopping 18 hours, which means you can get more time while using the EVO Rage Series GEN 2. With this gimbal, you can keep all your camera's accessories supported because it features a 5.5LB camera payload.
One important feature of the app is the "power setting". Here it is important to choose the Payload capacity based on the overall weight of your camera's setup. The three options available are as follows: Weak: 350-1000g Middle: 1000-1,700g Strong: 1,700-2,500g.
The EVO app is available for both Android and iOS users.
Furthermore, the gimbal has a fully adjustable tool-less camera tray that lets you reposition your center of gravity without difficulty. Lastly, it is easy to use; you only have to take it out of its box, install the batteries, mount and balance the camera on a non-moving top, and hit the power button.
Pros
Easy setup process
It supports both Android and iOS software
It integrates CCI technology for Sony and Panasonic control camera shutter
Maximum 12 to 18-hour runtime with its powerful batteries
It supports mirrorless and DSLR cameras up to 5.5lbs.
Cons
It does not support video streaming up to 1080p
It is not portable enough
Is Sony a7III a Professional Camera?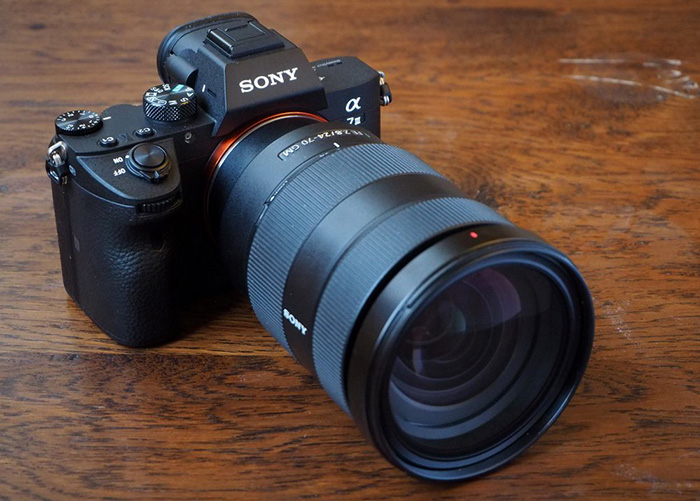 The new A7 models are the third generation of Sony's professional mirrorless cameras. Without being biased, this camera is more of a professional-level camera. However, it is also great for beginners.
Of course, you do not expect a camera priced at nearly $2,000 not to be a professional camera. With its 24.2MP BSI full-frame Image Sensor coupled with its super optical viewfinder feature, you can't expect less.
The fact that it is compatible with the range of Sony E mount lenses, it eliminates the major disadvantages of mirrorless cameras over DSLR.
Now enough of the bragging about this camera and let us go into the nitty-gritty of this page.
Advantages of Using a Gimbal for Sony a7iii
Stabilization quality: Although, Sony a7iii is one of the mirrorless cameras with the best stabilization feature, if you are a professional photographer, you can't just make your filming with your bare hands. Believe it or not, no inbuilt stabilization feature will handle the shakes and vibrations that would accompany recording a high motion video.
The 3-axis system: Again, no matter how professional you are with your shots and your movements, it can never compete with a 3-axis system.
Gimbals have a handy 3-axis active stabilization system – Tilt, Roll, and Pan. Combining all these, your camera becomes more stable in all directions. You get an astonishingly silky smooth footage!
Portability: The Sony a7iii is already a lightweight and small-sized camera. Having a lightweight portable gimbal will give a perfect match. There are 3 types of stabilizers for cameras. They include the handheld stabilizers, 3-axis gimbals, and the vest stabilizer system. Of all these aforementioned three, gimbals are less bulky, lightweight, and smarter to use.
The good news is that our top picks here offer all these advantages. We have saved you the time and effort of browsing through the numerous brands and models. We only reviewed the ones that are compatible with the Sony brands without any maneuvering or requiring lots of calibrations.
What is a 3 Axis Gimbal and Why We Recommend it Amongst Others?
First, a gimbal is a device that allows the rotation of an object about a particular axis. it can also enhance stabilization about that axis, thus reducing shakes during vigorous motions.
If it will allow rotation about a single axis, it will be termed a single axis gimbal. Consequently, if it allows the rotation about 3 different axis, it is termed a 3-axis gimbal.
So a 3 axis gimbal ensures that the motion of the camera is stabilized even if the one holding it is going up and down. These axes are referred to as the pan, tilt, and roll stabilization. So while you go up and down, left and right, front and back, the shakes associated with these movements are not noticed.
In summary, 3-axis gimbals stabilizes your video on all 3 axis. 2-axis gimbals stabilizes only on the pitch and roll axis. A 3-axis gimbal is better than a 2-axis gimbal or a tripod.
What to Consider When Buying a Gimbal?
These factors are general considerations to keep in mind when selecting a gimbal in general. It is not specifically only for Sony a7iii. Even if you decide no to take these criteria seriously, you should consider the Gimbal weight, payload, and proper balancing.
Payload
This is pretty the most important factor that we will encourage anyone to consider. The payload should match that of the camera. Selecting a payload lower than that of the camera will reduce the level of stabilization.
To be more explanatory, the payload is the maximum weight that can sit on the gimbal to explore its full potential. You should calculate the weight of the camera, (for Sony a7iii, it is 1.43 lb / 650 g), lens, and all other accessories that are coupled with the camera. Compare this weight to the payload capacity of the gimbal. It must not exceed that.
Sony cameras and mirrorless cameras in general are lightweight. So the major focus should be on the lens. However, you should not have a problem finding a gimbal that will match with your accessories.
Single vs Double Handheld Gimbal
This depends on the photographer. There are no specific criteria for picking one based on this factor. The choice is yours. However, we have found a single handheld gimbal to be more easier to use. it is easier to maneuver while using a single hand gimbal. But this can cause fatigue if your entire setup is too heavy, especially when shooting for long period.
Battery Life
As usual, this is another important factor. We also prioritize this when using battery-powered gadgets. A poor battery life will ruin the day for you if you are caught up in the middle of exciting shots.
The gimbals we have included in this post will give between 7 – 12 hours of continuous usage.
If you think you will need more time of coverage, then you should consider buying a backup battery. This is only possible if your gimbal has a removable battery system. The majority of them support this though. So do not freak out.
Waterproof
This is not a big issue. You should only consider this if you will be shooting near a water area like a lake, river, or under the rain. The truth is that no gimbal is entirely waterproof. And even though you have one that claims so, you should be extra careful and not take them for their word. Even the Sony a7iii though well-sealed and marketed to be waterproof, is not 100% weatherproof or waterproof.
Weight of the Gimbal
Apart from the payload, you also want to consider the weight of the gimbal. It is always better to stay light. So the best gimbal for Sony a7iii should be lightweight. Lightweight will enhance maneuverability, and improve efficiency.
We recommend not exceeding above 0.5 kg, except if you have other features that it is a must-have for you in other weighty units.
Your Budget
So how much does a gimbal cost?
Gimbals are affordable, this is one advantage over other stabilization options. Before choosing a gimbal, you should consider your budget. We do not believe that you must spend a fortune before you get a durable unit.
Gimbals will cost anything from a hundred bucks upwards. Do not ever compromise a feature for the price, it will be better to wait and save more if you have to, so you can get one that will meet your need.
On average, you should hold at least $250 to get one that will meet the majority of your needs.
Frequently Asked Questions
What Is the Best Gimbal for Mirrorless Cameras?
We have reviewed 7 of the best gimbals that will work perfectly for Sony a7iii. These gimbals are universal, so it should fit for most other mirrorless camera brands and models. So if you have other mirrorless cameras other than the Sony brand, any of these gimbals will just be great. By the way, we have a detailed review on the best gimbal for bmpcc 4k and 6k, you may want to check it out as well.
However, the best gimbal for mirrorless cameras is the Zhiyun Crane 3 Axis Brushless Handheld Gimbal Stabilizer. It is specially designed with mirrorless cameras in view.
How Can I Shoot Without a Stabilizer?
We strongly recommend using a gimbal for a more professional shot. But if you are on a tight budget and want to make an emergency shot without a gimbal or stabilizer, you may want to explore these few hacks.
The first hack is to put the camera strap around your neck and pull the camera as tight as you can so that your neck acts as an angle of rotation while you make your shots.
Place the strap around the camera's lens from under and pull up the two ends as a handle.
You can use a skateboard, but of course, you should have previous experience with skating so that you do not mess up the whole shots. You can combine this method using the neck strap stabilization hack discussed above.
Another great way to make a linear recording is to pull the camera along a linear platform, preferable a table. You can spread a cloth on the table and place your camera on top. Pull the cloth slowly. This helps improve stabilization along a linear axis.
Can a Gimbal Enhance my Image Quality?
Not exactly. Image quality depends on the camera's pixels and the quality and the lens. It also depends on the creativity and experience of the photographer. The gimbal is only there to reduce the camera shaking and thus allowing a sharper image.
Conclusion
Having gone through all the gimbals listed here, which would you consider as the best gimbal for Sony a7iii? You necessarily do not need to go with our best-preferred choice, it all depends on what features you will need. A product that may seem good for a photographer, may end up a bad buy for another. This is why we encourage you to go through the criteria we highlighted in the above section.
We will like to know which you finally settled. If you have experience using any other product we didn't mention, also let us know so we can look into adding them here.