As an Amazon Associate we earn from qualifying purchases.
More compact and faster for video, mirrorless cameras can help you take creative photos. However, these benefits come with high prices. So whether you're an enthusiast looking for your first camera or an experienced shooter wanting to upgrade, we're giving you options for the best mirrorless camera under $1500.
Our Top Mirrorless Camera Under $1500 Reviews
When combining its maximum shutter speed, image quality, and frame rate, the Panasonic LUMIX GH5 Camera is our pick as the best mirrorless camera under $1500.
Aside from Panasonic, other brands produce top-performing mirrorless cameras you can use for various photography needs. This is why we're sharing other options to broaden your choices.
Brand
Panasonic LUMIX GH5 Mirrorless Camera
Nikon Z5 Full-Frame Mirrorless Camera
Canon EOS M50 Mark II Mirrorless Camera
Product
Special Features
Splash/freeze proof design
Intensively detailed 24MP full frame images and 4K UHD videos
4k uhd 24p and hd 120p for slow motion
Brand
Panasonic LUMIX GH5 Mirrorless Camera
Product
Special Features
Splash/freeze proof design
Brand
Nikon Z5 Full-Frame Mirrorless Camera
Product
Special Features
Intensively detailed 24MP full frame images and 4K UHD videos
Brand
Canon EOS M50 Mark II Mirrorless Camera
Product
Special Features
4k uhd 24p and hd 120p for slow motion
Panasonic LUMIX GH5 Mirrorless Camera
Despite having a fast shutter speed, effective image stabilization, and high video quality, the Panasonic LUMIX GH5 Mirrorless Camera can pack several shooting features in a compact body that costs less than $1500.
Being the only mirrorless camera on this list with a micro four-thirds sensor system, it beats the other cameras on review by having a fast maximum shutter speed of 1/16000. This feature is perfect if you want to photograph fast-moving subjects, just like sports, street, and wildlife photography.
The Panasonic GH5 can compete with the Nikon Z5 and Fujifilm X-E3 when shooting for up to 120 minutes. However, it outshines its Nikon and Fujifilm counterparts by having a better frame rate of 60 frames per second.
Even if it only has a 20-megapixel sensor, the body can adjust its light sensitivity from 200 to 25600. In effect, the Panasonic GH5 can shoot videos up to 4K resolution with vibrant colors and smooth transitions. With 225 autofocus points, you can better improve the clarity of your shots.
Pros
Splash and fireproof design with weather-sealing, which makes it a durable camera for outdoor shoots.
Great processing power enables the camera to consider the whole scene, no matter how wide it is, when calculating the color values for a higher resolution.
Cons
The heaviest mirrorless camera at 1.59 pounds, although this is understandable because of its bigger sensor.
Unlike the rest of the cameras that have 24-megapixel sensors, the Panasonic GH5 only produces 20 megapixels.
Panasonic LUMIX GH5 4K Digital Camera, 20.3...
Professional photo and video: 20.3 Megapixel micro four thirds sensor with no low pass filter to...
Splash or Freeze Proof Design: Freeze proof to 10 degrees the durable magnesium alloy body...
Dual image stabilization: 5 axis dual image stabilization corrects all lenses, including classic...
Nikon Z5 Full-Frame Mirrorless Camera
Suppose you're a photography enthusiast who wants to graduate from point-and-shoot cameras. In that case, the Nikon Z5 Full-Frame Mirrorless Camera is a good introduction for using more advanced settings without spending more than $1500.
The Nikon Z5 is the only camera on this list with a phase-detect autofocus system, allowing the camera to sweep through the focal length quickly. In this way, it can stop precisely at the exact point where it detects maximum contrast for accurate focus and improved image quality.
Due to its 24-megapixel CMOS sensor, this mirrorless camera has higher light sensitivity. Moreover, with ISO levels of 100-51200, the Nikon Z5 has the second-best ISO range, next to the Sony Alpha A6600. As a result, it provides a better dynamic range, especially when you're using JPEG colors.
While shutter speed doesn't directly affect the depth of field, this mirrorless camera's maximum shutter speed of 1/8000 can help boost the aperture to control the depth of field in your images.
Pros
A phase-detection autofocus system with 273 points makes this a still-oriented mirrorless camera.
In-body image stabilization supports burst shooting mode and fast shutter speeds when you don't have a tripod.
Cons
The slowest frame rate at 4.5 fps, although this should be enough if you want to focus on stills.
Heavy cropping at 4K and the rolling shutter would be an issue when taking wide-angle videos.
Nikon Z5 Mirrorless Camera Full Frame Body...
NIKON USA AUTHORIZED - Includes Full NIKON USA WARRANTY
Nikon Z 5 | Push the limits of your creativity with Z 5, an innovative full frame mirrorless camera...
Nikon FX-format CMOS image sensor featuring 24.3 effective megapixels and ISO 100-51200. | 273-point...
Canon EOS M50 Mark II Mirrorless Camera
With a powerful processor, fast frame rate, and streaming ability, this is no small feat for something like the Canon EOS M50 Mark II, especially considering its less than $1500 price point.
While the Canon M50 Mark II has more megapixels and a faster frame rate than the Panasonic LUMIX GH5, it suffers from having fewer autofocus points. However, it compensates by having a dual pixel autofocus system, which offers face and eye-tracking for videos and stills.
You can also boost illumination with the help of the camera's ISO range of 100 to 25600. With that said, a professional photographer who prefers to use manual focusing would not suffer much from the camera's AF system.
This mirrorless camera is unique because it can operate as a webcam and stream live directly to YouTube. Since the EOS M50 Mark II has a maximum shutter speed of 1/4000, which is similar to the Fujifilm X-E3 and Sony Alpha A6600, it captures every motion in sharp focus. 
Pros
Flawless 1080p and 4K shooting capacity, letting you shoot slow-motion clips up to 120 fps.
Using an EOS webcam capability to do horizontal and vertical live streaming.
Cons
It lacks image stabilization, so this could be challenging to use for videos unless you have a tripod or a lens with optical stabilization.
This mirrorless camera only has 143 autofocus points, although its phase-detection AF system is more than enough.
Canon EOS M50 Mark II (Black) + EF-M 15-45mm &...
24.1 megapixel (aps-c) cmos sensor with iso 100-25600 (h: 51200).
Digic 8 image processor with auto lighting optimizer.
Improved dual pixel cmos af and eye detection af (still or movie servo af support).
Fujifilm X-E3 Mirrorless Camera
Perhaps you love collecting photographs from trips and vacations, yet you don't want to splurge on something complicated. With the Fujifilm X-E3 Mirrorless Camera, you get a user-friendly camera that won't let you spend more than $1500.
Weighing only 0.74 pounds, the Fujifilm X-E3 is the most lightweight and minimalist camera on this list. This makes this mirrorless camera the ultimate travel buddy, especially when you need to pack light.
Despite having an ASP-C sensor, it can produce 24-megapixel images with excellent color reproduction. Additionally, the sensor cuts false colors without using a filter, delivering impressive colors with reduced image noise.
More than that, the Fujifilm X-E3 has 325 autofocus points, which comes next to Sony Alpha A6600's capacity. Thus, even if you're not yet familiar with the settings, the automatic shooting mode would produce gorgeous travel pictures.
Pros
The advanced touchscreen lets you navigate controls by swiping the screen and pinch to zoom in playback, making it easier to review your shots.
Color reproduction makes your skin tone appear as natural as possible, allowing you to capture your beach tan.
Cons
Suffers from a low battery life of 95 minutes, although this can power you through a day of capturing stills.
It only has an ISO range of 100-12800, which is way lower than the other cameras, although you won't be needing it much if you would usually shoot outdoors in broad daylight.
Fujifilm X-E3 Mirrorless Digital Camera...
24.3MP APS-C X-Trans CMOS III sensor and high-performance x processor Pro high-speed image...
New touch function controls let you swipe up/down/left/right to choose function setup which you can...
Country of Origin: China
Sony Alpha A6600 Mirrorless Camera
Mirrorless cameras are generally more lightweight and have better video quality than other types of cameras. So if you want to focus on vlogging or you want a career as a videographer, the Sony Alpha A6600 Mirrorless Camera can give you that headstart for less than $1500.
Like the Canon EOS M50 Mark II and Fujifilm X-E3, the Sony Alpha A6600 offers built-in image stabilization, which is rare among APS-C cameras. This is why as you mount this camera on a gimbal or monopod, you can further steady your shots and ensure smooth transitions.
With 425 autofocus points, you won't have to worry about tracking subjects. Whether you're taking videos of sports activities or people dancing, the AF system and 4K shooting quality would let you capture every motion with clear details.
Finally, taking videos can easily drain a battery's power. The good thing is that the Sony Alpha A6600 comes with a long-lasting battery that can operate up to 140 minutes, which is much more reliable compared to the other cameras.
Pros
Lightweight construction, chunkier grip, and sturdier body make this mirrorless camera more comfortable for handheld shooting.
The balance between the shutter speed and ISO range makes it suitable for low-light shooting.
Cons
Lacks built-in flash, although this camera has the highest ISO levels of 100-102400.
Cramped controls and dial buttons are quite tricky to operate, which could take a few moments to set up.
Sony Alpha A6600 Mirrorless Camera
World's fastest AF at 0 02 sec with real-time AF and Object tracking
24 2MP APS-C Exmor sensor with front end LSI and ISO up to 102 400
Wide 425-phase/425-contrast detection AF points over 84% of sensor
If you just want to go with a standard DSLR camera that has a mirror, take a look at these options:
Features to Consider for a Mirrorless Camera Under $1500
While mirrorless cameras usually have the same specifications, they still differ in some aspects. Therefore, it's essential that your chosen mirrorless camera contains these excellent features.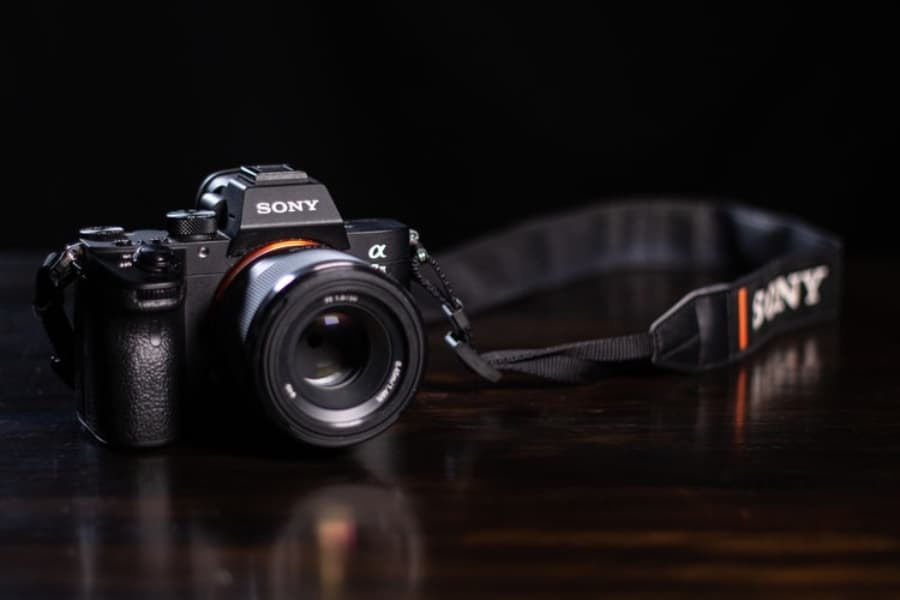 Lens System
The sensor is the most important factor in determining the best mirrorless camera, as this also influences whether it would cost $1500 or more.
Four-Thirds CMOS: This sensor type has a 4:3 image aspect ratio, similar to compact digital cameras. It enables the light to travel closer to the sensor, improving center focus and corner brightness. This is why the Panasonic LUMIX GH5 can only produce 20-megapixel images yet remain priced below $1500.
Full-Frame CMOS: It's rare for mirrorless cameras to have a full-frame sensor, yet the combination of full-frame and CMOS in the Nikon Z5 offers support for both sensor sizes. Hence, you can capture in full-frame and crop mode while having the same resolution.
APS-C: Being a cropped sensor, the APS-C sensor has a smaller area to capture on a scene. As evident in the Canon EOS M50 Mark II, Fujifilm X-E3, and Sony Alpha A6600, the narrower angle of view creates a zoomed impression. However, the size difference makes APS-C cameras more lightweight.
Image Resolution
The image quality depends on the camera's capacity to produce megapixels. The maximum shutter speed and ISO values can also affect resolution. For example, the Panasonic LUMIX GH5 can only provide 20-megapixel images, yet having the fastest shutter speed, and high ISO levels enable it to take tack sharp photos.
The Nikon Z5, Canon EOS M50 Mark II, Fujifilm X-E3, and the Sony Alpha A6600 have sensors capable of producing 24-megapixel images. However, they have varying color reproduction, especially for JPEG photos.
Video Quality
Video quality is crucial for content creation, professional work, or even when you simply want to document life's special moments. For this reason, you need to check if your preferred unit's resolution can shoot at least 1080p videos.
However, you should also balance other aspects to maximize a camera's video capacity. For instance, the Sony Alpha A6600 may only have 11 fps, yet it has high ISO levels, as well as the longest battery life that can withstand 140 minutes of 4K videos.
The Panasonic LUMIX GH5 also has good video quality because of its 4K resolution, fast maximum shutter speed, and high frame rate. Meanwhile, the Canon EOS M50 Mark II has the greatest frame rate, although it only contains 143 autofocus points, which could be pretty challenging for videography.
Design
The ergonomics impacts how well you can handle and use a mirrorless camera. Likewise, the design construction influences the cost.
Size and weight: You might spend hours taking pictures, or you need to shoot with a gimbal. While the Fujifilm X-E3 is the most lightweight, it's mostly good for taking stills. The Panasonic LUMIX GH5, Nikon Z5, and Sony Alpha A6600 weigh more than 1 pound, yet their designs are more rugged.
Controls: While manual dials and levels remain present, are there other ways for you to access the controls quickly? Our top mirrorless camera picks contain touch screen LCDs, enabling you to adjust some settings without controlling several buttons.
Screen: A screen that lets you operate by tilting or flipping can improve your efficiency when setting angles and compositions. The Nikon Z5, Fujifilm X-E3, and Sony Alpha A6600 feature touch-and-tilt screens. On the other hand, the Panasonic LUMIX GH5 and Canon EOS M50 Mark II have touch-and-flip screens.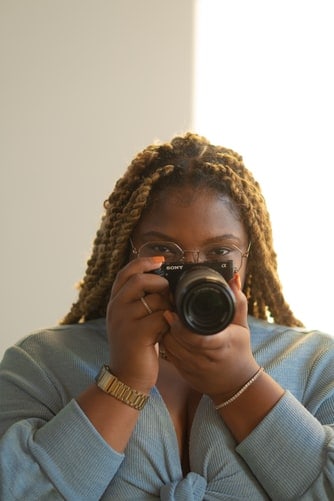 Viewfinder: The viewfinder is your key to seeing the scene in front of you. It should be bright to help you set the composition and focus properly.
Physical Interface: Can you access the memory card easily? Would the battery doors interfere with the tripod's quick release plate? Such things seem simple and negotiable, yet they can save you valuable seconds when you have limited time in shooting.
Other Features
Some cameras tend to cost more because of their extra features. You know you're getting more than your money's worth if your chosen mirrorless camera has these additional features.
Autofocus: Mirrorless cameras are popular for having better autofocus systems. They can move focusing points even to the corners of the screen. The Sony Alpha A6600 and Canon EOS M50 Mark II have the most autofocus points, enabling them to track several subjects as they move in the scene.
Silent shooting: One of the advantages of using mirrorless cameras is that they have fewer aspherical elements, and consequently, fewer moving parts. In effect, the shutter click won't disturb you or distract a subject. This is vital when you want to keep candid moments.
In-body stabilization: Built-in optical stabilization steadies the camera body as you move or focus on subjects. This is exceptionally helpful when you need to use fast shutter speeds or shoot in low-light. Only the Canon EOS M50 Mark II lacks in-body stabilization. 
Wireless connectivity: Gone are the days when you had to wait until the end of the shoot or a trip to view your photos on another device. All of the mirrorless cameras on this list allow Wi-Fi and Bluetooth connectivity to export files quickly.
Frequently Asked Questions
Are Mirrorless Cameras Better Than DSLRs?
Mirrorless cameras are in some ways better than DSLRs because they are significantly lighter, faster, and more compact. They also usually have better video resolution due to their live view. The lack of shutter count also helps improve durability, and consequently, image quality.
Which Brand Is Best for Mirrorless Cameras?
Sony, Panasonic, and Fujifilm are among the best brands and forerunners for mirrorless cameras. Nikon and Canon are usually the go-to brands for full-frame cameras, yet they also produce equally good mirrorless cameras.
Conclusion
Make sure to balance a camera's features, your shooting needs, and your budget. Whether you're looking to upgrade or try a new kind of camera, our line-up of mirrorless cameras would give you a compact yet faster device without going beyond $1500.
| | | | | | |
| --- | --- | --- | --- | --- | --- |
| | Panasonic LUMIX GH5 | Nikon Z5 | Canon EOS M50 Mark II | Fujifilm X-E3 | Sony Alpha A6600 |
| Pixel Count | 20.0MP Sensor | 24 mp | 24 MP | 24 mp | 24 MP |
| Sensor Type and Size | Four-Thirds CMOS Sensor | CMOS full-frame | APS-C | APS-C | APS-C |
| Weight | 1.59 pounds | 1.49 pounds | 0.85 pounds | 0.74 pounds | 1.1 pounds |
| ISO Range | 200 to 25600 | 100-51200 | 100-25600 | 100-12800 | 100-102400 |
| Maximum Shutter | 1/16000 sec | 1/1/8000 | 1/4000 sec | 1/4000 sec | 1/4000 |
| Battery Life | 120 minutes | 120 min | 130 min | 95 min | 140 mins |
| HD Quality | 4096 x 2160 Video | 4K/30p | 4K/1080p | 4K/1080p | 4K/1080p |
| Maximum Frame Rate | 60 fps | 4.5 fps | 120 fps | 14 fps | 11 fps |
| Autofocus | 225 | 273 | 143 | 325 | 425 |
| Image Stabilization | Yes | Yes | No | Yes | Yes |
| Screen | Touch and Flip | Touch and Tilt | Touch and Flip | Touch and Tilt | Touch and Tilt |
| Wi-Fi and Bluetooth Connectivity | Yes | Yes | Yes | Yes | Yes |