As an Amazon Associate we earn from qualifying purchases.
PTZ PoE cameras can pan, tilt, and zoom, so you can see from multiple angles and safeguard your home. That's why we're giving tips and all the information you need to pick the best outdoor PTZ POE camera to keep an eye on every nook of your property.
Our Top Outdoor PTZ PoE Camera Reviews
With its 25x optical zoom, 328-feet night vision, superior rotation range, and weatherproof construction, the Sunba Outdoor PTZ Camera is the ultimate outdoor camera to monitor properties, pets, plants, belongings, businesses, and most significantly, your loved ones.
It pays to have several options when upgrading outdoor surveillance systems. So, we're giving more PTZ PoE camera choices that offer wireless surveillance with varying panning, tilting, and zooming capacities.
Brand
JideTech PTZ Outdoor Security Camera
Reolink Ultra HD PoE Outdoor Security Camera
Product
Wireless Communication Technology
Product
Wireless Communication Technology
Brand
JideTech PTZ Outdoor Security Camera
Product
Wireless Communication Technology
Brand
Reolink Ultra HD PoE Outdoor Security Camera
Product
Wireless Communication Technology
Sunba Outdoor PTZ Camera
With 260-degree rotation capacity, two-way audio, and customizable tracking points, the Sunba Outdoor PTZ Camera is an excellent choice for energy-saving and secure monitoring of your home.
While it has limited tilting, this PTZ PoE camera has the best optical zoom range IN OUR LIST, letting you zoom in up to 5x for a clear view of the scene.
You can also modify the camera's panning and tilting patterns. Among them is line cross tracking, enabling you to create a virtual line from the camera's view. This tracker would prompt the device to monitor objects crossing the line in all directions.
Meanwhile, the intrusion tracking pattern is better if you're worrying about trespassers. This setting enables the Sunba Outdoor Camera to use a polygon area to track objects trespassing in that zone.
Like the Amcrest Outdoor Camera, this camera uses H.264 and H.265 versions of image compression. While H.265 is the standard in image compression, it takes up too much space. To efficiently store data in the camera's 64 GB capacity, you can set it to H.264 instead.
Pros
It uses a phone app for remote live viewing, playback, and pattern controls so that you can configure the camera anywhere and anytime.
It has a night vision capacity of up to 328 feet, ensuring you can record 1080p even in low light.
Cons
The memory card slot is hard to access, although you can opt for Cloud storage.
Big dimensions and weighs 9.68 pounds, making its installation spot pretty obvious
SUNBA 25X Optical Zoom 5MP IP PoE+ Outdoor PTZ...
[25x Superior Optical Zoom] - Get closer and clear view of far-away subjects with Sunba 601-D25X's...
[Outdoor & Built-in Mic] – Industrial-level waterproof shell with an operating temperature rating...
[Power over Ethernet & DC12V] - PoE means running one Ethernet cable to deliver both network and...
JideTech PTZ Outdoor Security Camera
With a 5 MP sensor, 20x optical zoom capacity, and motion detection tracking, the JideTech PTZ Outdoor Security Camera is another forerunner for the best outdoor PTZ PoE cameras that can record and transmit videos remotely.
At 30 fps, this camera has the same frame rate as the Sunba Outdoor Camera. However, it has better panning and tilting capacities, letting you check views up to 355 degrees horizontal and 90 degrees vertical.
Even if it only uses a 2.7-12mm lens, you still get a broad perspective of your premises. What's more, its LED lights can illuminate scenes at night for up to 400 feet.
Its detection system allows you to customize motion detecting zones and send voice alerts when it senses an invader. You can even adjust the sensitivity rate, so you won't have to get false alerts when your pets are just roaming around the vicinity.
Like the Reolink Security Camera, the JideTech Outdoor Camera uses the standard H.265 image compression. As a result, it has no difficulties recording videos in 1080p. You won't also need to use several hard drives and consume bandwidth excessively.
Pros
Best night vision coverage of up to 400 feet is ideal for low-light visibility areas.
5 MP sensor enables smooth recording of videos using motion detection focus tracking.
Cons
It requires a PoE injector and switch, which you need to buy separately.
Zooming capacity becomes slightly foggy at night.
JideTech 5MP PTZ Camera Outdoor, 20X Optical Zoom...
♕ 【Day & Night】Image Sensor adopt 5.0Megapixels Sony IMX335 CMOS, Provides 20X optical Zoom...
♕ 【Precision Motor & Smart Alarm】 Rotate 360° horizontally and 90°vertically, delivering a...
♕ 【Two way audio & Remote Recording 】You can communicate with people in the surveillance area...
Reolink Ultra HD PoE Outdoor Security Camera
If you want to improve your home security, yet you want to save a few bucks, the Reolink Ultra HD PoE Outdoor Security Camera is the most affordable option for keeping your property safe.
Like the Amcrest Security Camera, the Reolink Outdoor Camera contains an 8 MP sensor, allowing it to record 4K videos. Despite having a lower price, it ensures infrared recording for up to 100 feet in pitch-black surroundings.
However, its downside is that it can only rotate 87 degrees horizontal, pan 44 degrees vertical, and tilt 90 degrees. Hence, you have to be more strategic in the installation area.
On the plus side, the Reolink Security Camera has the most extensive file capacity out of all the PoE cameras reviewed. Even if you have to leave the premises for a few days, the camera can record up to 256 GB worth of data.
When the camera detects danger, it can send real-time email alerts or push notifications to your device. You can also watch a live feed and replay scenes using the Reolink app.
Since it has human and automobile detection, the camera can easily differentiate people and cars from other objects. In this way, you get accurate monitoring, and you won't have to receive unnecessary alerts.
Pros
Offers customization in the motion zones and detention sensitivity to ensure accurate alerts.
A 2.7-12mm wide-angle lens makes up for the limited rotation to help monitor a more prominent area and minimize blind spots.
Cons
It tends to suffer from autofocus instability at night.
It only has a 4x optical zoom capacity.
REOLINK 4K Security Camera Outdoor System, IP PoE...
Human/Vehicle Detection: This IP camera is equipped with on-device detection technology to identify...
4K Ultra HD Videos: The home security camera jumps from 5MP to 4K Ultra HD. It is 1.6X clearer than...
Easy PoE Installation: Thanks to the power over Ethernet (PoE) technology, this outdoor camera can...
ieGeek Outdoor Security Camera
Outdoor cameras usually consume DC power. While this method is already cost-friendly, the ieGeek Outdoor Security Camera lets you save more on power by using solar energy to operate.
Similar to the SV3C Camera, the ieGeek Camera uses an H.264 image compression, the latest image compression technology for security cameras. While it has a fixed 3.6mm wide-angle lens, it can magnify scenes up to 4 times, giving you a clearer picture of what's happening on the premises.
PTZ PoE cameras have improved movements than traditional security cameras. With this model, you can see better views by rotating 355 degrees horizontally and 120 degrees vertically. However, you can only tilt the camera up to 15 degrees, much like the Sunba Outdoor Camera.
More than that, this camera enables you to customize alarm plans, alarm intervals, and sensitivity levels. If it senses danger, the device will send instant alert notifications that you can share with other people. It even has a built-in microphone and speaker system for two-way audio communication.
Pros
Controllable zoom and wide-angle rotation to record panoramic shots of every corner of your property.
While recording and transmitting up to 128 GB worth of data, it can use a solar power supply to minimize electricity costs.
Cons
Night vision only covers up to 50 feet, although this helps the device minimize power consumption.
Struggles to charge sufficiently in very cold environments yet stores lots of power during daylight.
ieGeek Wireless Security Camera Outdoor, 1080P FHD...
【Battery Powered & 100% Wire-Free 】ieGeek outdoor battery security camera comes with 10000mAh...
【 AI Human Recognition & PIR Motion Detection】ieGeek outdoor security camera battery powered use...
【1080P FHD Video & Automatic Infrared Night Vision & 130° Wide Angle】Using the newest HiSilicon...
SV3C PTZ Security Camera
If you have a vast backyard or parking space for your business, you will benefit the most from the 2.7-13.5mm wide-angle lens of the SV3C PTZ Security Camera. It's also the only camera from this list that can pan smoothly up to 360 degrees.
In addition, it has a 120-degree tilting ability, giving you more options in controlling the live view. It also offers 8 preset points, providing multiple angles for monitoring a vast area. You can boost this using night vision with infrared technology that extends up to 165 feet.
However, this camera only produces images of up to 2 megapixels. Despite that, the SV3C Camera can still record videos in 1080p and zoom footage up to 5 times, which is still better than the Reolink, ieGeek, and Amcrest cameras.
With its motion detection, the camera would alert you via email when it senses a threat and will send you a photo right away. It also has a two-way audio system that lets you speak with guests or call out on intruders.
Since the SV3C Camera offers wireless surveillance, the device's interface is easily compatible with third-party software systems, including ONVIF NVR, Blue Iris, iSpy, ZoneMinder, and VLC.
Pros
All-aluminum housing makes the camera lightweight and waterproof, allowing it to function even if it rains in your yard, garage, or parking space.
Minimizes bandwidth consumption when connected to a dual-band router, ensuring the system won't slow down your internet connection.
Cons
Software isn't compatible with Mac, although you can configure NVR, Blue Iris, and iSpy on a browser.
It can only produce 2-megapixel clips, yet its coverage is still better than the others.
PTZ POE Camera Outdoor SV3C POE Camera 5MP with 10...
【5MP HD Image & Up to 200FT Night Vision Distance】: Worried that the picture is not clear...
【Smart Humanoid Motion Detection & Alarm notification】: Too Many Annoying False Motion...
【2-Way Audio & Full Metal Housing & IP66 Waterproof】: Worried about being powerless if you spot...
Amcrest Ultra HD Outdoor Bullet Camera
Whether you're trying to catch lurkers or want to add surveillance to your property in a discreet way, the compact yet heavy-duty Amcrest Ultra HD Outdoor Bullet Camera would make you feel safer at home.
A metal housing enables the camera to weigh 1.1 pounds, making it the most lightweight outdoor security camera. Despite its size, the camera is completely waterproof, helping it withstand inclement weather.
An 8-megapixel sensor enables the camera to record 4K videos with a low-light capacity of up to 98 feet. After that, you only need a smartphone to get motion alert notifications and review 64 GB worth of footage.
It lets you use the Simple Network Management Protocol to monitor and control the device remotely. This also works for transferring data and rebooting.
Like the SV3C Camera, the Amcrest Bullet Camera can tilt up to 120 degrees. However, because of this camera's elongated construction, it can only do 105-degree panning.
Due to its dual H.265/H.264 compression, you can optimize data encryption without taking up too much storage space. You can even use the Amcrest Cloud to store videos automatically and securely.
Pros
The bundle comes with mounting accessories, including ones that help improve the camera's weather-sealing.
Superb 4K HD mode that can record even the license plates of moving vehicles.
Cons
It needs a separate switch or PoE indicator to complete the installation.
It only provides one-way audio, although this isn't much of a dealbreaker if you want to prioritize 4K image resolution.
Amcrest UltraHD 5MP Outdoor POE Camera 2592 x...
5MP ULTRA-HD – Stunning 5-Megapixel 2592 x 1944p video resolution with enhanced low light...
SMARTER SECURITY – Adjust motion detection zones and sensitivity and receive email/phone alerts...
DAY OR NIGHT, RAIN OR SHINE – This outdoor POE IP camera features a heavy-duty metal weatherproof...
Features to Consider for an Outdoor PTZ PoE Camera
The best outdoor PTZ PoE camera must have a user-friendly interface to help you manage the tracking points to record high-quality footage. This is only possible if your chosen camera has the following features.
Angle of View
The field of view depends on how big the area you need to monitor. The SV3C Security Camera has the best viewing angle thanks to its 2.7-13.5mm built-in lens. The JideTech and Reolink cameras both have 2.7-12mm lenses.
The Sunba Outdoor Camera starts at 2.8mm, although the 12mm end helps magnify the view. The Amcrest Outdoor Camera has a fixed 2.8mm lens, whereas the ieGeek Camera has the narrowest angle of view at 3.6mm.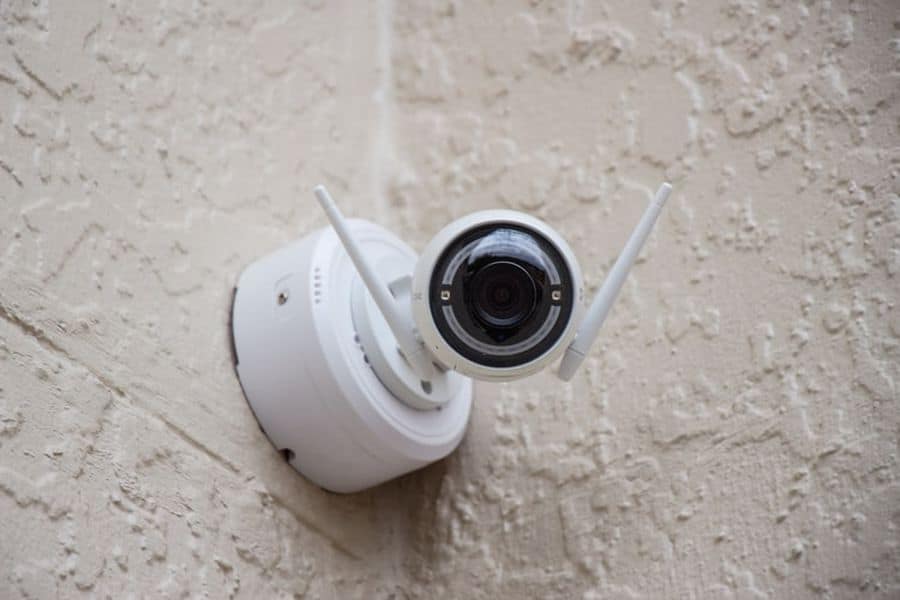 Frame Rate
The frame rate refers to the rate at which consecutive frames of photos appear on the record. The higher the fps, the clearer visuals and smoother playback the PoE camera can provide.
The Sunba and JideTech cameras have the highest frame rate at 30 fps, capturing every motion in vivid detail. Meanwhile, Reolink comes close with 25 fps. The ieGeek and SV3C cameras both have 15 fps, whereas Amcrest only has 15 fps.
Resolution
The image resolution depends on the number of megapixels a sensor can produce. The higher the pixel count, the better image contrast and clarity you would see.
The best outdoor PTZ PoE camera must have a resolution ranging from 2 to 10 megapixels. However, note that cameras with higher resolutions tend to cost more, as evident in the Reolink and Amcrest cameras that produce 8-megapixel footage.
JideTech and ieGeek have moderately good sensors at 5 megapixels. On the other hand, Sunba only has 3 megapixels, while the SV3C offers the lowest pixel count at 2 megapixels.
Video Recording Resolution
Similar to the pixel count, the higher the video resolution, the more precise the recordings. If you won't be monitoring a vast area, 1080p should be enough. This is the industry standard resolution you can find in the Sunba, JideTech, ieGeek, and SV3C cameras.
If you have extra bucks to spend or you prefer an ultra-high-definition resolution, opt for cameras with 4K recording, just like Reolink and Amcrest.
Compression Ratio
Think about those frustrating moments when you're streaming a movie online, and you suddenly experienced an awful loss of quality. Because PTZ cameras have a Power over Ethernet system, this dilemma can also happen.
When you have phones, computers, and other devices already connected to the internet, adding a PoE camera can congest the network. This is why video devices have High-Efficiency Video Coding, which substantially improves coding efficiency for recording, storage, and bandwidth consumption.
There are 3 options for you to choose from, and each has varying degrees of power and bandwidth consumption that may impact image quality.
H.264: This level of compression is the oldest system, although it has lower bandwidth requirements. This is why the ieGeek and SV3C cameras consume less power and have less tendency to disrupt internet connection.
H.265: This compression rate is the standard for videos, often used in the newest generation of security cameras, including JideTech and Reolink. It also has 25% to 50% better data compression than H.264.
Dual: If you can't choose between H.264 and H.265, you can opt for dual-HEVC systems like the Sunba and Amcrest cameras. The dual system enables you to switch between the two compression ratios, depending on the necessity.
Camera Movements
The camera movement is one of the essential features of a security camera. It depends on the PTZ capacity of your chosen model.
JideTech, ieGeek, and SV3C have more than 300-degree horizontal rotations, ideal for broader spaces. However, if you only need to monitor smaller areas, Sunba, Reolink, and Amcrest would serve just enough.
If the camera needs to monitor vertical structures, the 120-degree tilting capacity of the SV3C and Amcrest cameras will prove beneficial. Jidetech and Reolink come next with 90 degrees. Meanwhile, Sunba and ieGeek can only tilt vertically for up to 15 degrees.
Tracking Points
The tracking mechanism of PoE cameras sets it apart from older surveillance cameras. All of the cameras we reviewed enable you to customize the tracking zones. In effect, you can personalize the diameter where the camera would point itself.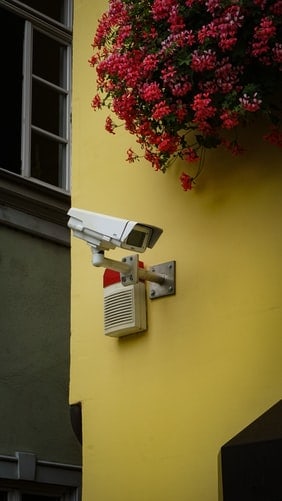 The same goes when applying sensitivity levels, as this allows the camera to distinguish whether it needs to send alert signals for any threat it detects.
Optical Zoom
The larger the magnification rate, the longer the distance an outdoor camera can monitor. The lowest standard is 4x optical zoom, which applies to Reolink, ieGeek, and Amcrest. Meanwhile, SV3C has a 5x magnification rate.
If you want to monitor longer distances, particularly when you have spacious properties, you will benefit the most from the 30x optical zoom of the Sunba and JideTech cameras.
However, be cautious when zooming as it may diminish the video quality since it would simply enlarge the existing footage.
Software Compatibility
The software compatibility ensures the PoE camera can seamlessly connect to your internet network. Common software applications include PoE NVR, iSpy, Blue Irus, ONVIF, ZoneMinder, VLC, QNAP, NAS, FTP, and Pale Moon.
Waterproof Construction
An outdoor security camera must have a sturdy construction that can withstand weather changes. Opt for cameras with a waterproof rating of at least IP64, which should resist heat, rain, and corrosion.
IP65: The IP65 rating means the camera has a dust-tight body, protecting it against light rain. This rating is one of the factors why Reolink and Amcrest cost less.
IP66: This is another dust-tight IP rating, although it has better protection against powerful jets of water. Sunba, JideTech, and SV3C cameras have IP66 waterproof bodies.
IP67: IP67-rated cameras like the ieGeek have the most durable construction, enabling them to withstand complete water submersion.
Night Vision
The best outdoor PTZ PoE camera must have night vision as it supports the sensor in recording video in low-light environments or even total darkness. This can also improve the camera's accuracy in detecting potential threats such as burglaries and vandalism.
The JideTech Outdoor Camera has the most LED lights, enabling the device to cover 400 feet. Sunba comes close at 328 feet, whereas SV3C has a moderately good night vision capacity of 165 feet.
On the other hand, Reolink can reach 100 feet. Amcrest and ieGeek can only illuminate up to 98 and 50 feet, respectively, although the shorter distance helps them save power.
Frequently Asked Questions
How Do You Install Outdoor PTZ PoE Cameras?
The exact installation steps depend on your model. Although, in general, it involves connecting an Ethernet cable from the PoE's LAN port to your router. Make sure the installation spot is at a high, broad angle.
How Do You Troubleshoot a PTZ PoE Camera?
If your outdoor PTZ PoE camera isn't working correctly, you can troubleshoot it by checking the data connection and ID configurations. You can also check the distance between the camera and the power supply. A distance between 50 feet or more may cause a drop in voltage and amperage.
Conclusion
The best outdoor PTZ PoE camera offers an easy way for you to monitor parts of your business or humble abode. Make sure to pick one that has a wide coverage, excellent image resolution, seamless connectivity, and durable construction so that it can last longer and provide quality surveillance.
| | | | | | | |
| --- | --- | --- | --- | --- | --- | --- |
| | Sunba PTZ Outdoor Camera | JideTech PTZ Outdoor Camera | Reolink Outdoor Security Camera | ieGeek Outdoor Security Camera | SV3C Security Camera | Amcrest HD Outdoor Camera |
| Image Sensor | 3 MP | 5 MP | 8 MP | 5 MP | 2 MP | 8 MP |
| Image Resolution | 1080p | 1080p | 4k | 1080p | 1080p | 4k |
| Frame Rate | 30 fps | 30 fps | 25 fps | 18 fps | 18 fps | 15 fps |
| Optical Zoom | 25x | 20x | 4x | 4x | 5x | 4x |
| Compression | H.264/H.265 | H.265 | H.265 | H.264 | H.264 | H.265/H.264 |
| Rotation Range | 260 degrees horizontal and 90 degrees vertical | 355 degrees horizontal and 90 degrees vertical | 87 degrees horizontal and 44 degrees vertical | 355 degrees horizontal and 120 degrees vertical | 360 degrees panning | 105 degrees panning |
| Tilt Range | 15 degrees | 90 degrees | 90 degrees | 15 degrees | 120 degrees | 120 degrees |
| Focus Range | 2.8-12mm | 2.7-12mm | 2.7-12mm | 3.6mm | 2.7-13.5mm | 2.8mm |
| Weight | 9.68 pounds | 4.53 pounds | 1.25 pounds | 2.65 pounds | 2.31 pounds | 1.1 pounds |
| Dimensions | 16 x 11 x 10 inches | 4.3 x 4.3 x 3.9 inches | 5.51 x 5.51 x 5.51 inches | 7.32 x 6.85 x 5.2 inches | 6.3 x 3.9 x 6.9 inches | 6.5 x 2.7 x 2.7 inches |
| Audio | Two-Way | Two-Way | Two-Way | Two-Way | Two-Way | One-Way |
| Night Vision | 328 feet | 400 feet | 100 feet | 50 feet | 165 feet | 98 feet |
| Resistance Rating | IP66 Waterproof | IP66 Waterproof | IP65 Waterproof | IP67 Waterproof | IP66 Waterproof | IP65 Waterproof |
| Software Compatibility | POE NVR, Analog PTZ, iSpy, Blue Iris | Blue Iris, iSpy, PC, ONVIF | PoE Reolink NVR or FTP server | SD Card and Cloud Storage | Onvif NVR or Blue Iris, Ispy, ZoneMinder, VLC | Blue Iris, Amcrest Cloud, QNAP NAS, FTP, Pale Moon |
| File Capacity | 64 GB | 128 GB | 256 GB | 128 GB | 128 GB | 64 GB |
| Warranty | 24 months | 12 months | 24 months | 12 months | 12 months | 12 months |