As an Amazon Associate we earn from qualifying purchases.
While smartphones can record video, they usually run out of memory space, and there's a chance you might bury the file in a huge pile of photos. So whether it's for vlogging or personal documentation, we're sharing the best pocket video camera, along with the features you need to consider.
Our Top Pocket Video Camera Reviews
When it comes to portability, superior audio quality, and video details, the Canon VIXIA HF R800 Full HD Camcorder Life is one of the best pocket video camera for capturing high-definition clips anywhere you go.
Aside from the Canon Camcorder, we also have other favorites that might better suit your different videography needs.
Brand
Canon VIXIA HF R800 Full HD Camcorder
GoPro HERO8 Action Camera
DJI Pocket 2 Handheld 3-Axis Gimbal Stabilizer with 4K Camera
Product
Special Features
Digic DV 4 image processor
Capture super-stabilized time lapse videos while moving through an activity
Offers up to 140 minutes of battery life
Brand
Canon VIXIA HF R800 Full HD Camcorder
Product
Special Features
Digic DV 4 image processor
Brand
GoPro HERO8 Action Camera
Product
Special Features
Capture super-stabilized time lapse videos while moving through an activity
Brand
DJI Pocket 2 Handheld 3-Axis Gimbal Stabilizer with 4K Camera
Product
Special Features
Offers up to 140 minutes of battery life
Canon VIXIA HF R800 Full HD Camcorder
Life is full of moments people want to cherish. A reliable and dedicated video camera like the Canon VIXIA HF R800 Full HD Camcorder Life offers superior video quality and perfectly crisp audio to preserve such memories.
With a 32x optical zoom rate, this heavy-duty camcorder has the best zooming with a focus feature. Besides that, it has a built-in fast and slow-motion recording.
You can shoot clips in 1080/60p in MP4 format. This means there's usually no need to convert your RAW files, as most video editing programs accept this recording format.
What also makes this camcorder better than the others is that its LCD touch panel display is bigger and easier to view. In this way, even a non-techy person can quickly locate the controls and settings.
Furthermore, the Canon VIXIA R800 has a backlit correction feature that recognizes subjects within the frame to provide proper exposure. In effect, you can avoid overexposed footage even if the sun is behind the subject.
Despite being bigger and heavier than the others, this camcorder's size can still fit in your jacket or bag pocket. In effect, you can easily whip it out and shoot using one hand.
Pros
Combines image stabilization and backlit correction for steady and evenly exposed footage.
Records for up to 2 hours even when using WiFi and a smartphone app to operate the camcorder remotely.
Cons
May sometimes suffer from white balance issues.
Can't record in 4K.
GoPro HERO8 Action Camera
GoPro is a household name for action cameras. So if you prefer a smaller camcorder for your adventures and backpacking trips, the GoPro HERO8 Action Camera lets you jump, swim, and drive, all while capturing your movements.
One of the camera's selling points is its waterproof feature, which enables you to record video even when diving to a depth of 35 feet. With a 12-megapixel sensor, this pocket video camera gathers more light to make your MP4 files better exposed.
Since the HERO8 has no focal point, the infinite depth of field ensures everything is sharp throughout the frame. While it lacks zooming capacity, a GoPro camera usually comes with a wide-angle lens that allows you to take panoramic shots.
More than that, the automatic settings are perfect for fast-paced moments, as the settings are like using a point-and-shoot camera. It even has night modes to help you shoot in low light.
Unlike the Canon VIXIA R800, the GoPro HERO8 allows you to mount it on a helmet, bike, pets, and even on your body. The downside is that it has a smaller screen for video playback. However, it has a complementary app that lets you record and transfer files using a smartphone.
Pros
It uses a Hypersmooth feature, which is like a built-in gimbal stabilizer.
Full-remote control for long-range recording.
Cons
Consumes battery life fast.
Controls can be a bit unresponsive, causing you to turn on or off the recorder accidentally.
GoPro HERO8 Black - Waterproof Action Camera with...
Streamlined Design: The reimagined shape is more pocketable, and folding fingers at the base let you...
HERO8 Black Mods: Vloggers, pro filmmakers and aspiring creators can do more than ever...
HyperSmooth 2.0: Smooth just got smoother. Now HERO8 Black has three levels of stabilization—On,...
DJI Pocket 2 Handheld 3-Axis Gimbal Stabilizer with 4K Camera
True to its name, the DJI Pocket 2 Handheld Camera is the most compact and lightweight camera for all your videography needs. Despite its lower price, it offers a seamless recording that's ideal for solo travelers or vloggers.
This is a great investment if convenience is a major factor for you. With a built-in handheld gimbal, the DJI Pocket 2 stabilizes recording. As a result, it lets you take horizontal and vertical shots even while walking fast.
While the DJI Pocket 2's 64-megapixel sensor is bigger than those in the Canon VIXIA and GoPro HERO8, it struggles to control image noise, particularly when recording dark subjects. However, it has several automatic functions to improve quality, including Pano, Motionlapse, ActiveTrack, FaceTrack, Nightshot, and Story Mode.
This camera is more fragile because of the gimbal stabilizer. The camera would even shut itself off if it senses the gimbal is in danger. For instance, going on a bumpy ride may make the DJI Pocket 2 think as if the gimbal would fall.
On the plus side, the camera records up to 140 minutes when fully charged. However, it tends to go hot when shooting in 4K for a long time.
Pros
The high-stabilization feature enables you to record smooth cinematic shots.
Convenient one-hand control with several automatic shooting modes.
Cons
Central and nearby objects tend to get blurry.
It contains a tiny screen, which makes it difficult to adjust settings and check the focus.
DJI Pocket 2 - Handheld 3-Axis Gimbal Stabilizer...
POCKET-SIZED: DJI Pocket 2 weighs only 116 g and offers up to 140 minutes of battery life. It fits...
MOTORIZED STABILIZATION: A 3-axis gimbal stabilizes the camera for smooth video on the move. This...
HIGH IMAGE QUALITY: An upgraded 1/1.7-inch sensor captures images with 64MP photo and 4K video. A...
Features to Consider in a Pocket Video Camera
Video cameras may have similar features, although some may be better in some aspects than others. To ensure you're getting the suitable video recorder for your needs, these are essential aspects that make the best pocket video camera.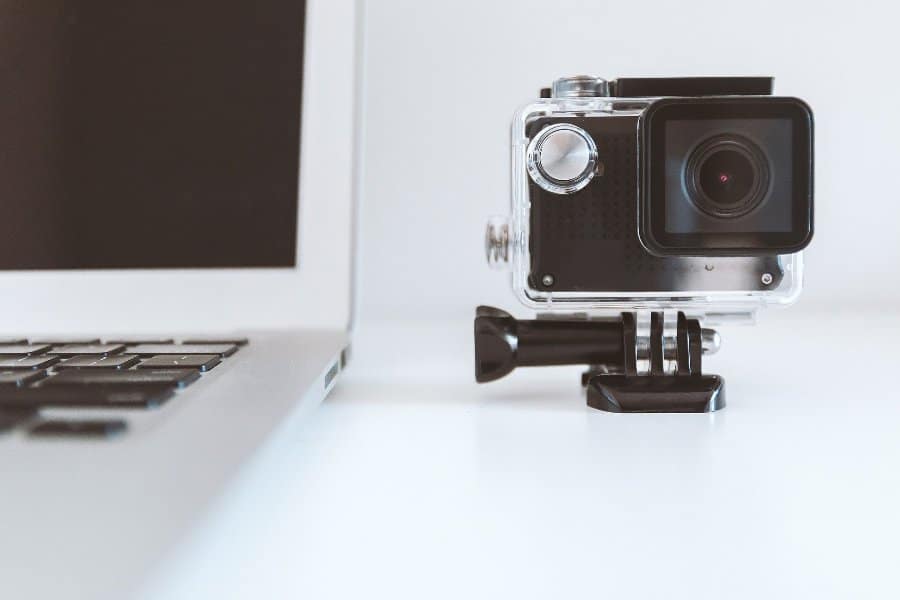 Video Quality
The video quality mostly depends on the sensor's megapixels. The higher the image resolution, the better the quality. For example, the DJI Pocket 2 has the most megapixels at 64. However, the quality tends to suffer from blurring whenever you zoom.
The Canon VIXIA R800 only has 3.28 megapixels, yet it has a better fps rate that maintains excellent dynamic range and minimized image noise. Meanwhile, the GoPro HERO8 contains a 12-megapixel sensor, yet its retains clarity even when shooting underwater.
Frame Rate
The best pocket video camera must have a superb frame rate when shooting in HD. The Canon, GoPro, and DJI video cameras can all record in HD with 60 fps at maximum.
Note that the bigger the frame rate, the more details the camera can record. However, this also means bigger files, and consequently, longer export times. Hence, make sure that your chosen camera's storage has enough space for higher frame rates.
Sound Quality
The Canon, GoPro, and DJI video cameras all have built-in microphones. However, when shooting in noisy locations and you want to deliver the best audio results, it would be helpful if a camera contains a microphone jack, just like in the Canon VIXIA R800.
Exposure Control
Can the camera set the exposure automatically, or do you have to scramble in finding the right white balance? This is also where ease of use comes to play.
While modern video recorders like the Canon VIXIA R800, GoPro HERO8, and DJI Pocket 2 have automatic shooting modes, they also allow you to adjust exposure settings manually.
Recording Format
While filming in 4K offers superior image resolution, it consumes more battery power and memory space.
Shooting in 1080p is more than enough, especially if you don't want to export large file sizes. This is why you would notice traditional camcorders can finish recording a whole 2-hour event in HD.
The Canon VIXIA R800 can only shoot up to 1080p HD, whereas the GoPro HERO8 and DJI Pocket 2 allow 4K recording. What they do have in common is that MP4 is their default recording format.
Zoom Capacity
Zooming capacity is one of the advantages of using dedicated camcorders, as they retain excellent focus and quality even in zoom mode.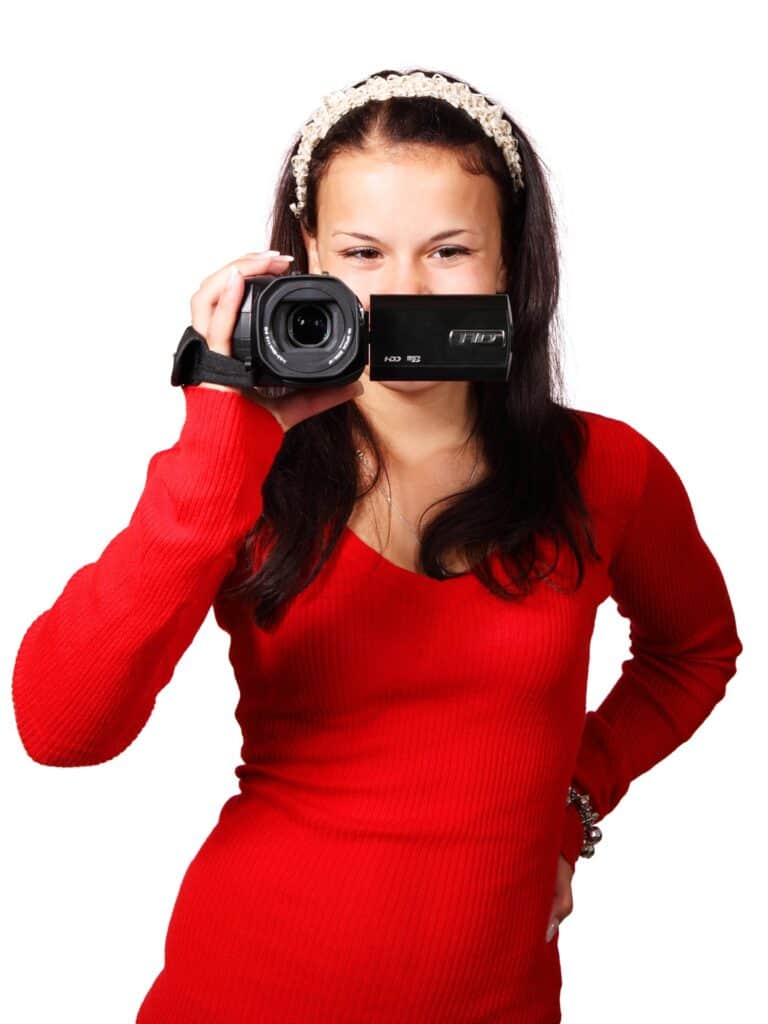 The Canon VIXIA R800 has the best zooming feature, containing a 32x optical zoom, which enlarges the pixel without sacrificing resolution. The DJI Pocket 2 has an 8x optical zoom, whereas the GoPro HERO8 lacks this feature.
Ergonomics
Since we're talking about pocket video cameras, it's a plus point if a camera can literally fit inside a pocket. However, what makes a camera truly pocket-sized is that it's compact and handy yet packed with features.
Make sure it doesn't feel awkward or unstable to hold the camera using one hand. Still, being lightweight shouldn't sacrifice having study components and materials.
Extra Features
These are optional features, although they make a pocket video camera more efficient in recording clips.
WiFi connectivity: Some video cameras have small screens, so it's helpful when you can use WiFi to transfer the files to a smartphone for easy viewing.
Image stabilization: Using pocket cameras means you'll be hand-recording most of the time. Whether you have unsteady hands or you're in motion, video cameras with image stabilization ensure clips remain vivid.
Touch panel display: Having several buttons to control can be confusing, so adjusting controls on a touch panel display gives you more time to focus on recording.
Conclusion
A dedicated video camera ensures you can take all the time you need to record life's precious moments. Whether you prefer a lightweight, waterproof, or budget-friendly option, any of the pocket video cameras we shared would provide you with longer record times, as well as better video and sound quality. With your chosen video camera, you'll surely enjoy using it in other ways, whether in events, blogging, or even recording your pet bull terrier while playing with other dogs.