As an Amazon Associate we earn from qualifying purchases.
Ice fishing is one of a kind experience. However, with the visibility issues that come with trying to catch fish through a small opening on a frozen water surface, a specialized camera not only comes in handy, it's a must-have. So, if you are looking for the best underwater camera for ice fishing, we prepared this guide just for you.
Our Top Underwater Camera for Ice Fishing Reviews
A good underwater camera will allow you to painlessly locate fish and draw them to your hook. To find the best options, we factored in such features as cable length, viewing angle, resolution, and camera size.
We also briefly dive into whether you should get a camera or just use the old-fashioned flasher. If you'd like to consider that comparison, make sure to read to the end of the guide.
Brand
GoFish Cam Wireless Underwater Fishing Camera
MOOCOR Underwater Fishing Camera
Product
Special Features
Cable length: 15m/30m/50m
Brand
GoFish Cam Wireless Underwater Fishing Camera
Product
Brand
MOOCOR Underwater Fishing Camera
Product
Product
Special Features
Cable length: 15m/30m/50m
GoFish Cam Wireless Underwater Fishing Camera
The GoFish Cam Wireless Underwater Fishing Camera will effortlessly get your attention with its unique design. The camera will provide you with a crisp HD view of the world beneath the ice as you hunt for fish. It is the only wireless camera in this guide which means you won't be fumbling around with cables while trying to locate the fish.
The GoFish Cam Wireless Underwater Fishing Camera can go up to 500 feet beneath the ice and send back a high-definition live relay right to your smartphone. So, instead of fumbling with cords, you will easily be watching out for fish from your smartphone screen.
This is made possible by an app that links the camera with your phone to empower your ice fishing experience. The camera is also water-sensitive and activates as soon as it senses water around it. When you take it out of the water, it deactivates after about three minutes.
As you fish, GoFish Cam captures all the underwater excitement. You can use your GoFish Cam in both freshwater and saltwater environments, and capture underwater video when casting, trolling, bottom fishing, and float fishing.
The camera also has night vision green LEDs for deep water and night fishing. What's more, It has an easy in-line rigging and stabilized design hydrodynamic shape for steady recording.
What We Like
night vision green LEDs for deep water and night fishing
High resolution
The camera also has night vision green LEDs for deep water and night fishing. What's more, It has an easy in-line rigging and stabilized design hydrodynamic shape for steady recording.
Wireless for hands-free use
Can be used in both freshwater and saltwater environments
What We Don't Like
Non-expandable memory
Short battery life
GoFish Cam- Full HD 1080p Wireless Underwater...
HIGH RESOLUTION- Capture stunning strikes and high action fights in full HD video recording in 1080P...
ELIMINATE GUESSWORK- Know what fish are in the area to determine the best lure and movements and...
SMALL BUT MIGHTY- Featuring a hydrodynamic shape perfect for in-line rigging, this camera measures a...
MOOCOR Underwater Fishing Camera
Sometimes you will be ice fishing for long hours and may not get time to recharge your camera. If this is the case, you will need a camera with a long battery life such as the MOOCOR Underwater Fishing camera.
The camera packs one of the best batteries on any ice fishing camera in this guide. The 8800mAh battery will ensure you fish for up to 6 hours without the inconvenience of having to recharge.
It is also a great pick for anglers who prefer to stay light and safer on the ice since it is lightweight and compact. A lightweight camera like this will not only reduce your load but also prevent the risk of breaking ice due to too much weight.
We also recommend it for anglers who are just learning to use cameras alongside fishing. This is because it has some of the easiest controls to navigate even for a beginner.
The small 5 inches multifunction LCD monitor will give you a clear picture of what is happening under the ice. This will make your fishing more successful and also ensure you capture stunning underwater footage for your video portfolio.
We find the 98-feet cable to be a bit short and might not go that far underwater like the wireless Spydro camera. You might, therefore, need to buy a longer cable if you want further downward reach. However, this might not be necessary since the camera has a powerful 4x digital zoom function to give you crisp footage and compensate for the short cable.
What We Like
Long battery life
Powerful 4X digital zoom
Lightweight and easy to carry around
What We Don't Like
The short cable might limit its reach inside the water
MOOCOR Underwater Fishing Camera HD 1000 TVL 5"...
【800x480 High Resolution Screen】Moocor New underwater fishing camera with a 5" HD screen,...
【DVR Video Recording & Photographing】This 5" underwater camera fish finder support take photo...
【HD 1000TVL & IP68 waterproof & 130° View Angle Camera】Our camera equipped HD 1000TVL and 130°...
Eyoyo 1000TVL
While all ice fishing cameras are technically waterproof, some are better than others. The Eyoyo 1000TVL is one of those underwater cameras that take waterproofing to the next level. This means it is less water-damaged in the long run when compared to other underwater cameras. 
The camera comes in a portable aluminum case enabling it to be both waterproof and water-resistant. It packs a 7-inch LCD screen which is almost two times bigger than that of the MOOCOR Underwater Fishing Camera. So, if you don't care about compactness and prefer a bigger screen that can present footage in stunning clarity, we recommend this Eyoyo model over the smaller MOOCOR.
The screen is cleverly installed on the underside of the lid and also has 12 infrared LEDs with a 110° view angle to enable you to see the fish more clearly. However, if you use the infrared mode, you will only capture black and white images.
The Eyoyo 1000TVL also has a longer cable than the MOOCOR model. That is a 50-feet cord that allows a deeper reach to capture more exciting images. The footage is conveniently recorded in a 4GB SD card which you can later transfer to other devices.
There is also a decent Lithium-ion battery that can last up to 8 hours. This should take you through a whole fishing day without having to recharge.
What We Like
Highly waterproof camera
Long battery life
IP68 waterproof lens
Wide visual angle
LED lights to improve visibility in murky water
What We Don't Like
Average video quality compared to the other options
Limited storage space might you to frequently transfer the images to other devices
Eyoyo Underwater Fishing Camera 7 inch LCD Monitor...
【7" Color LCD Monitor】: This underwater video fishing camera has a 7 inch large TFT color screen...
【1000TVL Camera】: The definition of the camera is up to 1000TV lines, which is clearer than the...
【With 12pcs Infrared Lights】: With 12pcs IR lights, fishes will be seen more clearly in the dark...
LUCKY Portable Underwater Fishing Camera
While ice fishing is as interesting as it comes, it is also risky. Using a heavy camera will only make things worse. That is why you need a lightweight model like the LUCKY Portable Underwater Fishing Camera.
The camera packs a 4.3-inch TFT screen that is even much smaller than the already small monitor of the MOOCOR Underwater Fishing Camera. While this is a smaller screen than that of the Eyoyo 1000TVL, you will still be able to locate fish fast and capture stunning footage in the process.
The Lucky Underwater Fishing camera also comes with the longest cable of all our recommendations. That is a 65-feet cable wire that will greatly boost your camera's mobility making it easier to navigate water under the ice.
This camera also has a multifunction design that makes it easy to use underwater. It comes with an adjustable sun-visor to enable you to capture clear images at all times. This is further enhanced by the 120° visual angle that will treat you to a panoramic and lifelike underwater view.
Just like the Eyoyo 1000TVL, it also has infrared LED lights to improve your visibility and help you locate fish faster. The Lithium-ion battery drains much faster than those of the MOOCOR model and Eyoyo 1000TVL. So, if you will be fishing for more than five hours, you might want to check the other options.
What We Like
Adjustable sun-visor for easy use on a sunny day
Portable camera
Wide 120° viewing angle
Long cable allows for deeper reach inside the water.
What We Don't Like
Short battery life
Screen brightness, color, and contrast are not adjustable
LUCKY Underwater Fishing Camera DVR Underwater...
Portable Underwater Fishing Camera: Lucky portable fishing camera contains a 4.3 inch TFT monitor...
Multifunctional & TFT Monitor: This underwater fishing camera has three functions, camera, video and...
Infrared Portable Fishing Camera: Four far Infrared LED Lights equipped on the underwater fish...
What to Consider for the Best Underwater Camera for Ice Fishing
Ice fishing cameras are not like the regular models. They need a set of features that enable them to survive underwater and take clear footage. These include waterproof capabilities, wide viewing angles, weight, cable length, LED lights, and screen size.
Water Condition
While not a feature of the camera per se, factoring in the condition of the water will help you get a camera that is best suited for that water. For instance, if you will be fishing in murky water, you will need a camera with high resolution, a bigger screen, and infrared LED lights.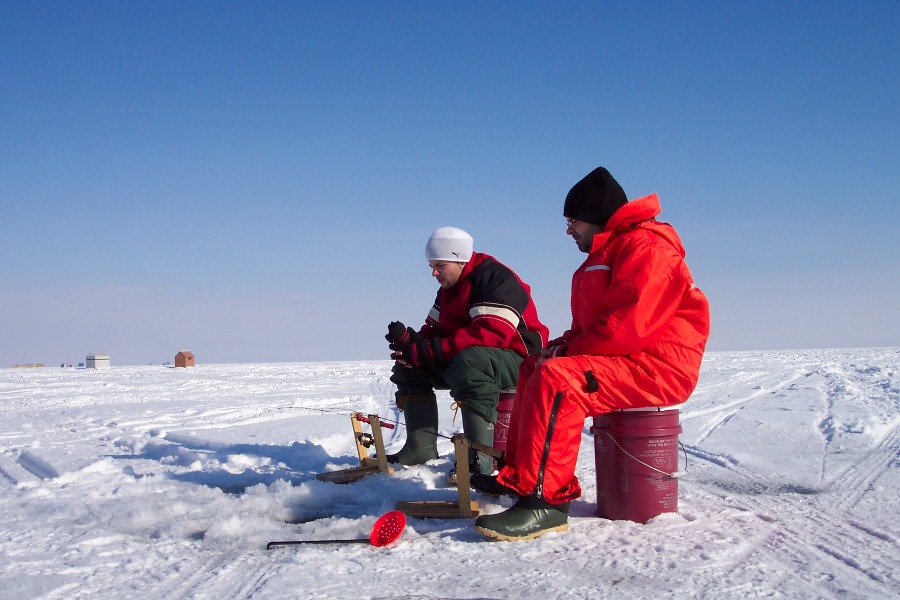 Also, if you are working with deep waters, you will need a longer cable and so on. It is easy to find a camera that is good in all water conditions if you consider vital features like resolution, screen size, longer cable, and presence of LED lights.
For instance, cameras like the Lucky Portable Underwater Fishing camera are suited for water with low visibility since they have LED lights with a fairly long cable. The MOOCOR Underwater fishing camera, on the other hand, is best suited for deep waters because of its powerful digital zoom that can bring images deeper into the water closer.
Cable Length
The length of the cable your camera comes with is very important in ice fishing. If you will not be using a wireless camera like the Spydro Underwater camera, you will need a longer cable to enhance mobility.
Sometimes, fish may go deeper into the water if they sense intrusion. In this case, a long cable like that of the Lucky Underwater Fishing camera will come in handy. Some cameras like the MOOCOR model compensate for a short cable with a powerful digital zoom.
However, getting a long enough cable is still vital even with a decent zoom. Generally, you should get a camera with a cable that is at least 50 feet long. The longer the better. Also, keep in mind that longer cables need careful handling. You might end up with a messy tangle if you are not careful with how you handle the cable.
So, always keep track of the cable and ensure that it is not crisscrossing itself.
Viewing Angle
This is the angle at which the camera's screen can be seen without distorting the visual clarity of images. So obviously, the wider the view angle the wider the area you can see on your screen. This will enhance your fishing experience since you will be able to locate the fish easily and know where to put your bait.
From our recommendations, the Spydro underwater camera has the widest viewing angle of 130 degrees. Generally, we recommend cameras with viewing angles within the 90-180 degrees angles for ice fishing.
There are other models that give you an around 360-degree view by rotating. These are more expensive and might be a bit of overkill for underwater ice fishing.
You will be just okay with up to 110 degrees like that of the Eyoyo 1000TVL if you don't want to break your wallet to spend on the camera. Otherwise, if you need a better viewing angle and willing to spend on it, the Spydro Underwater camera will definitely be the better option.
SD Cards
Recording footage for viewing later can make underwater ice fishing more exciting. Looking back at how the whole experience went might boost your passion and make you look forward to the next ice fishing escapade.
To be able to record the video and stills, you need an SD card installed in your camera. However, some cameras do not include these cards. So, if you absolutely need to record the moment, you will need a camera with an SD card. All the cameras in this guide have SD cards with varying storage sizes.
For instance, the Spydro Underwater Camera has a 32GB SD card while the MOOCOR model has 8GB. So, if you need more SD card storage space, the Lucky camera would be a great pick. If your camera doesn't come with an SD card slot and you still need to record, you can always buy an external recorder.
We also recommend transferring images to an external device when you are done fishing. This will help save space for the next fishing experience especially if you are using a camera with low storage space like the Eyoyo 1000TVL which has only 4GB of storage.
If you are taking HD video and images, this storage will run out pretty first, thus the need to transfer.
Battery Life
Ice fishing can be an exciting recreation activity. You wouldn't want this excitement to be cut short by a battery that drains fast. That is why the battery is an important consideration when buying an ice fishing camera.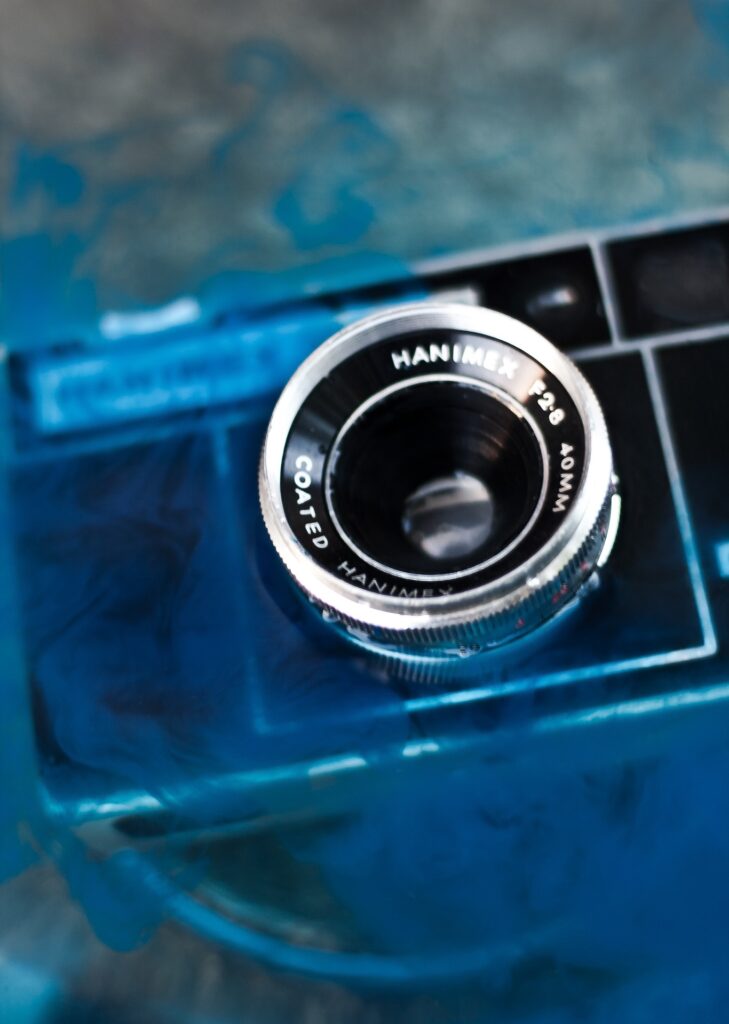 All the models we have reviewed in this guide last for at least five hours. Some like the MOOCOR underwater camera can last for up to 8 hours.
Since you will be ice fishing, you might not find a good spot to charge your camera. So, get a camera that won't go off just when you are beginning to enjoy the experience. Also, we don't recommend staying too long while ice-fishing because of obvious health risks like frostbites.
For this reason, you won't need a camera with a battery that lasts a whole day or even more than 5 hours. Otherwise, it is still important that the battery lasts long enough to enable you to enjoy the experience and catch as many fish as possible.
Camera Weight
Ice fishing is very delicate. A small mistake can cause a fatal accident. One of those mistakes would be carrying a heavy camera. That is why most cameras used for ice fishing are small and compact.
Big and bulky cameras can increase the probability of ice breaking especially when it falls hard and hits the ice. The weight of the camera is usually determined by its screen size. Generally, you should not go beyond 7-inches. Although bigger screens can be more satisfying, they are also riskier and increase the possibilities of accidents.
As for the weight itself, you should avoid cameras that weigh more than 2 pounds. In this case, we believe the Lucky Portable Underwater Camera would be a great option. It is not only safe to use on the ice but also easy to carry around and stow away in a small backpack
LED Lights
Visibility is a lot more limited when ice fishing compared to standard fishing. The best camera for fishing might not have all of the components needed for limited visibility. Given that you will be fishing through an opening on the ice, the sunlight reaching water is limited. This makes it difficult to locate the fish especially if the water is murky.
To counter this problem, most modern ice fishing cameras come with LED lights to help boost visibility under the water. These include the Eyoyo 1000TVL and the LUCKY Underwater Fishing camera.
LED lights will help capture clearer images for memories. We recommend infrared LED lights since they do not scare away fish like the much brighter ones. Of course, more LED lights will enable a clearer view while ice fishing.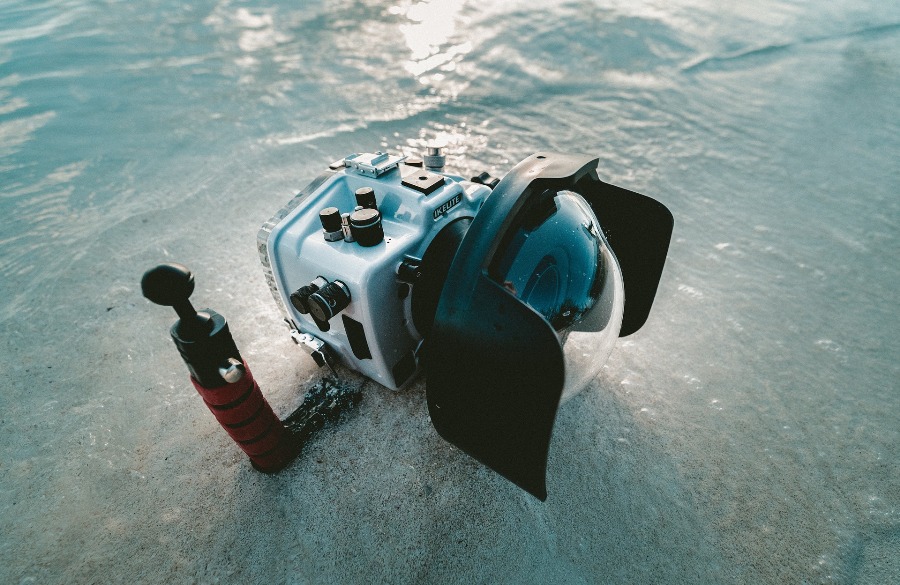 Basically, LED lights are good for fishing at night and when the water visibility is not that good.
Resolution
Considering that you will be looking at underwater footage, you cannot overlook a good resolution. You might get away with a bad resolution when shooting above water but in an environment where visibility is an issue, you will be disappointed.
If you plan on recording videos, do not settle for anything less than 720p. This will enable you to take high-resolution footage and stills while also giving you a clearer view of the underwater.
If you are on a budget, do not stress yourself with a 4K resolution. 1080p is okay but 4K is just overkill for something basic like ice fishing. However, if you can afford it and plan to use it for than just ice fishing, feel free to get one for yourself.
Camera vs Flasher: What's Better for Ice Fishing?
Cameras are not the only devices that make fishing easier and more exciting. For many years, fishermen have been using flashers to help them locate and catch fish faster. A flasher uses sound navigation and ranging (sonar) to display objects that are detected underwater on a circular screen. This display can help an angler monitor fish activity and water depth.
In general, most anglers find flashers to be more effective in aiding efficient fishing. They can detect fish in different water depths and tend to provide more clarity than a camera. Flashers are also good for scouting since you can quickly assess the depth and bottom hardness.
However, they don't have the recording capabilities of underwater fishing cameras. This means that the experience will be a one-time thing and you won't be able to revive the memories.
In general, you should use a camera instead of a flasher when:
You want to study fish behavior and how they interact with your bait
You want to record the entire experience for entertainment or study purposes.
Fishing in water that is not too murky
You don't understand how to properly use a flasher.
You won't be fishing for long periods
You are fishing in fairly shallow water
Conclusion
If you are looking for an underwater camera for your next ice fishing trip, the above recommendations will be a great place to start. Don't forget to look out for important features that will make your experience more exciting. These include LED lights, the weight of the camera, screen resolution, support for SD cards, and the length of the cable if they use it.