If you buy something through a link in our posts, we may get a small share of the sale.
The best waterproof camera for vacation allows you to enjoy your trip and all the fun it brings without being too careful while around water.
Whether you are going on water or getting into the water and want to take pictures of those exciting and thrilling moments, then you need a waterproof camera.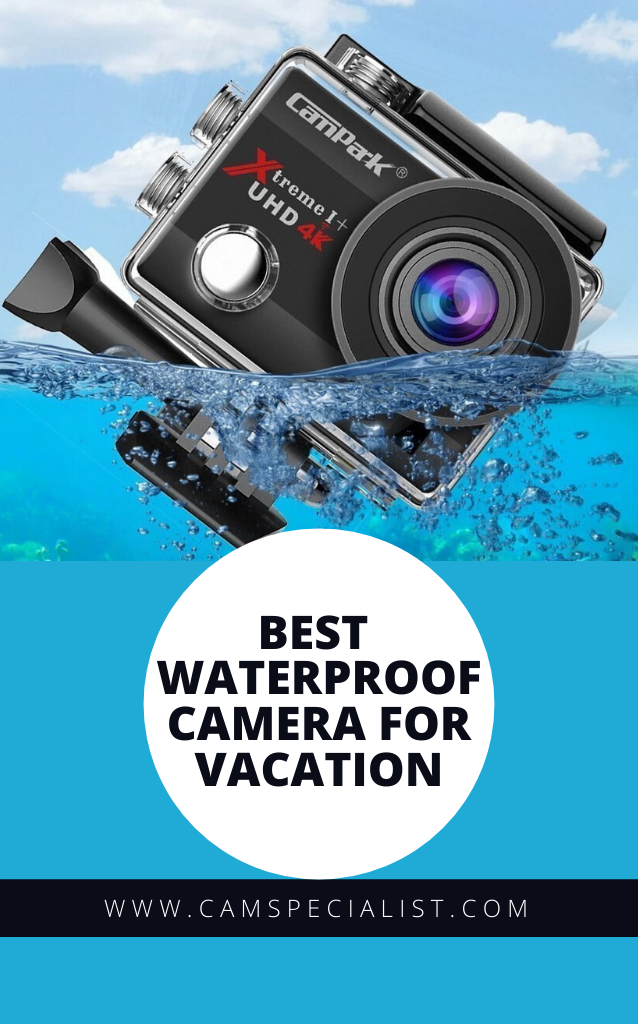 Not all cameras are rugged enough for this, also, cameras for vacation have to be small and compact so you can carry them everywhere without feeling overloaded with weight.
So the idea is to combine waterproof and compactness to give you the best camera that will be your companion through your vacation.
Reviews of the Best Waterproof Camera for Vacation
Brand
Best Overall
Nikon W300 Waterproof Underwater Digital Camera
Best Outdoor Camera
Olympus Tough TG-6 Waterproof Camera
Best Underwater Camera
Fujifilm FinePix XP120 Waterproof Digital Camera
Product
Best Overall
Brand
Nikon W300 Waterproof Underwater Digital Camera
Product
Best Outdoor Camera
Brand
Olympus Tough TG-6 Waterproof Camera
Product
Best Underwater Camera
Brand
Fujifilm FinePix XP120 Waterproof Digital Camera
Product
1. Nikon W300 Waterproof Underwater Digital Camera
The Nikon W300 happens to be the first on our list for the best waterproof camera for vacation. Through its shockproof, dustproof, freezeproof, and waterproof features, this Camera provides for an exciting experience when you travel around the world to capture nature and its surroundings.
With the feature of Bluetooth and a built-in Wi-Fi, you can share and transfer photos with your device and Nikon W300 Waterproof Underwater Camera. Also, you can back-up your pictures to the Nikon Image Space with the use of the Nikon SnapBridge application.
This Camera is the ideal one for adventurers who are looking to explore nature. The 16 Megapixel Camera enables the best photos to be captured. Make use of the GPS, altimeter, and eCompass to follow all the exciting second in your journey of exploration.
The waterproof feature reaches about 100 feet while the freezeproof feature reaches about 14 degrees. Just by pressing a button, you can record 4K Ultra HD to record high definition videos. You can shoot easily with the Nikon W300 Waterproof Underwater Camera by selecting portrait mode or Night landscape mode. The battery lasts for about 2 hours and 30 minutes on a full charge.
Pros
It has a waterproof, shockproof, dustproof, and freezeproof feature
It features 4K Ultra HD videos
It includes Bluetooth and Wi-Fi feature
It is easy to use
It is portable
Cons
The Camera does not support all memory card
Sale
Nikon W300 Waterproof Underwater Digital Camera...
Waterproof, freeze proof, shockproof and dustproof adventure camera with extra capabilities
Stunning high resolution photos, 4K Ultra HD videos, Time-lapse videos, Super lapse videos and music...
5x optical zoom NIKKOR lens with telephoto power and Hybrid VR image stabilization
2. GoPro HERO7 Waterproof Digital Action Camera
The GoPro HERO7 is the perfect Camera for your adventurous journey of any type. The Camera is designed to work in water, which makes it Waterproof. The inclusion of a 10 Megapixel and WDR, amazing photos can be taken. While you are in low light surroundings, you can still capture the best pictures. The Burst mode enables you to capture about 15 pictures in just a second.
If you are an Instagram and Snapchat lover, this Camera is also perfect for you as you can capture videos and photos in portrait mode. You can take selfies and group photos through the use of a photo timer.
Pros
It has a Wi-Fi connection
It has the feature of Waterproof
The transfer speed is close to 100MB/s, which is fast
It captures high-quality videos
Cons
It is not shockproof and freezeproof
GoPro HERO7 Black Waterproof Digital Action Camera...
HyperSmooth: Get gimbal like stabilization – without the gimbal. HERO7 Black corrects for camera...
TimeWarp: Capture super-stabilized time lapse videos while you move about a scene. Increase the...
SuperPhoto: HERO7 Black intelligently applies HDR, local tone mapping or noise reduction to optimize...
3.       Fujifilm FinePix XP120 Waterproof Digital Camera
The Fujifilm FinePix XP120 Waterproof Camera is also among the list of the best waterproof Camera for vacation. Adventurers and explorers can take full advantage of the waterproof feature, which can reach about 65 feet, the shockproof which can reach about 5.8 feet, the freezeproof which can reach 14 degrees F and the dustproof feature.
Zooming can further be extended and explored upon through the 5x optical zoom feature, which can capture videos and photos right underwater. This Camera includes a special 16.4MP, which can deliver the best images in low light surroundings and even underwater.
You are sure to capture high-quality photos that will show precisely how the human eye sees it. Capture a horizontal person through the help of the electronic level feature. Also, the feature of the eye detection ensures you take portrait pictures without stress by making the eyes the focal point. High Definition videos can also be taken with the addition of 1080p/60 fps.
Pros
It captured Full HD videos
It has a Bluetooth feature
It is waterproof, shockproof, and dustproof
It produces top quality images
Cons
It does not accept AA batteries
The LCD screen quality is not good enough
4. Olympus Tough TG-6 Waterproof Camera
Going out for bicycle riding, mountain climbing, or jogging? Why not take along the Olympus Tough TG-6 Waterproof Camera along with you to enjoy your outdoor journey?
It was designed for you to get the best experience out of your vacations. This Camera will not destroy if it is stepped on, put into water, and taken into a cold environment. Its waterproof feature can reach about 50 feet; its shockproof function reaches about 7 feet, its crush-proof feature about 100kgf, and its freeze proof feature about 14 degrees F.
With the feature of a 4K movie as well as a full high definition of 120 fps, you can record top-quality films in the best and fastest possible speed. This Camera was designed to carry even to the world's most terrible places. The image sensor contains an AR coating, which reduces flares to provide for improved picture quality.
Pros
It is waterproof, shockproof, freezeproof enabled
It can capture adventures in 4K Ultra HD
It is perfect for outdoor use
Cons
It does not come with a lens cover
Photos taken underwater may not be perfect always
OLYMPUS Tough TG-6 Waterproof Camera, Red
Water proof (50 feet /15 meter), dust proof, shock proof (7 feet / 2.1 meter), crush proof (100...
High resolution F2.0 lens, maximum 8x zoom, true pic VIII, back illuminated CMOS image sensor
Variable macro system comprised of 4 macro shooting modes, magnified shooting up to 1 centimeter...
5. PANASONIC LUMIX Underwater Digital Camera
Enjoy your outdoor adventure with the Panasonic Lumix waterproof camcorder. Since it was designed for outdoor use, it features the likes of waterproof (about 26 feet), shockproof (about 5 feet), freezeproof (about 14 degrees F), and dustproof.
While capturing images underwater, you would get the best quality, and you can capture as much as possible because it includes a built-in memory which contains about 220MB space. This means it can store as much as 34 high-quality images when your external memory card is full.
If you wish to record videos underwater, you have nothing to worry about as the MP4 HD video recording makes this possible with ease. You can record changing MP4 HD video in about 1280 x 720p. Also, in this Camera, you would find a torchlight which will be of great assistance when you want to shoot videos and capture photos underwater and in a dark environment.
Pros
It contains a 220MB built-in memory
It has a torchlight feature
It records MP4 HD videos
It includes a 4x optical zoom feature
Cons
It has a short battery life
Sale
Panasonic LUMIX Waterproof Digital Camera...
QUAD-PROOF TOUGH CAMERA – Made for active lifestyles, this rugged camera is waterproof (to...
MEGA O.I.S. CAMERA LENS - Automatically compensates for blurring caused by hand-shake movement....
BEAUTIFUL UNDERWATER SHOTS - The red color reproduction of Advanced Underwater Mode easily...
What to Consider Before Buying a Waterproof Camera for Vacation
Waterproof or Underwater Camera
Waterproof and underwater are two different things. You need to look carefully because the camera advertised as waterproof may not be able to go under the water. Waterproof cameras are just designed to resist a little amount of water from splashes or rain.
Underwater cameras on the other hand can be used to take pictures and videos under the water. you should be very careful and know what exactly you want before buying one.
Long Battery Life
With all the fun that comes with vacation, you don't want to be disappointed with battery drainage and especially of you will be going under the water. The battery life of a camera is very important to consider.
As much as possible, go for a camera with the best Amp Hour rating. We have also considered this and so the recommended products here have a good battery life.
Size of the Camera
Except you are a professional photographer, a camera for vacation needs to be small and compact. You do not want anything bulky that will slow you down. The camera should also be small enough to take just a little space in your luggage.
The Camera Resolution
There is no need buying a camera when it doesn't have a resolution that your phone cannot compete with. The resolution of a camera greatly affects the quality of the image or video. As of the time of writing this content, iPhone has got its maximum camera resolution at 12 megapixels. So when buying a camera, anything above 12 megapixels for a travel camera is worth it.
Other Qualities
You can also look for other amazing and unique features like social media sharing, wifi connectivity and other special features that may look unique from the others.
Conclusion
So you have gone through our reviews of the best waterproof camera for vacation. we believe you should by now already have one in mind you'd love to go for.
There is no doubt that any one product from our list here will be worth every penny spent. But you may want to cross-check again if they meet everything you want from a travel camera and for the job you need done.
If you want to enjoy your vacation while keeping memories and records of all your events, then you will need to invest in a good camera.