As an Amazon Associate we earn from qualifying purchases.
A waterproof camera is a great catch if you want to take pictures on a trip or vacation where you'll be active in the water. With that said, we're giving reviews of the best waterproof cameras under $150 with high video quality resolution, excellent image stabilization, and a rugged body design.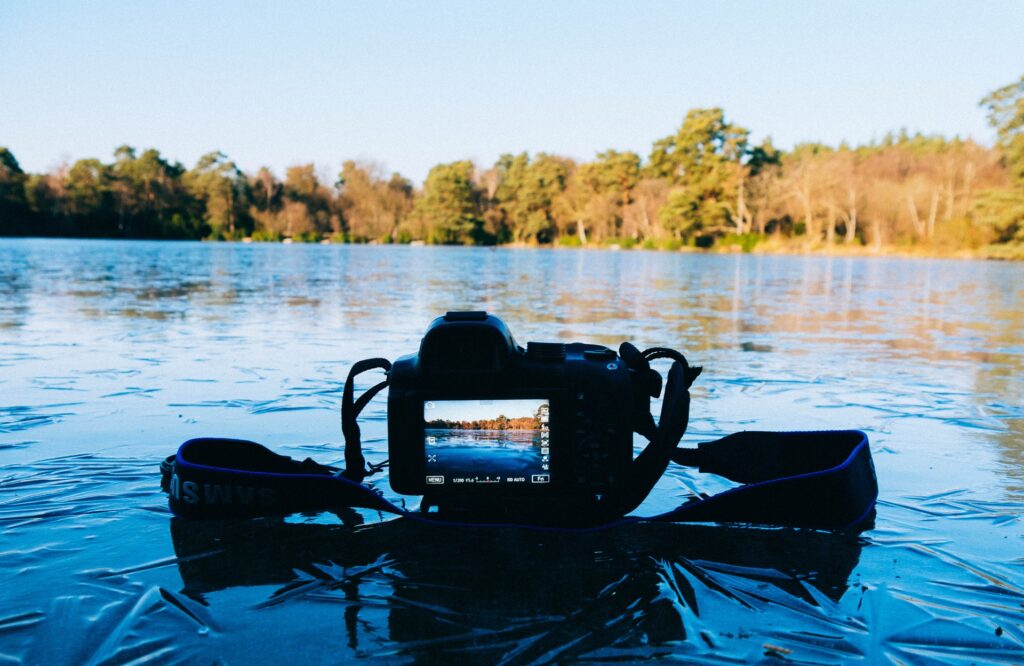 Our Top Waterproof Camera Under $150 Reviews
The Fujifilm XP140 is the best waterproof camera for water adventures you can invest in for under 150 dollars. With its durable coating, ISO range, and HD image quality, you can take pictures without worrying about any environmental elements.
Aside from that, we have other camera options that would provide you with high-quality photos and video quality for your water-related adventures.
Brand
Yisence Underwater Camera FHD
Product
Special Features
Built-in Electronic Image Stabilization
Product
Product
Brand
Yisence Underwater Camera FHD
Product
Special Features
Built-in Electronic Image Stabilization
Fujifilm XP140
The Fujifilm XP140 is ideal if you are looking to take your camera adventures to the beach or snowy mountains. The addition of a smile shutter allows you to take the best quality photos without pressing any button.
The Fujifilm XP140 has a solid waterproof case that can stay in the depths of water up to 82 feet. Additionally, it is resistant to shock from 5-feet surfaces. So even as you take photographs and videos, the tough camera can last for up to 240 shots per charge.
Moreover, it's freezeproof for up to 13 degrees Fahrenheit, the only camera on this list that can withstand moisture in this extreme temperature. This feature ensures your camera would capture everything in high quality, whether it's sledding, ice fishing, or a snowball fight!
Its maximum aperture of f/3.9-4.9 may limit the brightness that could enter the camera. However, the FinePix XP140 compensates with an ISO level of 100-12800, making this model very efficient in shooting in varying lighting conditions.
As a camera lover, you can enjoy your experience by capturing the world around you in ultra HD and 15 fps. While 16.4 megapixels aren't the best, this amount is still great for obtaining image information and retaining dynamic range.
Besides that, the 5k optical zoom allows you to focus on subjects even with a built-in 28-140mm lens. The optical stabilization also boosts the resolution quality of your photos. The best part— you can control the time-lapse, self-timers, and other video modes using Fuji's app.
Pros
Includes a Bluetooth low energy technology for file transfer to make the model operate longer.
Unlike the Fujifilm XP130, this has a 4K quality movie function that is active at 15 frames per second.
Cons
It doesn't shoot in RAW, so you would have fewer elements to edit.
Colors in deep waters tend to be smudgy.
Fujifilm FinePix XP140 Waterproof Digital Camera...
ISO 100-12800, allowing for lots of light and extremely fast shutter speed
Waterproof to 82 ft., shockproof up to 5.9 ft, freeze proof to 14º F and dustproof
Smile Shutter - The new feature automatically takes the photo. When you select "Smile Shutter"...
Fujifilm XP130
As the newest model in the XP series, the Fujifilm XP130 is the perfect video and photo camera for your wet outdoor adventures. The camera's quality can withstand freezing temperatures of up to 14 degrees.
It can also operate for about 65 ft deep, as well as resist shock from 5.8 ft. Even as you dive with this camera, its body has a durable construction to give you up to 240 shots per charge.
While the FinePix XP130's ISO level isn't as great as the FinePix XP140, using 100-6400 is enough when you're speeding on a motorboat or chilling on a bamboo raft.
There is the inclusion of a 16.4 MP back-illuminated CMOS sensor that produces improved quality even if you are wading through running water. In addition, the camera's frame rate lets you see every video detail in slow motion.
Aside from that, the FinePix XP130 has a better optical zoom than the GoPro HERO7. With its 28-140mm focal length, this model is suitable for photographing everything from vast sceneries to group photos and detailed shots. However, it has poor aperture levels at f/3.9-f/4.9.
The burst feature allows users of the Fujifilm Fi XP130 Camera to shoot photos without stress. While eye detection helps take portraits quicker, the electronic level focuses on horizontal subjects.
Pros
Includes an anti-reflective coating, so you won't have to squint your eyes when managing the settings.
It contains a CMOS-shift optical image stabilization that controls the camera to stop it from shaking.
Cons
While this works great for taking stills, it cannot shoot at 4K video quality. Still, you can record videos up to 1080p in full HD.
The glass cover seems weak, although its body can withstand shock up to about 5.8 ft.
Yisence Camera FHD
The Yisence Camera FHD is one of the best and quality buys under $150 capable of time-lapse and 6 continuous shooting. In this way, you do not have to miss any moment, even when someone splashes on you.
Despite having a heavy-duty 20.3-megapixel sensor, the body remains the most lightweight at 0.29 pounds. This size and weight make it easy to use and easy to bring the camera around whether in your pocket, belt bag, or wear with a wrist strap.
You can take this camera about 10 feet under the water for about 60 minutes at a time. It also works well in damp conditions and freezing temperatures of up to 14 degrees Fahrenheit.
It features a rear-facing full-color LCD and a secondary front-facing LCD, perfect for your selfie experience and solo video recording. While its lens is only equivalent to a 24mm focal length, it does have the best zooming feature, which allows up to 16x optical zoom.
Furthermore, the device's optical stabilization controls the camera's movements as you swim or run. So even as you shoot video clips in 1080p resolution, the waterproof camera would last for up to 220 shots per charge.
Pros
It has a 16x zoom feature that allows users to zoom in and out to alter the viewing process, which you can easily view through the 2-inch screen.
With 20.3 MP, this camera contains the highest number of megapixels for capturing better image quality.
Cons
It lacks image stabilization and only has an ISO level of 100 to 400, yet the built-in flashlight assists in shooting in the low light.
Resistant for only up to 10 feet, although this is good enough for small pools and creeks.
Underwater Camera FHD 2.7K 48 MP Waterproof...
2.7K 48MP Waterproof Camera - Full HD 2.7K underwater digital camera features rich video resolution...
10FT Underwater Camera & Dual screens - This underwater camera is equipped with the waterproof...
Versatile and Easy to Operate - This waterproof digital camera features multiple functions including...
GoPro HERO7
With 12 megapixels and 60 fps video quality resolution, the GoPro HERO7 is a high-grade action camera for thrill-seekers. Boasting a 197-feet resistance, the GoPro HERO7 outshines the best waterproof cameras when it comes to spending more time on the sea.
This quality camera can withstand shock for up to 7 feet, making it more durable than the Fujifilm and Yisence cameras. However, it can only resist temperatures of up to 20 degrees Fahrenheit.
It's challenging to take an image or video when there's a mixture of lighting and shadows. With the camera's 100-6400 ISO levels, you can freeze low light action shots without washing out the colors.
However, this is among the waterproof cameras that only use a fixed focal length. So while you can't adjust the zoom manually, the focal length already has a 2.9x magnification rate.
Even if it only shoots at 17mm, this is perfect for seeing low light views clearly, especially when swimming with fishes or looking at coral reefs.
While it can't shoot in 4K, the camera's 1080p video and image quality ensures the HERO7 can operate for up to 140 minutes, depending on your usage. This feature also enables the device to record slow-motion clips with vivid details, letting you reminisce the feel of the sea.
The camera's maximum aperture of f/2.8 also helps improve sharpness and brightness as you play with snow or swim through caves. Additionally, the electronic stabilization feature minimizes motion blur even as you strap the GoPro HERO7 in your swimming vest or helmet.
Pros
Offers several video shooting modes, including photo timer and time-lapse for more creative photo and video clips.
The only recorder that offers voice command, so you can record hands-free.
Cons
It only has a fixed 17mm lens, although this is perfect for ultra-wide angle and panoramic shots.
Weakest zoom capacity at 2.9x, which means you have to get closer to your subjects.
GoPro HERO7 Silver + PNY Elite-X 32GB microSDHC...
BUNDLE: GoPro HERO7 Silver + PNY Elite-X 32GB microSDHC Card with Adapter-UHS-I, U3
4K30 VIDEO: Get stunning 4K video that's as amazing as the moment itself. You can also shoot time...
RUGGED & WATERPROOF: Share experiences you can't capture with your phone. HERO7 Silver is tough,...
Panasonic LUMIX DC Vario
Have you thought of a camera that you can use both in your house and outside your home? The Panasonic Lumix DC Vario is the perfect choice for your home and active lifestyle.
You can capture mind-blowing photographs up to 40 feet below the water through its improved underwater mode. It also manages to function even as you make snow angels at 14 degrees.
What's more, you can jump from planks or skid through waterpark slides, and the camera's body can absorb shock. The optical image stabilizer ensures you get to shoot steady and clear shots even with such high-active movements. In effect, you can maximize the camera's capacity of 250 shots per charge.
With an ISO level of 100-6400, the light sensitivity of the Panasonic LUMIX DMC is similar to the Fujifilm XP130 and GoPro HERO7. Hence, your time-lapse shots would have vivid colors and sharp quality despite an aperture range of f/3.9 to 5.7.
More than that, it comes with a built-in 25-100mm wide lens that lets you capture high-quality pictures even as you zoom for up to 4 times.
At 20 megapixels, this camera almost has the same pixel count as the Yisence. However, it can record 4K videos, unlike the Yisence that only allows up to 2.7K.
Moreover, you do not need to worry about blur images because the MEGA optical stabilizer will fix it, providing a clearer and high-quality image. After capturing tons of pictures, the device automatically stores files in the 22OMB built-in memory card.
Pros
It has an MP4 HD quality video recording function for backyard pool moments with family and friends.
Allows creative control when recording, as well as creative retouch for memory playback.
Cons
It can only shoot up to 10 fps, although this strengthens battery life to last 250 shots per charge.
A 200MB memory card might be too small for man people
No Bluetooth or Wi Fi function, so you have to wait until you can connect to a computer to transfer the files.
Panasonic LUMIX Waterproof Digital Camera...
QUAD-PROOF TOUGH CAMERA – Made for active lifestyles, this rugged camera is waterproof (to...
MEGA O.I.S. CAMERA LENS - Automatically compensates for blurring caused by hand-shake movement....
BEAUTIFUL UNDERWATER SHOTS - The red color reproduction of Advanced Underwater Mode easily...
AKASO Brave 4 Action Camera
With the fantastic features seen in the AKASO Brave 4 Action Camera, you are sure to enjoy your adventures. At 0.35 pounds, it feels like the device is part of you as you shoot.
While the AKASO Brave 4 has similar functions as the GoPro HERO7, it can only reach depths of up to 100 feet, a 96-feet gap from the HERO7's capacity.
The camera is freezeproof for 15 degrees, just a bit weaker than its Fujifilm and Yisence counterparts. However, the AKASO Brave 4 outlasts them for being shockproof for up to 30 feet.
Its built-in 27-82.5mm lens is like using a wide one on a DSLR. Moreover, the maximum aperture value of f/1.8 helps boost lighting for taking pictures when snorkeling or diving.
While its ISO levels of 100-400 limit illumination, this feature helps to boost brightness by opening up to f/1.8. Turn on the diving mode, and the camcorder will filter the red light on the waters.
Even as you're snorkeling or diving, you can relive the moment in 1080p resolution and time-lapse videos. It also allows 3K videos in 24 fps, as well as 2K clips in 30 fps. With a 5x magnification rate, you won't struggle with recording clips while keeping subjects in their perfect positions.
The built-in electronic image stabilization can also help in shooting smooth transitions and clearer pictures. You can modify all of these easily through the 2-inch LCD screen.
Pros
Despite having a 2-inch screen, it only weighs 0.35 pounds, making this the most compact and lightweight waterproof recorder.
The maximum aperture of f/1.8 more significant than its counterparts, improving image clarity.
Cons
Limited focal length, although the size makes it easier to adjust the angle of view.
ISO levels of 100-400, which is the smallest range on this list.
AKASO Brave 4 4K 20MP WiFi Action Camera Ultra HD...
UPGRADE SERIES OF AKASO EK7000: Featuring 4K/24fps, 2K/30fps and 1080P/60FPS video resolution and...
OPTIONAL VIEW ANGLE AND ANTI-SHAKING: Adjust the view angle of this action camera according to your...
SPORTS CAMERA WITH WIFI AND HDMI: Sharing & editing videos from an action camera is easier with the...
Frequently Asked Questions
Can the Best Waterproof Cameras Go Underwater?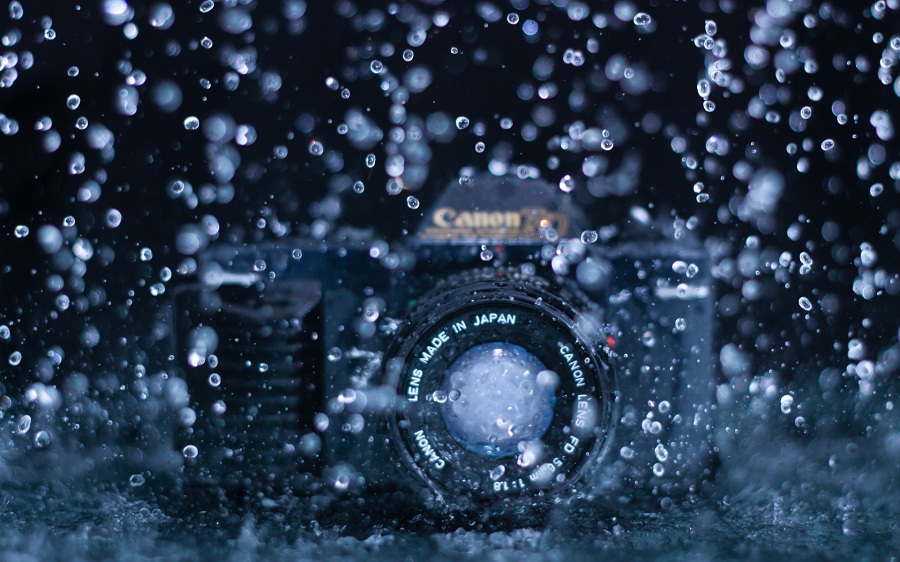 The best waterproof cameras can get wet, yet it's not ideal to use them underwater. Unless stated by the brand, a waterproof camera may function as an underwater one with a shooting quality that can tolerate rain, snow, and being submerged.
Can I Use an Underwater Camera Above Water?
Yes, you can use underwater cameras for 'above water' photography. The specifications that make a model capable of staying safe underwater don't affect its quality and shooting ability.
Conclusion
You don't always need to spend much when buying quality cameras. With our detailed research and comparisons, you should find the best waterproof cameras from our reviews to compete with the highly-priced ones.